Where to Dine in Hilton Head
On a January day, a few miles off the low country coast of Hilton Head Island, fisherman Chip Michalove caught, tagged and released seven great white sharks in eight hours. He's no "Captain Quint," from the movie "Jaws," but Michalove is known locally as the "Great White Shark Whisperer" because his Outcast Sport Fishing charter company now has hooked more than 30 of the fearsome creatures in the last four years.
On that remarkable, busy day aboard his boat, Michalove told the Hilton Head Island Packet newspaper he "never even had time to eat a sandwich." Both he and the great whites, apparently, were hungry.
Hilton Head Island, as it turns out, is a very good place to be hungry.
"You won't find a greater concentration of superb restaurants anywhere in America," said Midwest snowbird Keith Froelich, who winters with his wife Joanne at Palmetto Dunes Oceanfront Resort.
The Froelichs are planners, so they quickly recommended a series of culinary experiences. I found, through asking around and some cursory research, that Palmetto Dunes, in addition to its own dining options, is at the center of a gastronomic bulls-eye bordered by the Atlantic Ocean, the Intracoastal Waterway, and the Calibogue Sound.
Without a team of great whites to chomp through Hilton Head, I did the best I could to try a variety of eateries, headquartering out of a condo inside Palmetto Dunes Resort where I would try to walk off some of the calories on one of their three designer golf courses. But as a fit friend once told me, "You cannot out-exercise your knife and fork."
He'd obviously never seen how many strokes it takes me to finish a typical round.
Palmetto Dunes Resort has 2,000 acres and three miles of Atlantic Beach, plus bicycle trails, pickle ball, tennis, kayaking and plenty of ways to burn calories – and a number of ways to consume them, too.
Nevertheless this will not be a comprehensive guide to Hilton Head, but I will spoon-feed you a few forkfuls of the savory stops my stomach made during six days at Palmetto Dunes.
You will want your GPS to find these restaurants. Hilton Head protects its natural, lush environment by the mandated absence of street lights and by limiting street signage in size and color. Signs are understated and muted in the same tan and brown shades. Let the culinary clue hunt begin!
Big Jim's BBQ, Burgers and Pizza
I didn't need to go far from the sundeck of the golf-front, three-bedroom condo I enjoyed on the Robert Trent Jones course at Palmetto Dunes Oceanfront Resort. Big Jim's is in the clubhouse and perched above the driving range, practice green and first tee, which makes for a scenic, active panorama during breakfast and lunch.
My pick is the chicken tortilla soup. It had the hearty consistency of chili and was served in a broad bowl surrounded by crunchy, savory tortilla chips suitable for dipping in the thick broth. Big Jim's is a short-game shot from Alexander's – Palmetto Dunes' upscale restaurant and wine bar, where the menu is varied. Open up with the fried green tomatoes appetizer with pimento cheese, red onion marmalade, arugula, crispy prosciutto, and sundried tomato vinaigrette. Wiener Schnitzel (a breaded veal cutlet) is an Alexander's tradition. www.PalmettoDunes.com
Old Oyster Factory
This multi-level, perfectly weathered, authentic facility also offered a scenic view: sunset over the grassy Broad Creek. On the night I visited, there was a festival atmosphere with a $20, all-you-can eat low country boil of oysters, corn-on-the-cob and more on the restaurant's front lawn with a DJ playing tunes on a local radio station remote broadcast.
For Lowcountry atmosphere, Old Oyster Factory is a marvelous afternoon or evening out. For cuisine, it is standard fare and perhaps slightly overpriced, though they do have specials. www.OldOysterFactory.com
Giuseppi's Pizza and Pasta House
Just across the front entrance of the Palmetto Dunes Oceanfront Resort is a true pie factory baking pepperoni pizzas and other crusted creations as fast as the kitchen's assembly line can move them into the hands of a steady stream of dine-in, carry-out, or delivery customers. Giuseppi's serves hot pizzas in hip surroundings. You can choose the "stuffed" version which puts a thin layer of dough atop the pizza, too.
Top quality pizza and plenty of it in a fun, family, atmosphere with craft beers and indoor/outdoor nightlife. www.GiuseppisPizza.com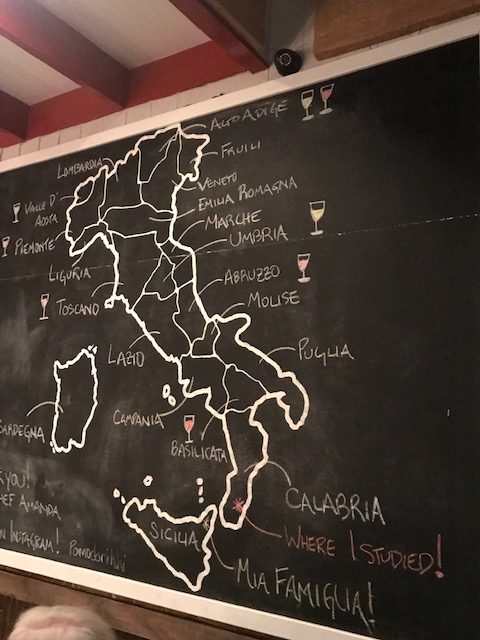 Pomodori
Pomodori has a full authentic Italian menu, but in a small, hard-surfaced atmosphere. Three generations of recipes plus the chef's culinary training in Calabria, Sicily are evidenced by a massive chalkboard map of Italy with notes and a menu which begins with antipasti selections such as house-marinated olives; eggplant, and arancini (mozzarella risotto balls). The rigatoni ala bolognese two diners at my table ordered were sizable and both resulted in a take-home box. I managed to finish my gnocchi al pomodori. Boutique Italian wines are served in carafes. Reservations are recommended. www.GoPomodori.com
One Hot Mama's American Grille
It's a casual sports bar setting on the south end of Hilton Head Island with indoor and outdoor seating and a wide variety of food (BBQ ribs are a specialty). Adventurous? Try the strawberry jalapeno wings. But whatever you order, be sure to get a side of the southern cornbread and sausage stuffing. ( I really mean it – I paired mine beside a cobb salad!) One Hot Mama's is in the "BarMuda Triangle" of varied bars and nightlife entertainment. It's a good spot after golf or fishing and a swell place to watch a game on television or maybe meet a hot mama. www.OneHotMamas.com
A Lowcountry Backyard Restaurant
A Lowcountry Backyard Restaurant gives diners savory southern dishes in a casual setting that is part outdoor, covered backyard and part stylish country cottage. It's a shady oasis from the tight strip mall surrounding it. Fried green tomatoes; pimento cheese; and blue crab dip; are among the starters, followed by the likes of a shrimp burger; potato chip meatloaf; shrimp and grits; the day's "Calibogue catch;" all complimented with your choice of baked mac-n'-cheese; collard greens; apple and raisin coleslaw, and more.
If you're just off the boat and want an authentic southern sampling with a touch of romance, this is the place. www.HHbackyard.com
Harold's Diner
Harold's Diner is a "colorful local experience," according to snowbird Jim Trebilcock and Brad King, a former resident and frequent visitor to Hilton Head. "The place next to the gas station," is how I remembered to find it – but my breakfast there was unforgettable. Harold's slogan is "eat here or we both starve."
A seat at the counter in the narrow hallway of a diner provides a close-up view of the short order grill. The menu is printed on a small piece of paper upon which, with one of the pens you pull from a cup, you check off the items you'd like – and how you'd like them cooked – as if you were filling out a lottery slip. The top read "Breakfast Eats," and it had small cartoons of egg characters in various poses, so I grabbed a pen and went to work.
Eggs: 2 eggs over medium.
Off the grill: corned beef hash.
On the side: grits and sausage gravy & biscuits.
There were also options for omelets; hot cakes/French toast; steak & eggs; or the "Big H Breakfast" combination.
Check off your coffee or sweet tea order, too.
Cash only; and Harold's closes at 3 p.m. daily.
www.HaroldsDinerHiltonHead.com
The Sage Room
The Sage Room is hidden and tricky to find, but when you get there you'll find a tiny open kitchen and "chef's table" of 10 barstool seats overlooking a merry band of creative and charming chefs plating food like they're painting works of art, and they are. They seem focused, but trust me, they are listening. One small, speculative mention – and aside to my fellow diners – of the Boursin mashed potatoes which accompanied one of the menu items resulted in a chef slipping me a shot glass full of them to taste.
The snow pea martini dish with a pineapple soy reduction and Dijon aioli was fun to share. And while the sea bass sold out quickly, I secretly wanted the 22 oz reserve ribeye anyway, with its bleu cheese sage au gratin and haricot vert.
Watching the chefs spin and twirl and gracefully dodge each other in the tight stage was like watching a flaming ballet.
Reservations recommended.
www.TheSageRoom.com
 Michael Patrick Shiels is a radio host and travel blogger. Follow his adventures at GoWorldTravel.com/TravelTattler. You can contact him via [email protected].