Wroclaw, Poland
Alex, my 12-year-old son, had a mission when we arrived in Wroclaw, Poland: to find as many dwarfs as possible. The first one he spotted was on the sign of our hotel, SleepWalker Boutique Suites, just a few minutes' walk from Wroclaw's Old Town Square. By some accounts, it's the largest square in Poland; by others the second largest, after Krakow's.
From the SleepWalker — a charming little hotel with large rooms filled with old-fashioned furniture and drapery — we came to Plac Solny (Salt Square) first, thinking it was the square. Alex found the first few dwarfs there. Then, we noticed that the corner of our square touched the corner of a much larger one.
Whether the largest or second-largest square in Poland, Alex and I agreed that we were standing in the most architecturally spectacular of the squares we'd seen during our visit. All around us in the square, the buildings were fixed with ornate facades, statues and paintings, and represented every color of the rainbow and many colors in between.
While most squares have a statue or an open space of cobblestone at the center, this square was anchored in the middle with more buildings, facing the ones in the square. And throughout the square, dwarfs were everywhere.
More than 300 statues of dwarfs placed throughout Wroclaw
In what must have been an eureka moment for the local tourism industry, Wroclaw worked with local businesses to place more than 300 little statues of dwarfs throughout the city, many of them related to the sponsor (like a dwarf with a book before a book store). Parents can stand in awe of the architecture while children occupy themselves with dwarf-hunting.
The most spectacular building in the square is the Town Hall, one of Europe's most impressive examples of Gothic architecture. A restaurant in the Town Hall's basement is where Alex and I dined in a hall fit for a king.
"I've found 23 dwarfs so far," Alex reported as we ate.
"That's great," I said, nodding as he recounted them. But to be honest, I was still dazzled by the architecture.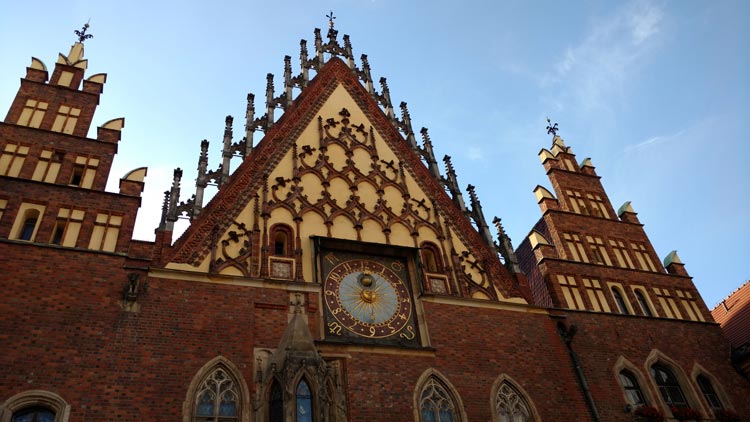 Cathedral Islands
Wroclaw feels more like a large village than a city — at least in Old Town and its vicinity — but there is plenty to see between the dwarfs.  A rotunda immortalizes the 1794 Battle of Raclawice (between the Poles and Russians) with an impressive panorama mural. Wroclaw University features a rich assembly hall.
One of the most memorable scenes in Wroclaw for both me and Alex came when we crossed a bridge from the mainland to the Cathedral Islands. It felt as though we'd crossed into an old village.
The streets were quiet, except for a flute player on a cobblestone corner, and three giant cathedrals all were within view of the road as we walked along with it. Touring the cathedrals was nice. Even better was that moment we crossed over the bridge and strolled along the cobblestone road of the two small islands, surrounded by the triplicate cathedral towers and music fit for the scene.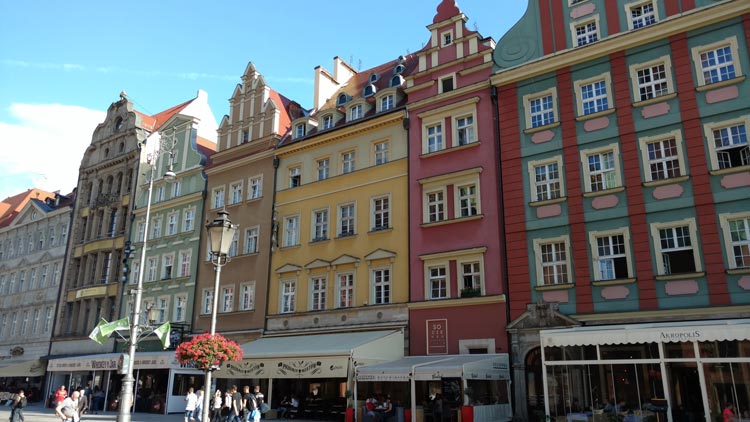 Breakfast Their Way
We checked out of our hotel and returned, packs on back, to Wroclaw's Old Town Square, leisurely taking in the beautiful building facades all around us. We thought we'd be walking right in to breakfast, but found that most of the cafes hadn't yet opened.
Alex thought he spotted another dwarf on the patio in front of one of the cafes, but it was actually the small statue of a dog hefting up a mug of beer in his paw. "This looks like a good place for breakfast," Alex said.
"And they're open," I added. We went in and took our Polish-English menus.
"I'd like this platter," I said to the waitress, "but I don't like my eggs runny. Can you serve them scrambled?"
"No," the waitress said with a stern expression. "No change to orders, eggs only come this way."
"Really? You can't scramble my eggs?"
"No."
We ordered fruit-filled pierogi.
"With your order," the waitress said, "you can have either tea, coffee or a half-liter of beer for 1 zloty."
That's about 30 cents. "I'll have your breakfast beer," I said. Alex ordered tea.
As we waited for our food to arrive, Alex sipping his tea and me sipping my local brew, Alex asked, "Do you think I should count the little dog as a dwarf?"
I looked at the dog, raising his beer to me. "Yes," I said. "Why not?"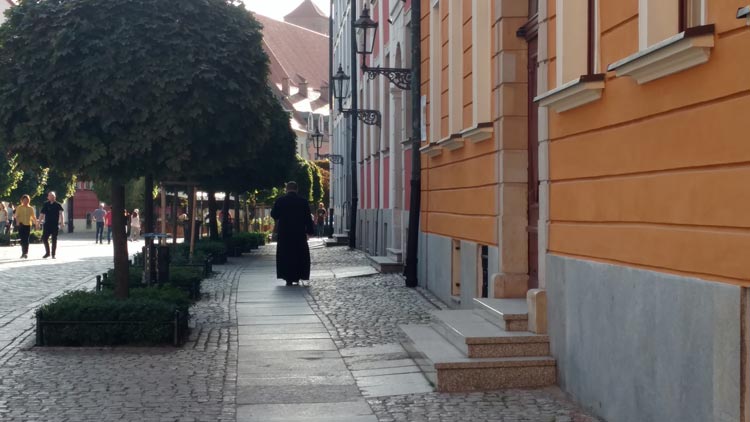 Getting to Wroclaw, Poland
Chances are, if you're visiting Wroclaw, you're taking a side trip from Warsaw or Krakow. Those are the easiest and most economic destinations for flying into Poland from the United States.
Wroclaw is in Western Poland, about three hours northwest of Krakow by car, bus or train, and about 4 hours southwest of Warsaw (making it a great stop between the two cities if not the most direct route.
Rental cars are easy enough to find and drive in Poland, but we found Polski Bus and Flix Bus to be more convenient and inexpensive options. The buses were the most efficient and convenient way to get from one city to another while in Poland. You can buy your tickets online before leaving home.
While in Wroclaw, don't just look at the beautiful Old Town Hall—dine in its basement restaurant, which happens to be the oldest restaurant in Europe, dating back to the early 1200s. Piwnica Swidnicka serves good beer and hearty food in a dimly-lit cavern of brick and stone, and has hosted such visitors as a Holy Roman Emperor Sigismund, Johann Wolfgang von Gothe, Frederic Chopin, and Pablo Picasso.
In Wroclaw, we stayed at SleepWalker Boutique Suites at 61-62 St. Nicholas Street, which was only a five-minute walk to the main square of Old Town. SleepWalker Boutique Suites offered old-style charm with old-fashioned furniture, drapery, and décor, just three minutes' walk from the main square. After a day of dwarf-hunting, it's fitting to spot the dwarf in the signage of the hotel.
Read more from Eric Goodman on Poland:
A Father-Son Trip to Gdansk, Poland
A Visit to the Tatra Mountains: Poland's "Winter Capital" of Zakopane
Author: Eric D. Goodman enjoys travel as much as he does writing. He's author of Setting the Family Free (2019), Womb: a novel in utero (2017), Tracks: A Novel in Stories (2011) and Flightless Goose (2008). His travel stories and short fiction have been published widely. Eric lives with his wife Nataliya and children Alex and Nicole in Baltimore, where he curates the popular Lit & Art Reading Series. Learn more at www.ericdgoodman.com or connect at www.facebook.com/ericdgoodman.