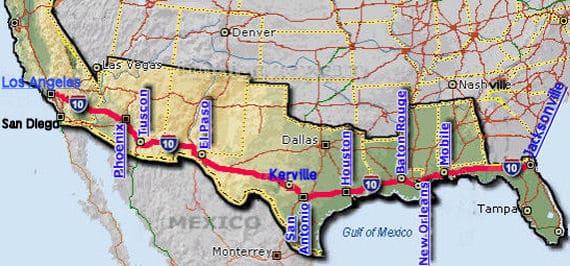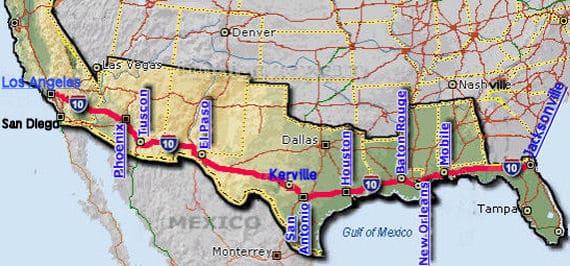 Part One…Begin at the Beginning
I sipped the slightly sulfuric spring water from a plastic cup at the Fountain of Youth Archeological Park and mused to myself, "I think I am really going to need the vitality this water purports to provide!"
I had been struck with an adventure's spirit. And while my decision to drive across America would not be as arduous as sailing across the Atlantic from Spain to discover Florida and seek the Fountain of Youth as Ponce de Leon had by way of Puerto Rico, in 1513, my journey from sea to shining sea – Florida to California – would begin right at the spot he landed, which became St. Augustine, Florida and this time-honored tourist attraction at which visitors can sip from the legendary fountain next to a diorama depicting the moment.
In fairness I didn't just drink from the fountain in St. Augustine because there are countless gelato shops and the decadent Whetstone Chocolates shop within the historic old town gates, and a particular southern nouveau-styled restaurant called Uptown Swinery where pimento cheese, smoked pork and wild boar are the stars of the show, but I considered it all fortification for what was ahead: many miles of open road at the helm of a Chevy Equinox.
Mile Marker Zero
"This is the spot where the Spaniards came ashore and claimed this as "La Florida" in 1513. This is Florida's historic coast," said Barbara Golden, with the St. Augustine/Ponte Vedra & The Beaches Visitors and Convention Bureau. We sat beside a coquina ball, six-feet in diameter, placed there in 1928 as "Mile Marker Zero" to mark the starting point of the Old Spanish Trail upon completion of the road from St. Augustine to San Diego – essentially the same trail I planned to drive along Interstate 10 all the way to the Santa Monica Pier. "That's a perfect conclusion to your drive from here because Santa Monica was St. Augustine's mother. And St. Augustine was the patron saint of brewers."
I'll drink to that, I told her. And I did at a number of St. Augustine's diverse dining establishments including Meehan's Irish Pub, Amici Italian Restaurant, and The Reef, right on the Atlantic just north of my Hampton Inn digs beside Vilano Beach. It was tough to stay in the hotel, though, because I am a sucker for strolling through cities like St. Augustine or jumping on and off the Old Town Trolley Tour to hear some history.
"We try to make history fun. You can go into the Castillo de San Marcos, the Spanish fort, built in 1692 to protect the city from pirates. Right across the street is the Pirate and Treasure Museum," said Golden, who served as public relations director of the Ripley's Believe It or Not Museum (the world's first) just down the street. So is the Old Jail, Potter's Wax Museum, Colonial Experience, and countless other kid-friendly experiences in a town full of eye-candy architecture.
Setting Out to My First Stop
I set off from St. Augustine to begin my voyage across America.
My first stop, Jacksonville, was only an hour to the north up Florida's Atlantic coast just below the Georgia border, but I figured why overdo it on the first day! Filling up, buckling in and pressing the gas pedal on my "Sea to Shining Sea" journey was like the hitting the opening tee shot on first hole of a long, 2,467-mile golf course. On that note, if I took the I-95 route from St. Augustine to Jacksonville I would drive past the World Golf Hall of Fame – an elaborate, interactive museum. If, instead, I just motored to Jacksonville up A1A I would pass, on the way in Ponte Vedra, PGA Tour headquarters and the acclaimed Tournament Players Club at Sawgrass, home to The Players Championship, one of professional golf's most prestigious courses and tournaments.
Of course, I stopped at TPC Sawgrass for 18 holes and a club sandwich so tall I could have used a ladder to eat it. The expansive, elegant, fanciful clubhouse is so magnificent and full of artwork, trophies and golf memorabilia that free tours are given by volunteer "storytellers" to people who stop just to see it. The unique program also takes tourists by cart out to the famed island green 17th hole for selfies. For a sport that is sometimes perceived to be elitist and insular this is a most admirable endeavor.
TPC is one of the most significant sites in the international golf world and it passionately welcomes all comers to look around, dine or shop – even unannounced and whether you take the tour or not. (Don't be dismayed by the gate attendant. You need only announce that you're going to the clubhouse.)
First Stop – First Coast
Jacksonville has long been known by the moniker "First Coast," so it made a suitable first stop. It would also be my last look at the Atlantic for a long time, so I made it a good, up-close and personal look.
You can't go far in what's known as the "River City by the Sea," and it's an especially good view from the 10th floor corner, balconied office of Michael Corrigan, the former city council president who now serves as president and CEO of Visit Jacksonville. We talked and took in the scenic view of the St. John's River and multiple bridges. "We're the biggest city in America by area because we encompass all of Duval County. We have 1,100 miles of coast, 22 miles of sandy beaches, ad a river running through our city," he said.
Parks and Recreation with Active Adventure
I experienced those beaches and rivers thanks to Felicia Boyd, a naturalist who is the Outreach Director for the Timucuan Parks Foundation and its vast and seemingly endless number of fresh air options at Jacksonville's north end near Amelia Island. As we hiked down the wooded trail just off Black Rock Trail parking lot at Big Talbot Island State Park, she told me, "Jacksonville has the largest urban park system in the United States. Timucuan offers hiking, biking, boating, kayaking, fishing, birdwatching, canoeing, and camping in a natural setting to get healthy physically and mentally."
Just when I was getting into the groove, I was stopped in my tracks.
By a view.
"This is 'Boneyard Beach,'" Boyd told me.
I could see why, but she explained.
"It's called Boneyard Beach because the trees have eroded onto the beach to create an unusual landscape of downed trees, bleached limbs and black rocks with tidal pools."
The waves and wind were whipping, and the very natural stand of sand was covered in parts with a latticework of skeletons of oak and cedar trees that once grew near the ocean.
"Photographers love this beach," said Boyd. "There are plenty of wedding photos taken here."
"The stark nature of the wreckage makes me think more of divorce," I quipped, just as we spotted a buzzard circling overhead. "Happy Halloween."
Visit Forever
Chauntelle Isenbeck, who moved down from Toronto long ago, explained the no-longer secret popularity of the "Jax" area as we spoke on the patio at Homewood Suites by Hilton, the full-service hotel at which she serves as director of sales. She explained that Jacksonville Beach and the adjacent Atlantic Beach had plenty of hip restaurants, bars and beachside entertainment opportunities. In fact, she scribbled a page-full of them down on a piece of copy paper for me. Then she showed me a photo of her home which included a swimming pool right on the intracoastal waterway.
"Jacksonville has one of the fastest-growing populations in the country. The cost of living here is 17-percent below the national average."
Her hotel product is a thoughtful, functional one for people settling into the area or business travelers. Homewood Suites has two-bedroom suites with kitchenettes; a daily free hot breakfast and happy hour; a patio with grills; complimentary laundry rooms; a fitness center; business center; and swimming pool in a leafy green setting.
"'Jacksonville – It's Easier Here,'" is our slogan, Corrigan told me when I arrived in town. It wasn't easy to leave, though. Over on the five-mile beach on the undeveloped Little Talbot Island, which was conveniently accessible by a boardwalk over the dunes but no less natural, I took a long, last look at the Atlantic knowing I would soon be pointing my car west on Interstate 10.
"From sea to shining sea," I said to myself. "From sea to shining sea."
…. To be continued….
Read more of Michael Patrick's work at The Travel Tattler, or contact him at [email protected]
Latest posts by Michael Patrick Shiels
(see all)