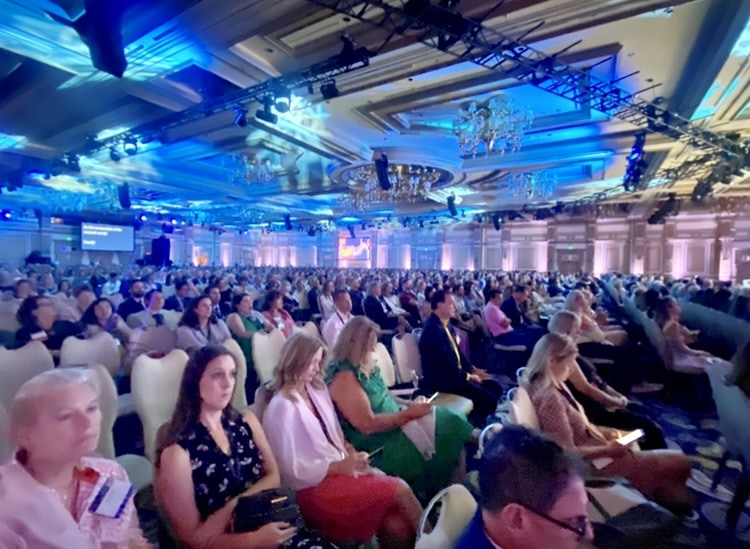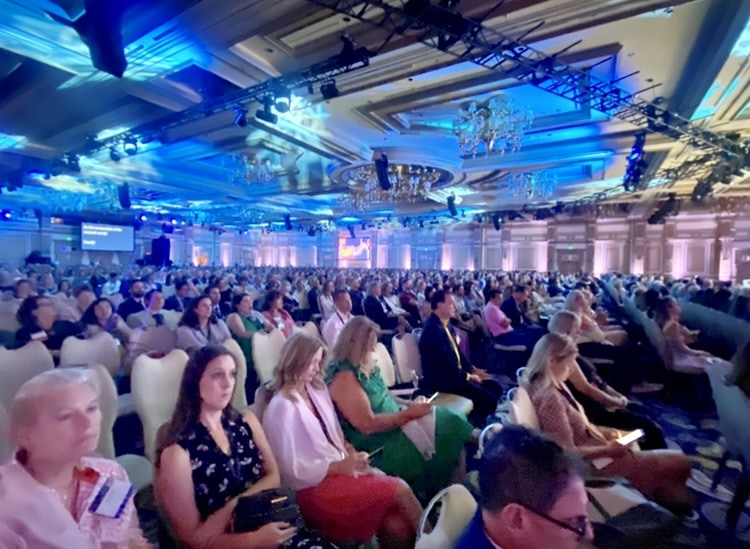 "78 percent of people say a custom vacation that fits them is more important than the price. They want it exclusive and incredible."
-Misty Belles, Virtuoso's Vice-President of Global Public Relations
Thousands of Virtuoso's luxury travel advisors and providers converged in Las Vegas yet again in August of 2022 for the annual travel week symposium. Those who thirsted for travel information, inspiration and connection found themselves drinking from a firehose all week in a torrent of travel meetings, speeches, receptions, and presentations.
There were plenty of the world's travel industry media there, too, writing, broadcasting, podcasting, posting, talking and tweeting.
Virtuoso is the company discerning, sophisticated, and excitable luxury travelers turn to in order to maximize their domestic or international adventure, romance or family travels. Their connections to a worldwide network of travel advisors and providers begins at Virtuoso.com
In homage to the late scribes Truman Capote and Dominick Dunne, the literary world's most famous name-dropping gossip mongers, I will do the best I can as your "Travel Tattler" to spill what I heard between sips of champagne and overheard between bites of crudites.
All Business Ballroom
It was all business in an Aria ballroom on one of the early-week (and early morning) media sessions with an industry roundtable. The presentation and panel discussion in front of about 60 travel journalists yielded pages of notes – and a muffin with tea – for me that morning.
Allow me to let you peek into my notebook for some of my takeaways.
Virtuoso's Vice-President of Global Public Relations, Misty Belles, a true "Wander Woman," anchored and moderated the presentation with all the poise of a White House press secretary.
"The travel recovery is not universal for all sectors and regions…but it is back," she insisted. "Luxury is leading the way to a full recovery, which is expected by the second quarter of 2024."
Price seemed to be no object to travelers who enjoy Virtuoso's destination direction.
"78-percent of people say a custom vacation that fits them is more important than the price. They want it exclusive and incredible."
Data showed demand for the United States, which was the top international destination for Americans themselves, Australians, Canadians, and globally. According to Belles, Italy, as always, ranked highly across the board, and Mexico, Canada and France were also a draw.
Who is traveling post-pandemic?
"Solo travel is on the rise, especially in the 65+ age group," Belles revealed. "And families and spouses want to disconnect in order to reconnect."
Families? Wanting to travel together? After being locked down at home in the pandemic quarantine? Counterintuitive?
Not as surprising as you might think, according to Anthony Goldman, of the Goldman Group.
"In some cases, grandparents were unable to visit their grandchildren or extended families were separated and now seek quality time," explained Goldman. He is one of the family of Virtuoso travel advisors networked together across the globe and at the front of the room on a panel with Susan Bowman, of LuxeXperts; James Turner, of Private 360 Travel; and Beth Washington, of Getaway Guild.
They are the type of experts who can hear a client's desires and needs, and then advise and secure an experience to satisfy everyone in the extended family – sometimes under one roof in a villa, or a vacation home, or perhaps a specialized cruise. Is there a safari that can accommodate older guests with limited mobility while letting the kids run "born free?"
Or, as a woman traveling solo, where can I safely travel but experience a cultural adventure? Can I climb Mount Kilimanjaro with other woman or female guides?
You give Virtuoso the parts, they'll build you the vehicle.
Maybe even a spaceship!
But Flight Delays Even Hit Space Travel
Virtuoso's founder and CEO Matthew Upchurch is set to become an astronaut when his number comes up to fly aboard Sir Richard Branson's Virgin Galactic space trip. Though Branson beat Bezos to space last summer, the Amazon founder has sent up more people, including high-profile celebrities riding on his dime.
Virgin Galactic, which uses a different launch system, continues to be honed. I got the idea Upchurch wasn't in a mood to rush technology, especially when it comes to safety. Something NASA learned the very hard way when forcing up the Space Shuttle Challenger with frozen O-Rings around its solid rocket boosters.
"It will be ready when it is ready," said Upchurch, who paid $250,000 to secure his spot – a ticket that now goes for more than $450,000.
"We currently have a community of 800 future astronauts from 60 nations who, at the moment, are preparing for their flights. We're getting closer to our first 1,000," said James Willoughby, with Virgin Galactic.
"Once you become 'on-boarded' with Virgin Galactic, that's when the journey begins. We enter you into our community and prepare you for the trip of a lifetime. You will experience events and activities up to the actual date of your travel from New Mexico," Willoughby explained. Then when you arrive at our specially designed campus, we're going to give you a multi-day experience, food and beverage, and a very detailed, curated, training plan to get you ready for that actual flight. Everyone is different."
He didn't say a word about accumulating hundreds of thousands of "frequent flier miles."
Joking aside, Willoughby did say when your spaceflight is over, you, as alumni (and an astronaut) have the option of continuing your affiliation and participating in activities with the Virgin Galactic community.
"After you're gone up and looked at our beautiful planet? It will change the way you look at the world," said Willoughby. He revealed Virgin Galactic's sales team is talking to people daily who are interested in, and buying, the experience, just as Upchurch has. Another Virtuoso partner travel advisor, Mrs. Francis Contreras, founder of San Diego-based Travelworld International, also has a ticket to ride.
Climbing to the Sky Instead
Reaching the top of the world on foot was the subject of Virtuoso Travel Week's keynote speaker Alison Levine, a mountain climber who nearly summited Mount Everest, and then, on a second eventual climb, reached the peak. "Fear is okay, but complacency can kill you," she insisted, while showing slides of the perils of her climbs. She subsequently authored her book On the Edge: The Art of High Impact Leadership and now gives motivational speeches.
Andrea Grisdale, the founder of Italy's influential, bespoke travel advisor company IC Bellagio (Italian Connection Bellagio), closely related to Levine's speech. Grisdale and her husband Alessandro Pertusini, were a week from embarking on a Tibetan tourist expedition to Everest's base camp when the pandemic struck her region of Italy and locked down the rest of the travel world.
"Climbing to base camp was always a lifetime dream and goal of mine," Grisdale, who'd been planning and training for a number of years, admitted.
The influential Grisdale had represented the travel industry in the presence of American presidents and British prime ministers. This time she was left to mountaineer her company through the closures of the pandemic, and eventually to embrace Levine's message that in climbing, business and life, sometimes you have to go backward in order to go forward.
With the pandemic in the past, IC Bellagio is now back to constantly creating custom Italian experiences for travelers to experience an authentic level of "la dolce vita"
"Demand after the pandemic means there is no more 'low-season,'" Grisdale advised. "Travelers are even coming in winter when you miss the crowds and get to live as a local. People want to live the Italian lifestyle and live amongst the Italian people in a much slower way than you would in high season."
Grisdale was aiming high again during Virtuoso Travel Week in August – almost two years older than that milestone birthday base camp plan. She was months from finally commencing the climb.
"I can't wait to go. I am heavy in training and looking forward to it," she said after giving a Virtuoso presentation. "I work in tourism. If we got through these last two years, I can do anything…including climbing to Everest base camp."
Grisdale and Pertusini finally made their Everest base camp dream come true in October and November of 2022.
Border Buddies
Grisdale not only connects visitors to Italy with unique, authentic, unforgettable experiences, but she is also a great connector of industry colleagues. Her IC Bellagio Italian tourism company collaborates with the neighboring country of Slovenia and its two premier two Virtuoso travel providers, Matej Knific and Mattej Valencic who Luxury Slovenia.eu out of the capital, Ljubljana.
"We collaborate because we are friends first," said Knific in the concourse between meetings with Virtuoso travel advisors. "Venice is just an hour away from Slovenia. Italy is the number one destination for Americans and, because we are in Europe, there is virtually no border. You can get all of Europe in one trip. Italy, Slovenia and Austria are all in one region. Travelers can get their 'dolce vita'…and see something new."
Knific then made his best attempt to describe the atmosphere of his scenic country.
"If Italy and Switzerland had a baby, it would be Slovenia."
He went on to cite the amazing food and wine, the capital's famed Christmas markets, and Ljubljana's new airport terminal. He smiled when I mentioned Lake Bled, because everyone, somewhere in pop culture, has seen a photo of iconic Lake Bled. It's a lovely dot on the globe surrounded by mountains and, in the middle, a tiny island atop which a small church is perched.
"I'd like everyone to know that Lake Bled is in Slovenia," Knific said.
He, Luxury Slovenia, Virtuoso, and even Grisdale, in her way, are making that happen.
The Kingdom of Saudi Arabia Prominently Represented at Virtuoso Travel Week
Amidst the providers and representatives of time-honored destinations and locations reminding media and travel advisors they are open for business and welcoming the world, the Kingdom of Saudi Arabia had a somewhat surprisingly noticeable presence at Virtuoso Travel Week.
Leaving aside Israel and Istanbul, in terms of Middle East tourism, Dubai, and now Abu Dhabi, in the United Arab Emirates, have made seriously concerted efforts, over the past few decades, to create and promote tourism products. Their beach and desert hotels, resorts, golf courses, shopping, and snazzy airports, in addition to the likes of world-topping high-rises and indoor ski hills, have permeated pop culture in movies and more.
The Kingdom of Saudi Arabia's exponential effort to follow suit is afoot with ambitious projects beyond the imagination. While the Saudi's are busily building, they are actively promoting. You've likely seen Saudi television commercials, heard radio interviews with ambassadors, or seen print placements promoting the Kingdom.
But socially, culturally and politically, Saudi Arabia is more complicated than the UAE. The Saudis' development of the LIV Tour tournament golf circuit took a bite out of the American and European PGA Tours by poaching their high-profile professionals with prize money. The Saudis took a public relations hit, though, as the time-honored tours swung back by shaming shifting players over Saudi human rights policies, political assassinations, and socially repressive tendencies.
Is it socially acceptable to support the Saudis with the travel dollars they seek?
Virtuoso Travel Week was obviously an important investment to the Saudis. In addition to a squad of spokespeople, Saudi Arabia was also highlighted to thousands of attendees via an elaborate video presentation full of endorsements during the middle of Virtuoso Travel Week's Opening Session.
Saudi Arabia's American public relations professionals pitch placements of Saudi spokespeople on my syndicated radio show, but my interview request during Virtuoso Travel Week went unanswered. In fairness, that's a very busy week for everyone involved, but I did get the chance to ask Virtuoso's CEO Upchurch, during the media briefing, whether there was any sensitivity about making Saudi Arabia a prominent piece of Virtuoso Travel Week.
"We are very aware that some Virtuoso members do not think people should travel to Saudi Arabia. We believe opening borders is a force for good, Upchurch answered, citing neutrality. "It's a destination ready for change. The more clients we send them, the more chance change will happen."
It's a time-honored position that perhaps should have also been embraced by the United States in its lack of a diplomatic relationship with Cuba, for instance. But then again, Cuba's sugar, rum and cigars don't match the otherworldly financial resources of Saudi Arabia's oil."
The subject leads to the overall philosophy Upchurch embraced when he founded the financially and culturally influential Virtuoso Travel:
"When it comes to travel you have to feel it to believe it. It enriches lives and is a force for good."
Read more on Michael Patrick Shiels' travel blog, The Travel Tattler. Contact Travel Writer Michael Patrick Shiels at [email protected]
Latest posts by Michael Patrick Shiels
(see all)