Characterized by their stunning beauty and limestone composition, the Dolomite Mountains of northeastern Italy have attracted tourists since the late nineteenth century.
Dolomites in Italy
This sub-range of the Southern Limestone Alps, which was named a UNESCO World Heritage site in 2009, is perhaps most popular for skiing in the winter and mountaineering in the summer.
However, it is also widely considered the birthplace of via ferrata. It remains one of the world's top destinations for enthusiasts of the sport, with more than 170 routes of varying lengths and difficulty levels.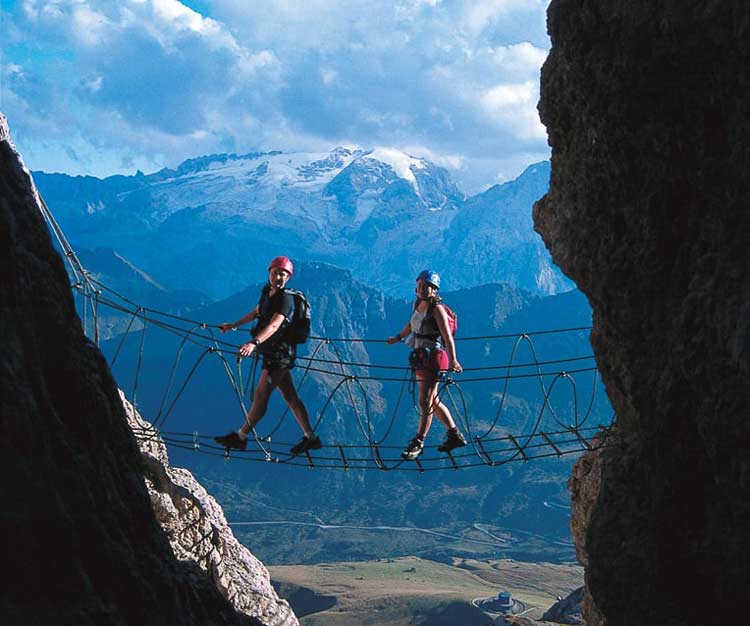 What is Via Ferrata?
A via ferrata is a protected climbing route bolted directly into the rock, which is usually composed of metal ladders or steps, suspension bridges and zip wires. Climbers wear a harness and clip themselves onto a cable that follows the path.
Translating to 'iron path' from Italian, climbing on a via ferrata is halfway between rock climbing and scrambling. This combination allows novice climbers to make ascents that otherwise require highly technical rock climbing skills.
Protected paths up and down steep mountain faces have existed in the Alps for centuries. During the First World War, the Dolomites were controlled by the Austro-Hungarian Empire, which fought Italy for control of the region.
Both sides sought to have a tactical advantage in the mountainous terrain and set up wooden ladders and ropes on various mountains. This allowed soldiers to ascend to lookouts and fortified positions quickly and easily.
Many of the region's most popular via ferrata routes are located side-by-side with trenches and other World War I era fortifications.

Via Ferrata in the Dolomites
The modern via ferratas in Italy that exist today were set up after the Second World War by the Italian Alpine Club. Flimsy wooden ladders and degrading ropes were replaced with steel cables, iron ladders, and metal rung.
Many of the original routes constructed by the Austrians and Italians have been fully restored allowing climbers to experience a small part of the region's history.
How to Climb Via Ferrata
Unlike most other mountain climbing sports, no experience is required to climb a via ferrata. Most spots offer places to rent equipment right nearby and all that is needed to successfully climb is a harness, carabiners and a lanyard (a via ferrata set), a belay device, appropriate footwear, and a helmet.
Once all the necessary gear is in place, the climber can attach him or herself to the steel cable and begin climbing. While no previous experience is necessary, a sense of surefootedness, moderate level of physical fitness and no fear of heights are all highly recommended.
How Via Ferrata Are Categorized
In the Dolomites, via ferratas are divided into five categories, depending on how difficult they are. Grade 1 via ferratas are rated as easy. They are usually short ascents with numerous climbing aids along the way.
Grade 5 via ferratas are the most difficult ones and tend to feature sustained climbs up long ladders as well as paths that take climbers on exposed ridge lines with few climbing aids.
Based on a climber's competence, paired with what he or she wants to do and see, there are plenty of via ferratas throughout the Dolomites. These range from family-friendly ones with short ascents to great views to long and challenging routes, which are perfect for adrenaline-seeking adventurers.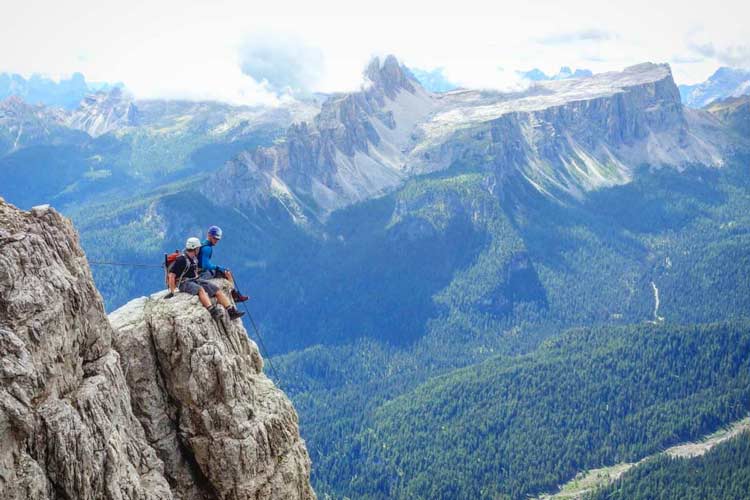 There are more than 170 via ferrata routes scattered throughout the Dolomites. Many of the most famous ones are easily accessed from just a few different mountain towns.
Cortina d'Ampezzo is perhaps the most well-known of these mountain towns. It is surrounded by several prominent mountain groups, including the Tofane massif, and offers easy access to both easy and more challenging via ferrata routes.
Val di Fassa
Farther, southwest of Cortina is the Val di Fassa. Sitting in the shadow of some of the tallest peaks in the Dolomites, plenty of via ferrata adventures begin from the idyllic little town.
At 3,343 meters high, Punta Penia, in the Marmolada massif, is the highest mountain in the Dolomites and is just an hour's drive west of Val di Fassa. It is home to one of the oldest via ferratas in the region and requires climbing over a glacier to reach the summit.
Val di Fassa is also a good starting point for climbers heading to the Catinaccio group. Known for its pink hue, caused by the dolomite mineral in the rock, the spot is a particularly popular climb later in the day when the sunset brings out the color of the Dolomites.
Book It: Hire a local certified mountain guide and climb Val di Fassa best via ferrata
Corvara
Slightly north of Val di Fassa is the town of Corvara. Corvana sits nearby the peaks of the Sella group, which have numerous intermediate and advanced via ferrata routes. Among the most popular is the ascent of Piz Boè, which is the tallest mountain in the massif.
Finally, situated in front of the iconic Tre Cime di Lavaredo is the town of Auronzo di Cadore, which offers access to Monte Paterno. Atop this peak are unparalleled views of the iconic triple summited massif, which keeps the peak at the very top of the bucket list of via ferrata climbers heading to the Dolomites.
Planning to climb one of these via ferrata?You can book a guided trip up one of the Dolomites' many via ferrata routes with a local certified guide at Explore-Share.com, an online booking platform for guided adventures worldwide.
Book It: Hire a local certified mountain guide and climb Corvara best via ferrata