My first glimpse of Northern Thailand comes as a bit of a shock. From all the stories I've heard about Bangkok, with its teaming crowds and frenzied avenues, I had imagined that all of Thailand was one huge mass of people, moving about in their busy lives.
A Visit to Northern Thailand
But here, in the northern town of Chiang Rai, life seems to move at a slower pace.
The wide, unhurried streets are dotted with bikes, pickup trucks and mopeds. Female bike passengers, wearing modest skirts, sit sidesaddle behind their drivers.
The avenues are lined with the deep greens of lush trees and plants and the colorful reds of temples and shops. There are children in blue school uniforms playing on the sidewalk, and shoppers attending their business in the small stalls that line the sidewalks.
Life in the north is a whole other Thailand. "We're more traditional here than in Bangkok," a local woman tells me.
Later, I view those conservative values when I'm out shopping. Everywhere I go younger people greet their elders — even 30-something me — with a polite Sawadee (hello) and a bow with hands held together in front. "In Bangkok, many kids don't use that greeting anymore," a vendor later says, shaking her head in disapproval.
Northern Thailand is hill country, and laid-back Chiang Rai is the perfect base to explore the region. Located 700 miles (1,100 km) north of Bangkok, the city is reached by a one-hour flight from the capital.
Burma, once a prosperous land that now struggles under the heavy hand of a military government that renamed the country "Myanmar," lies just 35 minutes northwest of Chiang Rai. Laos, another land that has seen its share of war, is 30 minutes northeast. The three countries meet in a fertile area called the Golden Triangle — a region that was once the opium-producing capital of the world.
Chiang Rai
Chiang Rai has a population of 1.2 million, yet it feels like a small town. After dropping my things at the Wiang Inn, which charges US$ 35 for a lovely room and breakfast, I head out to the city's night bazaar. It's 8 pm, but the lanes are overflowing with vendors selling carvings, handcrafts and instruments — all at amazingly low prices.
There are dozens of food stands, and the rich smell of Thai cooking makes me hungry. One stand, I notice, offers plates of well-cooked beetles, crickets and bamboo larvae worms. Although the dishes smell good, somehow I can't get over the thought of eating bug legs.
The weather is warm, and I feel safe walking around town. There are families strolling on the uncrowded sidewalks, and shops are open for business. Many vendors smile in greeting, and give encouragement each time I try a few Thai words. The Thai, I soon discover, are a kind and gracious people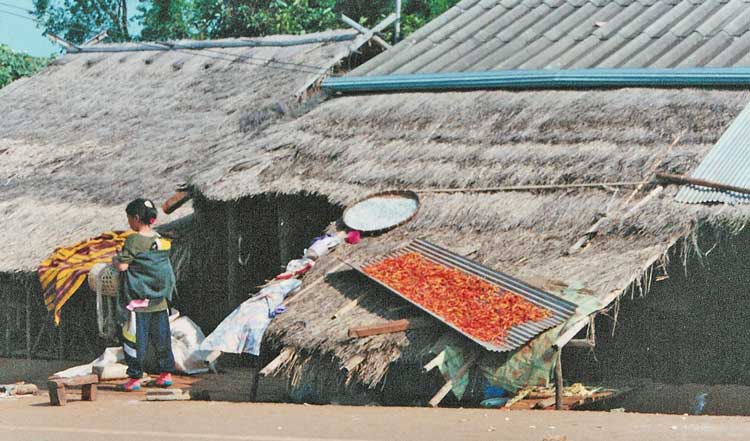 Hill Tribes in Thailand
Yet the Thai are not the area's only residents. The nearby hills are home to six distinct hill tribes. The Akha, Karen, Lisu, Yao, Hmong and Lahu each have their own language and culture. These 540,000 tribal people lead remote lives, and a visit to their villages is like stepping back in time.
Many of the villages have limited electricity and no indoor plumbing; homes are made of bamboo and thatched roofs. Most tribesmen depend on farming for their livelihood, and villages migrate between the steep hills of China, Thailand, Burma, Laos and Vietnam whenever the soil at their present location is depleted.
Tourism to the hill tribe country is growing each year, and I can't wait to experience this unique side of Thailand. To familiarize myself on the region, I stop at the Hill Tribe Museum and Education Center for information on the various tribes.
The Karen are known for using elephants in their farming, while the Lisu stay together as extended families. The Akha, who are spiritists, have a special gate at the village to prevent bad spirits, and the Lahu tribe prides themselves on their trapping and hunting skills.
The Yau have a language and culture similar to the Chinese, and the Hmong have large families averaging eight children per family.
The tribes welcome visitors and have come to depend on the economic boost tourism provides. Still, there are a few things to keep in mind when visiting the villages: Don't show physical affection (it's offensive). Don't enter a home without an invitation or take photographs without asking first. Do be friendly and enjoy the visit.
Trekking companies offer the easiest way to visit the hill tribe region, from half-day visits to week-long treks where guests can stay overnight in the villages. But I plan to visit the hill country with my friend A-Je, who is from the Akha tribe, and Nancy, his American wife.
The next morning dawns bright and sunny — a perfect day for heading upriver to the Karen village of Ruammit. We hire a boat and driver for 500 baht (US$ 12.60) at the Mae Kok Boat Service Company in Ban Thatorn, and hop in. The slim, long craft hums loudly as we skim up the Mae Kok River. Within minutes, we're in the wilderness, surrounded by distant forested hills and tall waving grasses on the riverbanks.
Forty minutes later, we reach the village. There are three elephants in the river, and more on the riverbank. Scrambling ashore, we're greeted by several elephants, who are walking about freely, looking for a handout. Nancy, who has been here dozens of times, pushes their trunks away and makes her way past, while I follow cautiously behind.
For 150 baht (about US$ 3.80), I'm offered an elephant ride. I mount rickety stairs that lead up to a high platform and crawl onto a chair tied to the elephant's back. The animal's handler hops on the creature's head, and we're off.
I'm not prepared for such jilted footsteps, and have to support myself with both arms to keep from being thrown side to side. But I like the view from up top as we make our way down the narrow lanes of the village. Chickens dart out in front of us, and dogs, which all look alike, run about the dirt lanes.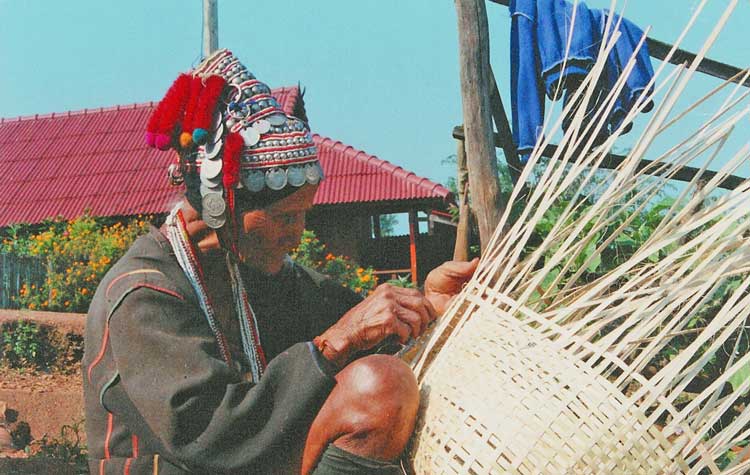 Many of the raised bamboo homes have open windows with no glass, so I can see inside. There are women cooking, children playing and several men sleeping. A few women sit making purses with neat, beautiful stitching. These will be sold later at market for a dollar or two, the only weekly income for many of these mothers.
My body is sore after the ride, but I forget about that when Nancy and I stop at an outside village restaurant for lunch. We are the only ones there, but the food, consisting of rice, chicken, peanuts and spicy vegetables, is good. And at US$ 2 a plate, it's a bargain for us.
A-Je is my guide when we drive up into the hills the next day. We stop in Doi Tung to visit the late Princess Mother's palace home. The royal family is revered here in Thailand, and there is a line to tour the home. I'm shocked to find the "palace" looks more like a Swiss chalet. Later I learn why.
The Princess Mother, who once studied nursing in the States, lived in Switzerland while her children, including His Majesty King Bhumibol Adulyadej, attended school. The Princess Mother came to love Switzerland, and modeled her home after its architecture.
I'm touched by the late Princess Mother's modest bedroom and simple tastes, and can now understand why the royal family is so beloved. After touring the palace, we walk through the Royal Gardens, which have beautiful fountains, rivers and flowers of every kind.
From Doi Tung, A-je and I make our way along the winding mountain roads to Doi Mae Salong, a small village that still boasts its ancient Chinese heritage. The town's gorgeous location draws thousands of visitors each year. The sun is shining brightly and I can see clear across the valley. No wonder this area is called "Thailand's Little Switzerland."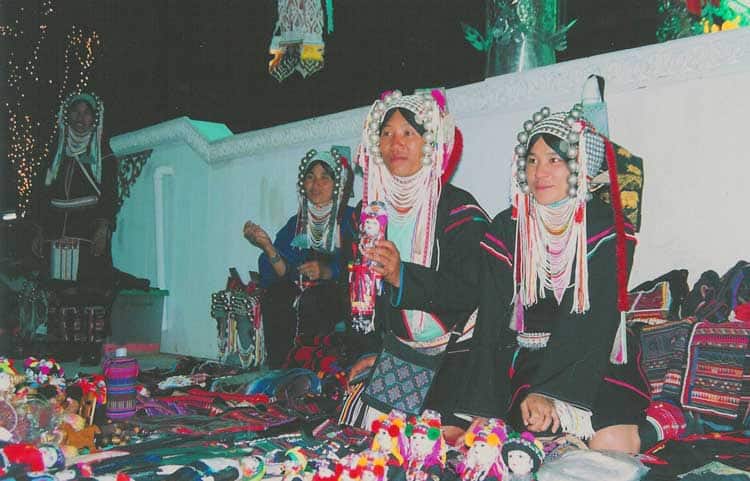 On the way down the mountain, we stop at the Akha village where A-Je grew up. My friend points out pieces of his childhood — a tiny concrete village church, a main water tank, and the picturesque hills his family farmed. We walk around the homes, our footsteps raising dust on the earthen paths. Most of the villagers are working in the fields, but we see several women roasting chilies and stitching; others are minding children and working on laundry.
One woman invites us in for a while. A-Je interprets from Akha to English as the woman tells me about her children. As she talks, I can't help but see how much we have in common, even though we come from such different worlds.
The sun is just beginning to dip behind the peaks as we pull out of the village. The shadows mute the dark greens of the hillside forests as we drive down the mountain. A warm breeze flows through the open car window, and I catch the smell of wild poinsettias. It is a beautiful evening, and I am happy to be in Thailand.
If You Go
Tourism Authority of Thailand
www.Tourismthailand.org
Info on Chiang Rai
www.Chiangmai-chiangrai.com
The Princess Mother's Royal Chalet
www.doitung.org
Accommodations in Chiang Rai
Wiang Inn
893 Phaholyothin Rd.
Tel. + 66 (0) 5371-1533
www.wianginn.com
Rim Kok Resort
Chiangrai-Thatorn Rd.
Tel. + 66 (0) 5371 6445-54
Email: rimkokresort.com
www.rimkokresort.com
Dusit Island Resort
1129 Kraisorasit Road, Vieng District
Tel. + 66 (0) 5371 5777
Email: [email protected]
https://chiangrai.dusit.com