A Visit to Australia
Australia is big and empty. It's so big and so empty that most Australians fly from place to place, ignoring the emptiness as if it were an embarrassing relative.
Buses are not cheap. They're slow, cramped and pretty unpleasant for long journeys. Airplanes are expensive and so fast that you see little of the country and lose all sense of perspective.
Trains on the other hand, although not fast, have large reclining seats, plenty of space to walk about, plus lounge and dining cars, showers, toilets, a smoking compartment and they can be very, very affordable.
There are three classes of rail travel: Gold Kangaroo class with a private cabin, shower, separate restaurant facilities and bar; Red Kangaroo class with a private cabin; and Red Kangaroo class seat only.
Foreign nationals in Australia can buy a Great Southern Railway Pass (GSRP), which is a ticket allowing six months unlimited travel (seat only) for AUD$ 590 adult (US$ 470) or AUD$ 450 (US$ 360)for students.
My Train Journey in Australia
My rail journey from Sydney to Adelaide, to Perth in Western Australia, back to Adelaide, on to Alice Springs in the desert heartland and back to Sydney, covered about 8,700 miles (14,000 km).
The route follows the southern coast of Australia from east to west and then up north to the "Red Center" in the heart of the country.
The cheapest ordinary fare for this was AUD$ 1,493 (US$ 1,191) and the rail pass saved me AUD$ 1,108 (US$ 884).
You don't get a sleeping berth when you travel with a rail pass, only a recliner called a "day/nighter" seat.
They're bigger than economy airline seats and there is substantially more legroom, but let's not pretend that this is a really comfortable way to travel a 66-plus-hour journey from Sydney to Perth.
To travel this cheaply you must expect some lack of comfort. If you want luxury, then travel gold class and pay for it.
Indian-Pacific Train
The train does what its name says — it's called the Indian-Pacific and it goes from Sydney by the Pacific Ocean to Perth by the Indian Ocean.
It is an impressive sight, 18 carriages of bright shining aluminum, slightly weather-beaten in places, with a hefty locomotive at each end.
It appears that pasty, overweight, elderly passengers wearing shorts, with more luggage than they can carry, are restricted to the Gold class carriages, whereas passengers in Red class are ordinary Australians and the rest of humanity.
You can get off at any of the stops but there won't be another train for a few days. However, this is the chance to see Outback towns and the great emptiness.
We pull out of Sydney at 3 p.m. on a Monday; five hours later I check the map and find we've traveled half an inch (1.2 cm).
It's a fairly uncomfortable and chilly night as the air conditioning is good and my extra clothes are stowed in the luggage car.
I wake up at 6:30 a.m. to watch startled kangaroos hopping away from the train and emus staring at us, the Outback interlopers that we are.
The First Stop
Broken Hill (20 hours on the train from Sydney) is the first stop; it's already hot at 7:30 a.m.
The street is busy with early morning shoppers, most skulking along the shady walkways and hurrying to get home before it really starts sizzling. Broken Hill is a quintessential Outback town with flies, baking sun and dust.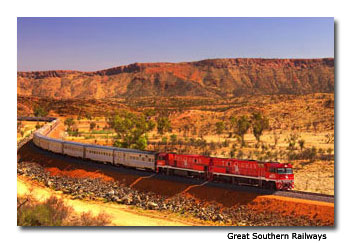 We're still in the state of New South Wales and don't cross into Southern Australia until Adelaide (25 hours) around 4 p.m. Adelaide is a third of the way to Perth and there's just enough time for a 10-minute taxi ride into town, a brisk walk around the shops and a quick beer.
Adelaide is an attractive stone-built city and home to a million residents; it is surrounded by green countryside with the famous Barossa wine valley to the north and the Southern Ocean to the south.
The train trundles on west at 6:30 p.m. with quite a few new passengers.
The Dining Car
There's good, cheap food available on the train: fast food, snacks and drinks are always available along with a couple of choices for dinner, usually rice, noodles, stew and vegetarian options.
Coffee, tea and soft drinks are fairly priced, but alcohol is seriously overpriced. Some travelers bring their own food, but this is a mistake.
Walking down to the dining car is a great chance to meet other travelers as well as stretch your legs.
The train is pretty full since we stopped in Adelaide and it's quite a motley crew. There are about 20 Koreans who try to pretend that they are the only passengers.
They huddle closely together, move around en-mass, avoid eye contact with everyone else and shout loudly to each other.
People on the Train
There's an Elvis impersonator, who has the clothes but not the looks or the voice, and a woman who walks down the carriage every 10 minutes telling everyone she is off to the toilet because she is pregnant.
Sometimes she has her false teeth in and sometimes she doesn't — but where she puts them is a question that bothers me for the rest of the journey.
Jerry, a 70-year-old who got on at Broken Hill, gets steadily drunk. The first sign of this is when he castigates me for being "a bloody Sydney-sider."
I decide it's best to accept this accolade rather then let him know the worst — that I'm actually a "bloody pom." Being British in the Outback is not something that will make many friends, so being a "Sydney-sider" is a great cover.
His conversation sounded fascinating, if only I could make the connections between — "the undertaker" he keeps mentioning, "the bloke building a house next door," his "Vietnam draft" and "the sandwiches me ma'm was cutting up."
When British-based U.S. travel writer Bill Bryson wrote his number-one bestseller "Down Under" (Doubleday, 2000), he traveled Gold class.
The Forbidden Coach Class
He wondered about the "forbidden coach class" of cheap travelers whose "sullen, hungry eyes follow his every move," just as we wonder about the secretive Gold class passengers.
They are only glimpsed at occasional station stops where they often appear miserable and bewildered. Bryson must have seemed like a schoolboy amongst them, as there was not a natural colored hair follicle between them.
Many had matching silver walking frames to go with their mountains of matching luggage.
In the evening, videos are shown in each carriage. Unfortunately, they are limited in number and I would guess that they were probably picked up in a charity shop.
The same batch of videos is recycled between different carriages on different nights, so I am compelled to relive "Groundhog Day" again and again and again en route to Perth and back.
The train rattles on through the night and we reach the 96,500-square-mile (250,000 km²) limestone desert of the Nullarbor (meaning: no trees) Plain around 9.30 a.m. on Wednesday (42 hours).
This limestone plateau, in south central Australia, is flat as far as the eye can see in every direction. Scattered throughout are small tufts of pale green Spinifex — Australia's quintessential Outback plant, commonly known as porcupine grass.
There's a brief stop to change drivers and refuel at the almost deserted town of Cook (47 hours), in the middle of the Nullarbor.
The heat is so intense that it feels like a physical pressure, exacerbated by the pampered air-conditioned luxury of the train. Cook used to be a thriving Outback railway town, but now it only has four permanent residents.
They have the pick of a hundred houses, a swimming pool full of sand, an empty school and deserted hospital.
After the Nullabor desert, Kalgoorlie (53 hours), in Western Australia, seems like a metropolis; refueling and cleaning allow a two-and-a-half hour respite.
An Evening on the Train
But at 8 p.m. there's not much to do in the evening except go to one of the many pubs or the famous whorehouse, which is regularly shown on TV travel programs. As a mining town, the pubs, as you might expect, are very macho.
The Grand Hotel in the High Street was packed with men eating meals off plates the size of trays. Behind the bar, Melanie was Wednesday's "skimpy of the day."
Melanie's attire included the flimsiest thong imaginable and a transparent teddy that almost reached down to her thong.
She wasn't dancing or entertaining, just serving pints, carrying trays and humping crates the same as everybody else.
Next morning the landscape metamorphoses into rolling countryside (63 hours) with cows, sheep and fields of wheat. This is Western Australia and the environmental quarantine team board the train, collecting any food brought from another state.
The train finally pulls into East Perth station around 9 a.m. on Thursday, 66 and a half hours after leaving Sydney.
Many of the passengers look punch-drunk; some look like they haven't yet regained their land legs and I'm feeling a little like an inmate taking the first tentative steps after a period of incarceration.
The journey may not have been a joy, but at least I now know how big Australia really is.
If You Go
Ordinary return train fares are expensive; i.e: Sydney to Perth seat only is AUD$ 1,026 or US$ 819. However, you can get a Great Southern Rail Pass (GSRP) for an absolute bargain.
It costs AUD$ 590 adult (US$ 471), AUD$ 450 for students, for six months unlimited travel on the southern network, but only if you are a non-Australian national.
You don't have to buy the GSRP before you travel. Get it from Sydney Central station (and many others), but take your passport.
Even better, if you cross the road from Sydney station and join the Youth Hostel Association (YHA) for AUD$ 35 (US$ 28), you can get a AUD$ 140 (US$ 112) discount on the travel pass. Buying the pass in Australia is most likely cheaper than if you buy it at home.
The YHA membership also saved me about AUD$ 70 (US$ 56) over five weeks on discounted trips and accommodations.
In total, I slept eight nights on the train, at an average of AUD$ 45 (US$ 36) per night accommodation. This meant that my ticket was virtually free!
Great Southern Railway
www.gsr.com.au
Youth Hostel Association Australia
www.yha.org.au