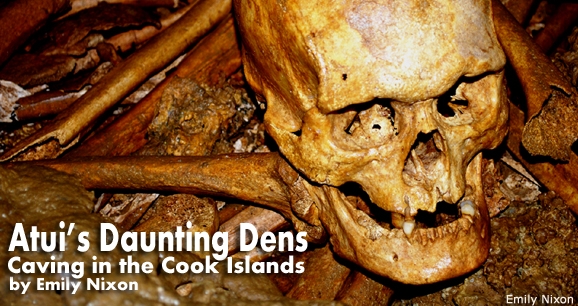 A Tour to Anatakitaki Cave
Dark and enclosed spaces don't thrill me. Neither do claustrophobic swimming pools.
So, as I gingerly inch my way into the chilly, candle-lit waters of Anatakitaki Cave on the Cook Island of Atiu, it doesn't surprise me that my heart skips a beat—and then another.
"Don't worry," says Marshall Humphreys, our New Zealand-born guide, who is calm and comfortable in this spooky cavern. "You won't be attacked by any creepy crawlers."
The aquamarine blue water is clearer than polished crystal, and there's no sign of any living creatures in the ancient subterranean pond.
Although I'm the only apprehensive water baby in our tour group of six, I quickly put my fears aside and submerge into the tropical pool.
A Brief History of Cook Islands
The 15 exotic Cook Islands lie halfway between Tahiti and Fiji and are scattered over two million square kilometers (772,204 square miles) of the South Pacific Ocean.
Air New Zealand provides service from Los Angeles to Rarotonga, making it a doable destination for North Americans, and also offers puddle jump flights from Avarua, Cook Islands' capital and largest city, to the outer atolls.
Atiu is one of these precious jewels. Like the other isles, it's known for its rugged beauty and warm Polynesian hospitality.
Because it was formed during pre-glacial periods when the sea levels were much higher, the entire mass is encompassed by 50- to 100-meter (164 to 328 feet) cliffs.
These mile-wide (1.6 kilometer) impenetrable rings comprised of makatea (a fossilized coral) circumvent the island and are riddled with caves.
Stalactites and stalagmites glitter like diamonds in the rough. Once I emerge from my refreshing dip, they guide us throughout the cavern.
Cave of the Kopekas
Anatakitaki is also known as the 'Cave of the Kopekas,' named for the thousands of resident swifts or swallow-like birds.
They nest in the clammy depths, using a form of echolocation, similar to that of a bat, to detect their way.
As we fumble along the pathway by torchlight, we can hear the eerie chatter and clicks of their cries.
Rima Rau Burial Cave is another of Atiu's daunting dens that we warily venture into.
"In the native language, the name 'Rima Rau', equates to one thousand dead," Humphreys says casually, as if reporting the weather.
The Truth
Based on the visual remains, we gather he's telling the truth. Flanking our narrow route is a primordial gravesite, displaying an array of bones and human skulls, some still bearing teeth.
As we slither through this subterranean tomb, I stare into empty eyes and literally rub elbows with long-gone souls. Legends suggest some died in battle, others from revenge and a few due to cannibalism.
Amazingly, this phenomenon has never been analyzed by anthropologists. By the end of this spooky experience I feel chilled—yes, you've got it—to the bone.
Later, we meet with a new guide, Tere, who is native to the Cook Island of Mangaia and an expert when it comes to caves and sharing tales of the past.
"There are way more caves on this island than we know about," he states in his strong Maori accent.
"Some contain forgotten weapons and sacred artifacts." We discover there is even a fabled cavern that contains bones from giant warriors.
Delighted with the tales of the unknown, the caves have captured my imagination and leave me wanting more. Mystery, fascination, intrigue. It's all part of the adventure when caving in the Cooks.
If You Go
Air New Zealand
www.airnewzealand.com
Atiu Tours
www.atiutours.com
Cook Islands Tourism
www.cookislands.travel
Emily Nixon is a freelance travel writer. This is her first piece for GoWorldTravel.com