Traveling to Ireland
On even the best of days the waters between western Ireland and its offshore islands can be temperamental.
But on this particular windy spring afternoon my ferry ride to Inishmore was the equivalent of spending a couple of hours on an old-fashioned wooden roller coaster.
"Don't worry, it'll be more than worth it," the boat captain assures me as I lay my head back, wishing I hadn't had that extra Guinness the night before. It didn't take very long once we hit land to realize that he was spot on.
Far removed from the east coast hustle and bustle of Dublin and the political problems that have plagued Northern Ireland, the Aran Islands are peaceful retreats characterized by treeless horizons, towering cliffs and an assortment of archaeological wonders.
They also appear to be in no rush to catch up to the modern world. After all, there aren't too many places left where a horse and carriage is still the main form of transportation.
The boat disembarked at the small town of Kilronan. I had often read that Kilronan had sold its soul to the devil and given in to the wickedness of tourism.
The Tourist Office
If you call a small tourist office, a few guys clambering to take you on island tours and a bank with no ATM as "selling-out," then I'd hate to see what these authors would say about Niagara Falls.
Tourists are not able to take cars to the Aran Islands, which means getting around is limited to four options: a small tour van — no thanks, too quick; horse-and-cart.
I'd rather not spend a day looking at a horse's backside; foot — at 10 miles long, not the best option to see everything Inishmore has to offer; or bike — bingo!
On a sunny day, Inishmore is awash in a sea of cycling tourists taking in the ancient island at a pace that suits its demeanor.
And with one main road running the length of the island, navigation is a cinch.
As I pedal my way west under a cloudless sky, I quietly wonder whether a bunch of clumsy foreign cyclists such as yours truly drive the residents mad as they attempt to get around and perform their daily duties.
But just then, I come across a local driver who stops to help a fallen rider, after which he hands her a bottle of water and an apple. Would that happen on the streets of downtown L.A.?
Isolation permitted the residents to maintain a time-honored lifestyle well into the 20th century.
The rugged islanders, immortalized in John Millington Synge's play Riders to the Sea and Robert Flaherty's film Man of Aran, maintain their hardscrabble life.
Even today, most of the island's 900 or so inhabitants live in stone houses and speak Irish among themselves, politely breaking into English to make their guests feel welcome.
Pastoral settings with grazing horses and sheep, and warm-hearted locals are a respite from the fast-paced modern world.
Almost immediately after I leave Kilronan, the landscape is dominated by stone walls and boulders enclosing hundreds of small fields like frames around artwork.
The Irish Fashion
And in true Irish fashion, these meadows are at least 40 different shades of green.
Thatch-roofed stone cottages strung along the road provide a great example of Celtic and early Christian heritage, and give me the impression that I've traveled back in time.
That is until a guy whizzes by me on his bike wearing loafers and bellowing into his cell phone.
While Inishmore is bursting at the seams with archaeological ruins, giving your neck a serious workout as you ride along, the biggest jaw-dropper of all is Dún Aengus, a semicircular stone-walled space that ends dramatically at a cliff some 300 feet (100 m) above the tumultuous Atlantic surf.
I have an overwhelming urge to do the touristy thing by getting down on all fours to take a peek over the sheer cliff edge.
A local informs me that, with no guard rails and strong winds at this spot, some tourists have not returned home from their visit.
One item for sure not going home was the hat of the Dane beside me, as he watched it slowly make its way down to the rocks below. "Look at that hat head," his girlfriend kindly points out, pouring salt on the wound.
A Little History
Dating back more than 2,000 years, Dún Aengus is made up of four semicircular stone walls (presumably these were circular originally, but they collapsed as the cliffs eroded) and a central stone slab.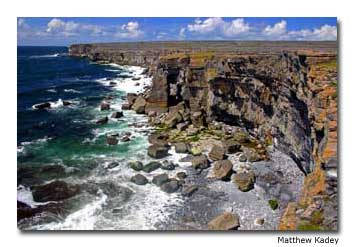 The walls cover an area of approximately 14 acres (5.7 hectares).
Between the third and the outermost wall, several thousand jagged stones were set in the ground at angles to serve as ancient barbed wire, making passage through this area very difficult for would-be attackers. Now they're just obstacles for ungainly camera-toting tourists.
While there's little doubt regarding the historical significance of Dún Aengus, what exactly that is, is up for debate. Who built and used this Iron Age structure?
Why here, with no water supply? Some historians question its use as a fort, arguing that it was used as a pagan religious center. With such a splendid setting, this is a much more romantic thought, as opposed to a hub for bloodshed.
Whomever it may have played host to in years past, on this day Dún Aengus is taken over by a group of Brazilian visitors posing for a provocative photo shoot, leaving me to ponder who had it harder:
the poor guys who were forced to lug all these rocks into place or the South American girls braving the cold Irish wind wearing micro shorts?
Back on my two-wheel cruiser, I set course for the island's best-known church ruin, Na Seacht dTeampaill, also known as The Seven Churches, which are believed to have been constructed between the 8th and 15th centuries A.D.
While indeed there may well have been seven churches originally, to my discerning eye it appears that only two stone structures have survived the harsh north Atlantic weather.
Beautiful Atlantic Weather
No matter, as this is one great place for poking around. As luck would have it, I have the whole area to myself, giving me plenty of opportunities to photograph the intricate stone work.
Stone crosses mark an ancient graveyard outside one of the structures. The current theory is that I'm standing on ancient slabs commemorating seven Romans who died here.
With the late afternoon sun beating down, I leave the ancient world behind and hit the fine beach at Kilmurvey, about 4 miles (6.4 km) west of Kilronan.
Inishmore might be known for the currach, a traditional fishing boat, as well as for its ivory-colored hand-knit Aran sweaters and many impressive archaeological sites.
But this beautiful stretch of sand tucked away in Kilmurvey Bay is a slice of heaven with a fabulous view of the Connemara Mountains on the northern horizon.
On such a splendid day (yes, despite being in Ireland, the big yellow orb does make frequent appearances) the only occupants on Kilmurvey's beach this afternoon are two children building sand castles, while the island's historical delights keep the tourists occupied.
After a day of fort and church hopping, it's time to take part in the great Irish pastime, listening to live music with a pint of Guinness in hand. In Ireland, a good pub is never far away.
At Joe Watty's bar on the outskirts of Kilronan, you can expect the very best traditional Irish jam sessions, both vocal and instrumental, according to the bartender.
On this occasion, three musicians are doing their part to rev up the patrons with a seemingly endless melody that befits Inishmore — subtle, yet full of energy.
If You Go
May, June and September are excellent times to visit, with fewer crowds and fairly stable weather.
Transportation
Aran Island Ferries (www.aranislandferries.com) operates year-round ferry service to Inishmore from Rossaveal. Aran Cycle Hire, in Kilronan, has plenty of bikes that can be hired for about €10 a day.
Lodging
Kilmurvey House (www.kilmurveyhouse.com) is an 18th century stone accommodation located only a stone's throw from Kilmurvey's beautiful beach. A double room is €80 per night.
Aran Islands Tourism
www.visitaranislands.com
Tourism Ireland
www.tourismireland.com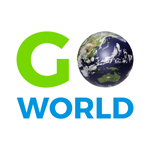 Latest posts by Go World Travel Magazine
(see all)