When visiting Sonoma County in Northern California, the first thing that comes to mind is wine tasting. After all, there are more than 400 award-winning and small family boutique vineyards.
But what if you don't drink wine? Or you only want to spend one day drinking wine and other days exploring Sonoma Valley. Not to worry, there are plenty of other enriching experiences in Sonoma County to enhance your trip.
Things to Do in Sonoma Besides Wine Tasting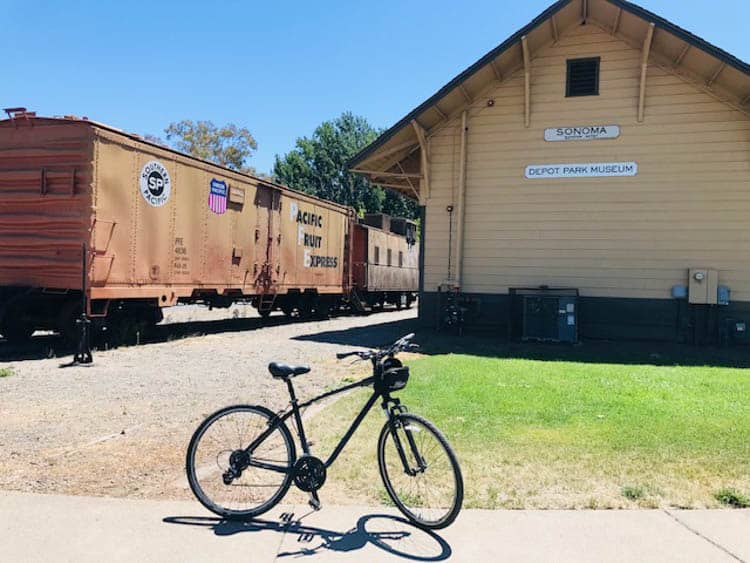 Explore Sonoma by Bike
Life opens up when you see Sonoma by bicycle. While staying at the Fairmont Sonoma Mission Inn, guests can take their own self-guided bike tour along paved bike paths. Cyclists can explore back-country roads, ride through quaint towns, stop at farm stands and even visit an old train depot into the historic Sonoma Plaza.
Sonoma Plaza is the largest plaza in California and was designed over 150 years ago by Mexican Governor Mariano Vallejo. Learn about the history of this National Historic Landmark while peeking into the historic Mexican military outpost, old adobe storefronts, meandering alleyways and pretty sunlit courtyards. There is also an eclectic mix of restaurants, artisan boutiques and art galleries.
Come back to the hotel and soak your muscles at the onsite Willow Stream Spa. The geo-thermal mineral pools offer relaxation and rejuvenation in each of the three outdoor pools.
They range in temperature from 92 to 102 degrees and the waters offer healing power from a thermal mineral spring. Located 1,100 feet below the resort, the water contains 27 different minerals and arrives at the surface at 130 degrees.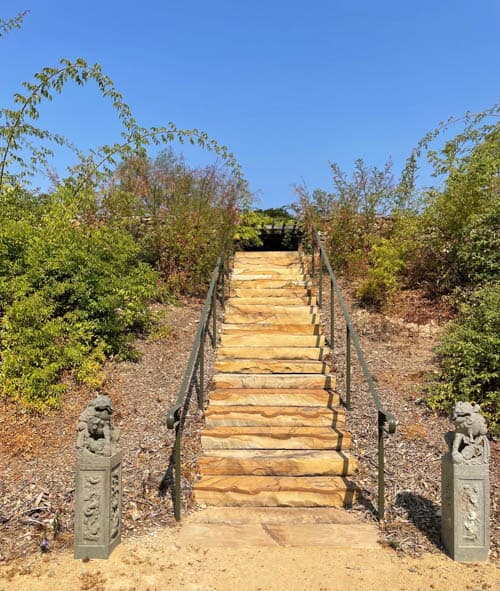 Enjoy the Sonoma Botanical Gardens
While staying at the Kenwood Inn & Spa, a charming bed and breakfast offering Tuscany-theme guest rooms and suites, nature lovers will enjoy visiting the nearby Sonoma Botanical Garden. Take a 2.5-mile hike exploring wildflowers, lakes, waterfalls and stunning hilltop vistas.
Rest and take in vineyard views underneath colorful prayer flags and climb the steps to cross small bridges throughout the 25-acre Asian gardens. These gardens were created almost entirely of wild-collected seeds from temperate parts of East Asia. Irrigation comes from the serene ponds displaying white and pink lotus flowers.
Every season the Garden changes. Take the Quarryhill Loop for an easy and relatively a flat stroll. The southern side of the garden is home to acres of native wild oak woodland and savanna. During the summer dimpled red fruit of the Evergreen Dogwoods and Chestnut Rose offer a pop of color.
In the fall, the leaves change colors on the maple trees and there is a burnt sugar smell from the Katsura trees. Winter Manzanitas bloom, and Spring brings beautiful and fragrant Magnolias.
The Kenwood Spa & Inn offers guests complimentary cheese and crackers in the evening with water or wine, plus a complimentary warm and cold breakfast delivered to your room in the morning.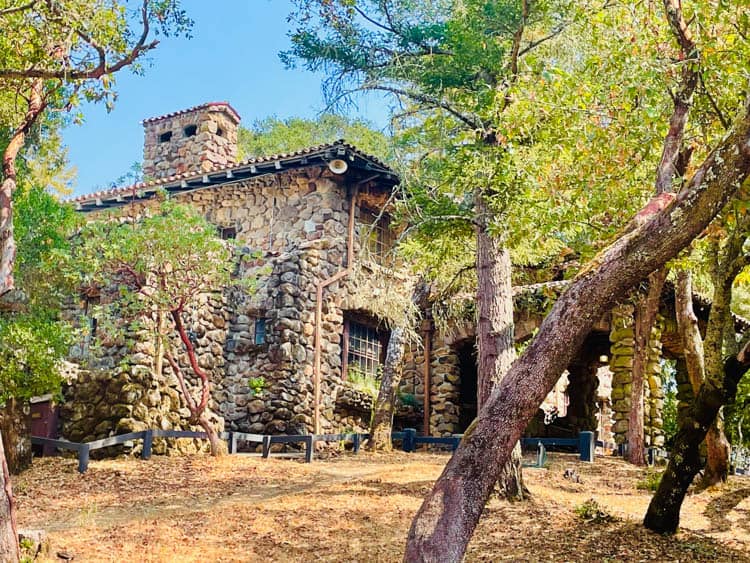 The Town of Glen Ellen
Also, near Kenwood Inn & Spa is the quaint town of Glen Ellen. Book lovers, as well as hikers, will want to visit the Jack London State Historic Park to see the last home of one of America's greatest authors.
Jack London is known for his best-seller "Call of the Wild" along with 50 other fiction and non-fiction books. He and his wife Charmian lived on this ranch from 1905 until his death in 1916.
In 1960 Jack London's nephew, Irving Shepard, presented their ranch to the state of California. There are acres of oak trees around "Charmian's House of Happy Walls" which was built in 1919 by Charmian London in memory of her beloved husband who died at the age of 40.
Step inside this interactive museum through various rooms to see a complete set of first-edition books by Jack London, along with photographs and a collection of artifacts the couple gathered while sailing and traveling the world.
Outside is an easy trail to walk to see the grave of Jack London and others. Plus, the ruins of Jack and Charmian's 'Wolf House'. The 15,000 sq.ft. home was built to last forever by architect Albert L. Farr.
Sadly, the 26-room redwood and stone home with multiple fireplaces, burned down in a fire in 1913, just weeks before the Londons planned to move in. There are informational signs highlighting the remains of this magnificent dream house.
Below the Jack London State Historic Park is The Jack London Lodge, offering 22 spacious rooms surrounded by wooded Valley of the Moon views. The relaxing outdoor patio offers an outdoor pool and spa, and the historic Jack London Saloon. It's located next to Jack London Village, a good lunch or dinner stop before or after exploring the area.
Vineyard Walks
Walk through vineyards to see goats, geese and other wildlife when staying at Vintners Inn. This beautiful, boutique property located in Santa Rosa is unique in that they encourage guests to take a self-guided vineyard walking or jogging tour.
Among rows of grapes growing in the warm sun, there are directional signs leading guests to the goats and geese. According to General Manager Percy Brandon, years ago while the goats were keeping the grass short and maintained in the vineyard, a couple of geese arrived from Canada and laid some eggs near the goat habitat.
When one gosling cracked out of its shell with a deformed wing, it couldn't fly away with the others. The juvenile stayed and was welcomed and protected by the goat herd. Now the goats and geese live at the vineyard in harmony.
After burning calories, sit at a table on the lawn outside the restaurant John Ash & Co., for a meal overlooking the vineyard. In the late afternoon, they offer one of the best Happy Hours in the area. Locals and guests enjoy freshly shucked oysters, baked oysters and charcuterie.
The Tuscan-themed Vintners Resort received the highest Environmentalist Level Award in the California Green Lodging Program by the State of California's Department of General Services. It's one of the few hotels in California to have been honored with this award for doing its part to keep California green.
They compost buckets of vegetable and imperfect produce from the restaurant and gardens to feed their goats and geese daily.
Zipline Above the Coastal Redwood Forest
Soar 250 feet above the majestic California Coastal Redwood Forest floor at Sonoma Zipline Tours in Occidental. The Tree Tops course is their fastest, highest and longest course. Participants get a birds-eye view of Sonoma County while fitted with a specially designed safety harness.
There are 7 zip-lines where guests fly up to 40 miles per hour and the longest line is 1500 feet. Cross two sky bridges and finish by rappelling down to the forest floor. A guide will help you see the Redwoods from above like you've never seen them before.
Take in the sights, smells and beauty of Sonoma County with or without a sip of wine.
If You Go:
To get a Sonoma 'Life Open's Up' travel planning guide, go to https://www.sonomacounty.com
Start planning your luxurious adventure to Sonoma, California today. Get prepared to travel with winery recommendations, hotel and VRBO options, local restaurant reviews and more through TripAdvisor and Travelocity.
Author Bio: Jill Weinlein travels the world in search for unique experiences. When not traveling, she resides in Los Angeles and is a restaurant critic for a Los Angeles-based newspaper, West Coast Editor and theatre critic for OnStage Blog.