The Two Best Views in Los Angeles Both Provide Hollywood Highs
"The InterContinental life defines the utmost in opulent, polished, discreet, unpretentious-but-refined service. It was the first luxury brand created and it carries on that tradition." – Niles Harris, area general manager of the InterContinental Los Angeles Downtown
It took me a couple hours to walk on paved paths and wide, walkable dirt roads from the famed Griffith Park Observatory up to, above and behind the white, 45-foot-tall individual, white aluminum letters that make up the iconic Hollywood Sign. Sure, from the parking lot, the sign was visible up in the nearby mountainside, but once I'd parked my car at the observatory and talked to an encouraging park ranger, I decided to give it a go. There is plenty of panoramic scenery for non-hikers on the lawn and sidewalks around the accessible observatory, which was most recently seen as a setting in the hit film La La Land, but the friendly ranger sealed the deal for me to get as close as allowed.
"I think you should do it. The hike will take you some time, but it's worth it," the ranger said before pointing me to what he considered to be the most scenic and gradual pathway up. I had planned to catch post time and bet the daily double at Santa Anita Raceway, but what the heck. It was "hooray for Hollywood!"
This Road Less Taken is a Popular and Easy to Identify
Don't let overcomplicated websites or guidebooks scare you off – the hike is more of a walk and simple to do even without a trail map. It did it on a Saturday morning and so there were plenty of people – some on horseback – for me to check-in with or chat up along the way. Fellow walkers were happy to provide directions at the one or two only turns or crossroads I encountered. The bends and switchbacks became more frequent the closer I got to the top and once I was very near the summit a new view unveiled itself off the backside of the mountain: Burbank, ABC Walt Disney Studios, Forest Lawn Cemetery, Pasadena, and other landmarks in a direction not visible until that point.
There is no place to get water on the way and there are no restrooms. That can make timing a privacy moment an issue when there is a stream, pardon the pun, of people ascending and descending, but the call of nature can tend to make a hiker resourceful.
Summit Satisfaction
I was thirsty, but my curiosity was quenched when I reached the sign's selfie-spot just below the 1,708-foot summit of Mount Lee. You can get close to but cannot touch the HOLLYWOOD letters – they are guarded by a chain-link fence. Be careful, but the best place to get a photo without the fence in it is a little higher up on a ledge looking down over the back of the sign. From there the letters are backwards but the view is before you: decades of Hollywood dreams stretching below from Beverly Hills to Paramount Studios and from Malibu to Melrose. I staked out a spot on the rocky shelf to reward myself and take it all in. I knew henceforth every time I would see the Hollywood sign from anywhere in the region, or on television and in movies, I would recall summiting the sign and standing above it, as I was at that moment, with my arms stretched wide, lording over all of La La Land.
I was pleased…and still parched.
Pleased…But Parched
Thirsty as I was, little did I know, as I took in the natural wonders and sweeping vista before me, the best drink within eyesight would also offer an equally stunning panoramic payoff: Spire 73, the rooftop restaurant and bar atop the downtown Los Angeles skyline I was surveying from the above Hollywood sign.
Thankfully, instead of a 3.2-mile ascending hike, Spire 73 is reachable in 43-seconds aboard a high-speed elevator and secondary scenic glass elevator in the high-rise InterContinental Los Angeles Downtown – an IHG Hotel – and the luxury brand's largest property in the Americas. On the way up, I spied the Hollywood sign and grinned with irony in the way Tom Hanks did, in the movie CastAway, when, in a food-filled hotel suite after being rescued, he flicked a lighter and recalled how much effort it took him, while stranded on the desert island, to "make fire!"
"Spire 73 is the highest open-air restaurant and bar in the Western Hemisphere. It's like you're on the top of the world and you can reach out and touch the moon," said Niles Harris, Area General Manager at the InterContinental Los Angeles Downtown. He showed me around the intricate, contemporary building, inside and out. The Edward Delena-managed, snazzy, Spire 73 offers, in the open-air, cuisine, craft cocktails, fire pits, water features, music, flat screen tv's, and event spaces.
Harris said sometimes an L.A.P.D. helicopter will fly up, pause, and its pilots will wave to the rooftop diners and dancers. "It's always a lot of fun up there and we make sure hotel guests can get a reservation. On a clear day you can see from the ocean to beyond the Hollywood sign."
I made certain to be there before and after sunset.
As satisfying as it was to have such a magnificent view across to the Hollywood Sign I'd labored to stand behind (and knowing I'd seen the skyline I now stood atop from that spot, too,) my next bit of irony was a major surprise. When I entered my InterContinental Los Angeles Downtown hotel suite I discovered the sepia tone mural that stretched the length of the wall above my king-sized bed was, coincidentally, the view from behind and above the Hollywood sign! A dream I'd achieved would loom above me as I dreamed each night!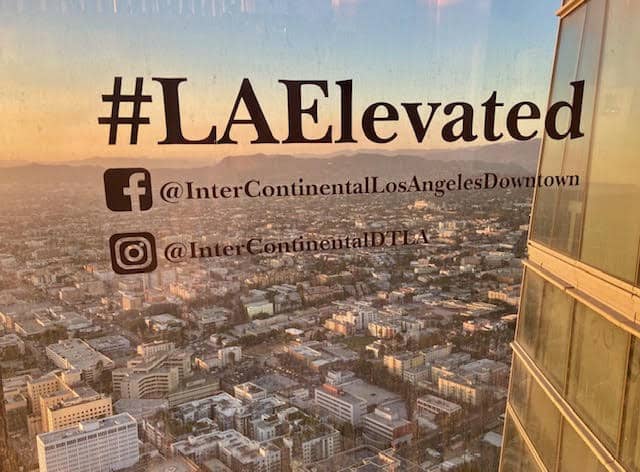 InterContinental Intrigue and Inspiration in Downtown Los Angeles
From the InterContinental's 70th floor lobby l could make out many L.A. landmarks including SoFi and Dodger Stadiums where the NFL's Rams and Chargers and one of the L.A. areas two Major League Baseball teams play. Above the check-in reception desk of the two-story lobby atrium dangle strings of colored lights which evoke the trails of tail lights visible on L.A.'s freeways far below. A 20-foot mural at the block-long, Wilshire Boulevard to Seventh Street covered, ground-level valet entrance is also an homage to the infamous traffic system.
Harris doesn't worry about the traffic since he lives downtown and walks to his office at the InterContinental. "I love living in Los Angeles. The vastness and diversity here is so rich with the ability to be in the desert and then three hours later in the mountains or at the beach. It's an amazing place with creative, different people, too. It's a rich culinary repository with every cultural advantage and major sport – though I haven't been surfing yet."
Star Surf and Steaks
The InterContinental Los Angeles Downtown is a property popular with celebrities, business leaders and star athletes who are famous but nevertheless value discretion. "We have starlight, private booths which our exclusive, A-listers tend to like in our fine-dining restaurant Le Boucherie," said Harris. He showed me the starlight booths in the Michelin and Wine Spectator-recommended steakhouse, which is infused with a French twist, and revealed how they present the seated stars with a 71-story view of their workplace showbiz kingdom. "Our hotel is incredibly busy and popular. It plays a major role in any sporting event, political event or convention."
All the InterContinental's guests are made to feel like stars whether they are business travelers or families on vacation enjoying the 7th floor rooftop pool, or the marriage-minded. The NBA Lakers home arena, the Staples Center (also a concert venue) and the LA Live entertainment district are in the shadow of downtown's highest building, too.
"People come from all over the world to see what Hollywood has to offer. We do quite a few weddings. We have 100,000 square-feet of indoor and outdoor large or small meeting space," said Harris. "The InterContinental life defines the utmost in opulent, polished, discreet, unpretentious-but-refined service. It was the first luxury brand created and it carries on that tradition."
Vast Views and Volumes of Experience
Harris, in my observation, glided through the InterContinental Hotel Los Angeles Downtown he manages with both ease and purpose. His 30-year career has led him through a true panoply of hotelier experiences in big cities, including New York, the other entertainment capital of the world.
"My travels have also had me working in St. Louis, Boston, D.C., Houston, Atlanta, Baltimore, San Diego, and Lake Tahoe," said Harris. "A hotel is a microcosm of a city. Everything a city has: people, food, police, and utilities. And working here is like being in heaven."
While he now is associated with celebrities, some of the previous properties Harris has led, like the InterContinental, were stars themselves: the NY Statler; Helmsley Palace; Essex House in the Big Apple, to name a few. Hotels, under his management have hosted The Super Bowl, The Olympics, NCAA Final Four, Rose Bowl, Times Square New Year's Eve Celebrations as well as The Democratic and Republican National Conventions.
After three years at this sleek, exciting, cosmopolitan spot in the center of downtown Los Angeles, Harris, with stars in his eyes while looking down from the view at Spire 73, always looks onward and upward.
Read more on Michael Patrick Shiels' travel blog, The Travel Tattler. Contact Travel Writer Michael Patrick Shiels at [email protected]
Latest posts by Michael Patrick Shiels
(see all)