PORTLAND BOUND: SCENIC WORLD (Gulag Orkestar album) – Beirut
Adapting to the whims of the Road
It's taken time, but I believe Van Morrison and I are slowly but surely getting to know one another. I've learned to adapt to his rather generous automatic steering, meaning I no longer veer left every time I look over my right shoulder to merge. This has happened more times than I care to admit, mostly resulting in multiple narrowly averted meridians, and less luck in avoiding sudden curbs.
And he, from what I gather by his silence, has learned to tolerate my incessant sing alongs. Though, on the odd occasion, at a hundred kilometers an hour, the driver's side door will abruptly swing open, leaving me to believe it is time to change the track. I've learned a backing up procedure that is slightly more successful than just closing my eyes, holding my breath, and hoping bad things don't happen. I've even managed to parallel park. Once. It took close to an hour, and nearly put me through cardiac arrest, but this is neither here nor there.
Travel apps for the uttermost simpleton
The road from Sprague to Portland is one of pleasant, steadily changing scenery. Plains, mountains, lakes. Greens, yellows, blues. And, of course, the Canadian Pacific Rail steaming gently alongside the Columbia river. Only a single stop was had on this five hour segment, in the quaintest of towns called The Dalles.
Now I'm not one for technology, mostly because I have the learning capability of a panda (look it up, they're literally the stupidest animals. Cute, but dumb as bamboo sticks). I've had the same iPhone since the Mesozoic era, and my computer can remember socializing with the typewriter, so the world of apps is not a world I delve into with regularity.
There is, however, one app in particular I do consider shareworthy, the fittingly entitled "Roadtrippers". With this app you can punch in your starting and end points, and it will give you options of every possible necessity in between, from campsites to restaurants, bookstores and markets, to a strip club shaped like a giant red milk jug (yes, I'm foreshadowing). I'm sure it does plenty of other things too, but this was all I could figure out, and the results have been ample!
Oldfangled bookstores and wineries of yore
So thanks to modern technology, I found myself in The Dalles, purchasing a stunning hardback of the lives of famous writers from the oldest bookshop in Oregon, Klindt's. I would have loved to stay longer and scavenge this blissful town for quirky cinemas and peculiar thrift stores, but the road was calling, offering enough patience for one more stumbleupon detour…
Sunshine Mill Winery. And what a beautiful detour it was. As one who lives for things that lived long before me, this was right up my proverbial alley. A huge mill, first constructed in the late eighteen hundreds, which once produced the wheat used to make the notorious Cheez-It, is now home to two wineries, Quenette and Copa Di Vino. A wedding held in the main mill left me to enjoy my tastings in the property's smaller, though just as historical, second building. Ever the rebel, I managed to sneak my way into the celebration, stealing a glance of the gorgeous interior still equipped with all of the mill's original machinery.
Not before leaving the bride and groom with my most sincere congratulations, I was off again. Portland bound, post haste!
Portland's Pirate Booty
I arrived in the city along with dusk and my intention of fitting in as much live music as possible given its wanted reputation for such. But first, I had to see for my very own eyes, this supposed milk jug shaped strip club. Oddly named The Pirate's Cove, it was indeed a giant red milk jug, housing an array of female bounty.
Now, my younger days have seen their fair share of strip clubs, but this one took the biscuit for being entirely tragic. A small, dark, and very round room, lit only by the casting of arcade gambling stations and a string of fairy lights that hung from no more than five feet of round stage, pole equipped. A woman, appearing to be in her mid-forties, maneuvered with surprising elegance around her confined performance space. She was joined by two girls looking barely legal to drive, let alone swing on a pole in ten inch platforms, who stood clutching their tip bags, fabricating interest with overt laughter while old men talked of nothing and sipped on Coors Light.
I ordered a beer from the waitress and while ID'ing me, I watched her struggle to find the birthdate on my Canadian driver's license, then struggle even harder to believe I could be months from thirty. I instantly felt pre-adolescent and entirely out of place.
A girl with dark, pixie cut hair in frilly pink bloomers and a flowered balconette bra (don't ask me how I know what that is, I've never owned a bra in my life) approached me after her beer bellied tip jar wasn't putting out. She sat on the stool adjacent to mine, chest inflated, her back arched just enough to give the impression of a derriere. She told me her name, then awkwardly fumbled through what I assume was her attempt at flirting with me.
I suddenly felt the pangs of easy life guilt. Here I was, drifting through town, stopping for some novelty milk jug entertainment to bring home through witty storytelling and here was this girl, desperately pretending she loved being this novelty.
Unfortunately, hers was a tale as old as time. Her parents were mean, so she ran away and found what she truly believes to be a lucrative career. I regretfully asked how much she made. With pride, she replied that on a good day she would go home with one hundred dollars. My heart sank. How I wanted to tell her that as a server, even on a bad day, I still used to leave with one hundred dollars, on top of my hourly wage, AND I got to keep my clothes on. But it was her turn to dance, and even if it wasn't, I knew my lecture would fall on deaf ears.
"The worst is when nobody wants to watch you dance." She looked at me and I watched her chest begin to deflate despite her shoulders relentless attempt to hang on.
"Will you watch me?"
"Yeah, I can do that." Turns out I couldn't. I followed her to a chair in front of the stage. She turned on her music and placed her tip bag in a cubby beside the speaker. With eyes fixed on mine, she began to dance with the coordination of a fawn in ice-skates. I immediately felt the need to look everywhere else. My gaze fell to the corner of the room. A mere couple feet from where I was, a man sat, legs spread in a chair surrounded by a disconcertingly sheer curtain, while the previous performer indulged him in a lap dance. He looked at me and smiled. It was time to leave.
"You seem distracted."
I didn't know what to say, so I placed some money on the stage and told her to have a nice evening. I sat in Van Morrison for a long time, waiting to feel less dirty and less sad. Eventually, I found myself at a pub called the Laurelthirst Public House, and as much as I tried to enjoy the Bonnie Raitt style band, and my exceptionally tasty Old Fashioned, my sentiment had irreversibly shifted. I parked Van Morrison on a residential side street and called it a night.
Portland Sustenance: Voodoo Donuts and Stumptown Coffee
In the morning, I got out of my van and smiled. For I knew that along this journey, in no other city but reputably hipster Portland, would I wake to find two neighbourly camper vans parked on the same street, curtains inconspicuously drawn and no one present to tell us to take a hike.
It was a new day, and a bright one, made even brighter by the city's bizarre obsession with donuts. Voodoo Donuts, which sounds more like a cult than a bakery, and appropriately so, was recommended to me by my brother, the ultimate foodie. Knowing nothing of its excessive popularity, I arrived at around 9 am to what I had thought to be a rather long line, one reaching from the counter to the front doors. By 9:10 this line had quadrupled. Everyone in Portland be donut cray. When I got to the till, I was far too overwhelmed by the rotating tower of displayed goods that I panicked and picked the first two that I saw: the classic Portland cream and one that was meant to look like a big, fat joint. Both were delicious.
Next on my brother's to do list was his favourite coffee shop, Stumptown. I hadn't written in days so I decided to make the cafe my home base for the morning. I entered to yet another line– Portland people know what they want and what they want is what everyone else wants. One large open space, simplistic, yet comfortable. The patronage was varied, with a delightful array of walks of life all waiting patiently for quality crafted caffeine and, far from my surprise, more donuts.
When in writing mode, I tend to flourish far more in a social setting than I would alone at a wooden desk in some cozy, sound muffled utopia. The abrasive sounds of clinking glasses, booze induced conversation and exaggerated laughter are what whet my wordsmith whistle. But on the odd occasion, there's nothing more enjoyable than the more tranquil social alternative; the coffee shop.
It's rare to find me first sentence in without having spent at least ten minutes aptly people watching. There's something so authentically inspiring about watching humans being humans. It is but the genesis of fiction. While I noted a couple arguing over whether they should share one or indulge in two of the cafe's perhaps less famous, but equally delicious donuts, I heard the musical genius of Beirut emphatically announce its presence among the gentle chatter and steaming espressos. I instantly garnered this a fine establishment, and enveloped myself in its ambience for three blissful hours.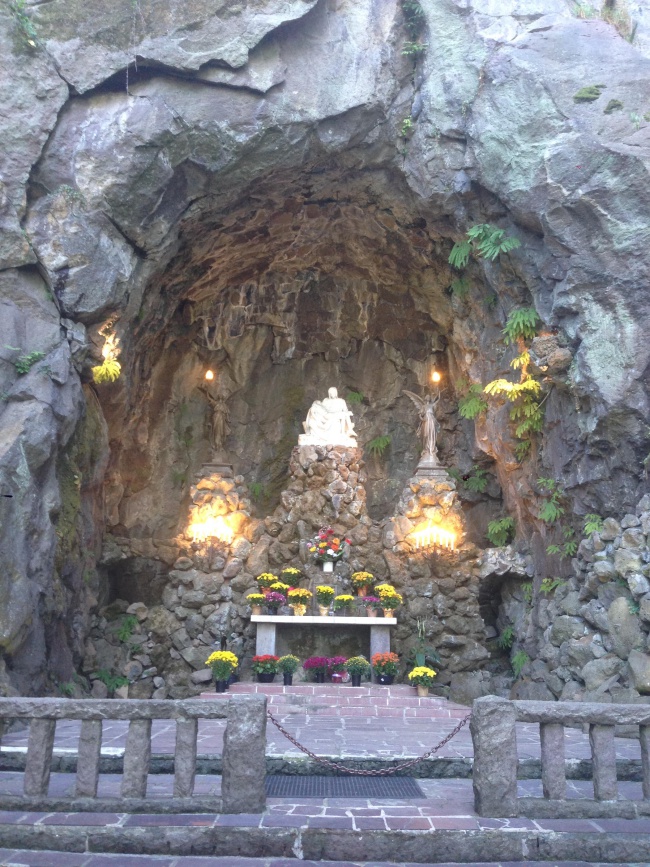 The Grotto: Finding Portland's spiritual side
My priceless app offered one more stop in sunny Portland that had peaked my interest. The Grotto. Though I am not a woman of faith, despite a childhood drenched in bible camps, Jesus parties, and a father who once tried to baptize me in river, I still find the concept of religion entirely fascinating.
The Grotto, or The National Sanctuary of Our Sorrowful Mother, is an outdoor Catholic sanctuary featuring a shrine honouring Mary carved into the base of a one hundred and ten foot cliff. A life size replica of Michelangelo's Pieta (which, while in Rome I learned is actually completely unproportionate and flawed — Sorry Mikey) centered the decorated altar. And who would choose to erect such an elaborate dedication to the mother of Jesus? None other than my home and native brother, an Ontario born Canadian.
The grounds were simple and peaceful, and while I wandered the gardens a hundred feet above, I could hear the distant procession of mass from the church below. Set as bookends at each edge of the lush garden stood a glass meditation chapel that looked more like something belonging to Christian Science than a one hundred year old historic site. On the other side, and rather contrasting, an active monastery crafted beautifully with sandstone from Oregon's bordering state of Washington.
While I didn't feel an encompassing desire to pray for a safe journey, or at the very least, a successful one, I did find myself in the gift shop sifting through charms of the many saints and their corresponding protective roles…
Andrew: Saint of fishermen
Basilissa: Saint of nursing mothers
Germaine Cousin: Saint of shepherdesses
Hunna: Saint of laundry workers and washerwomen
It wasn't until I got to the J's where I found inspiration.
Jude: Saint of hopeless cases
That was the one.
But of course, when I reached my hand into the drawer, it was empty. Figures. The next to rouse my attention was in the P's
Paul: Saint of writers and travelers
I bought him and immediately hung him with red and orange string from Van Morrison's rear view mirror. A rear view mirror, that in a van such as Van, is completely useless save for a base to display superstitious catholic decor.
Lady Hill Winery: Sips of serendipity 
As I made my way across Oregon towards the coast, I saw a sign for Lady Hill Winery. Though intrigued, I chose to carry on, wanting to reach Lincoln City before dusk. A couple of miles further I saw the sign again, and then again, until finally I gave in and swerved a sharp right down a winding road, leading me miles in the opposite direction.
I arrived upon a small but stunning winery overlooking rolling hills of farmland. A humble structure, the building's centre feature was the property's original windmill from the 1850's transformed into a chandelier, hanging proudly from the rafters. Oddly enough, the music playing was the very same Beirut album which had serenaded me while savouring Stumptown's coffee some hours prior. While sipping a tantalizing Pinot Noir, I asked the personable sommelier where exactly it was that we were.
"You're in St. Paul." She said. "Try this one, it's on the house."
And that, my friends, is how you know the universe is on your side.