How would you like to spend a night or more at a hotel once frequented by Clark Gable, Ingrid Berman, Marilyn Monroe and a long list of other Hollywood luminaries? Or snuggle down under the sheets at a former stagecoach stop along the famous Chisolm Trail which played host to George Custer, the cavalry commander in the Civil and American Indian Wars, and Jesse James, who needs no introduction.
If luxury and elegance are your preference, the Hotel Du Pont in Wilmington, Delaware, which opened in 1913, was built to challenge the finest European lodgings of the time in stylishness and beauty.
A hotel can be more, much more, than just a place to catch a good night's sleep. Properties throughout the United States offer interesting stories of famous guests, accommodations that range from laid back to lavish, and opportunities to snooze with intriguing chapters of American history. At this stay-at-home time, they provide a welcome escape for people seeking a change of scenery without having to travel far from where they live, or happen to be visiting, in the U.S.
A Hotel for Hollywood Heroes
An Italian Renaissance-style building which was the first high-rise hotel in Phoenix, and first in the state of Arizona to have elevators (which were hand-operated), was the go-to place for Hollywood celebrities when it opened in 1928. Marilyn Monroe and other movie stars and dignitaries who frequented the Hotel San Carlos over the years are memorialized by copper stars set in the sidewalk.
Guests of the hotel today enter the same limestone-tile lobby with its original carved crown moldings, elaborate crystal chandeliers and other architectural features that once greeted famous movie stars. For more information about taking this trip back in time, log onto www.hotelsancarlos.com
The setting was less sumptuous at a rest stop that was built in 1861 along the Chisolm Trail, to accommodate ranchers and drovers herding cattle from Texas to Kansas. The modest but comfortable Stagecoach Inn over time also provided lodgings for 19th-century notables who were passing through Texas, ranging from the famous to the infamous. (www.stagecoachsalado.com)
Stagecoaches, rather than cattle drivers, holed up for the night at quarters in Colorado that are older than the state itself. Following its debut in 1874, The Cliff House at Pike's Peak was a stagecoach stop along the gold mining route from Colorado Springs to Leadville, Colorado.
Later it became a military barracks and then host to VIP guests as diverse as Theodore Roosevelt. Charles Dickens and P.T. Barnum. Many rooms offer views of towering Pike's Peak and its surrounding foothills. (www.thecliffhouse.com)
Elegance on the Go
Rather than a place to stay when on the go, some historic hotels were designed to be destinations themselves because of their opulent décor and furnishings. From 1913 to the late 1930s, the Grand Hotel in Indianapolis, Indiana offered guests the height of luxury. Reopened recently as the Omni Severin, it retains touches of its elegant past including a dramatic marble stairway, an immense Austrian crystal chandelier and original mahogany dressers which are located in each elevator landing. (www.omnihotels.com/indianapolis)
The Hotel Du Pont in Wilmington, Delaware, which was built during America's "Gilded Age" to rival the finest hotels in Europe, opened in 1913. Rich woodwork, mosaic and terrazzo floors, gilded hallways and other adornments were created by artisans from France and Italy who toiled for two-and-a-half-years to make the building a monument to outstanding craftsmanship. The results of their efforts serve as reminders of a decades-long period of economic development in the United States that began in the 1870s. (www.hoteldupont.com)
Castle in the Air
Some well-heeled travelers who could afford to overnight in the lap of luxury chose to "take the waters" at health spas that were built near natural springs, which became popular during the 19th and early 20th centuries, and beyond. The 1886 Crescent Hotel & Spa in Eureka Springs, Arkansas was one such property.
The massive stone structure perched on a hilltop is reminiscent of castles in Europe and earned the epithet "Castle in the air." The hotel is surrounded by acres of lovely gardens and forested walking trails, and retains the tasteful traces that made it a popular mountain retreat for wealthy clientele. (www.crescent-hotel.com)
Less luxurious, but equally inviting in its way, is a personal favorite located in a quaint village in the lakes and mountains region of western Maine. The Rangeley Inn, set in a tiny town with the same name, opened as the Rangeley Tavern in 1909. Several years later, another, smaller inn which stood nearby was attached to the larger building, and today is one wing of it.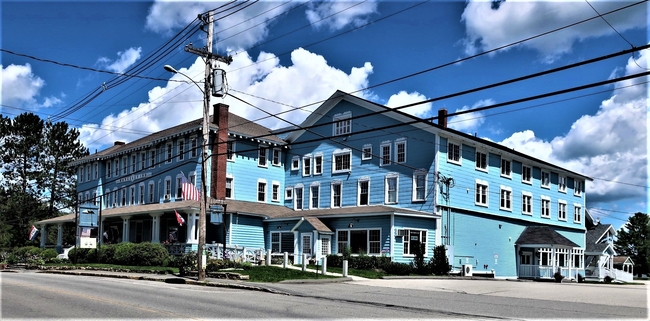 A visit to the rambling wooden structure provides both an introduction to the surrounding area and a walk back in time. The head of a moose and rearing body of a bear in the lobby, which represent the abundant wildlife that inhabits the surrounding woodlands, greet visitors. Antique furnishings scattered here and there contrast with the renovated, well-appointed guest rooms.
The walls are covered with vintage photographs that depict varying aspects of local history and lore. These include its long-held reputation as a freshwater fishing Mecca, and the time when a narrow-gauge railroad carried visitors primarily from Boston, New York and Philadelphia to the destination, and steamboats then completed the journey to the large hotels that once lined the shore of Rangeley Lake.
The interesting history of the Rangeley Inn, combined with the Norman Rockwell-like ambience of the town in which it's located and four-season choice of activities, makes this a perfect place to sleep with history. (www.therangeleyinn.com)
If you go. Historic Hotels of America, a program of the National Trust for Historic preservation, includes more than 300 properties throughout the country that have "faithfully maintained their authenticity, sense of place, and architectural integrity." All are recognized as having historical significance and offer exceptional accommodations and amenities. For more information, log onto www.historichotels.org
Authors: Fyllis Hockman and Victor Block are a husband-wife team of experienced travel journalists who have gallivanted throughout the United States, and to nearly 80 countries around the world, and written about what they have seen, done and learned. Their articles have appeared in newspapers across the country and on websites across the Internet, and they each have won numerous writing awards. They love to explore new destinations and cultures and uncover off-the-beaten-path attractions. Read more of their work at The Rambling Writers
Latest posts by Rambling Writers
(see all)