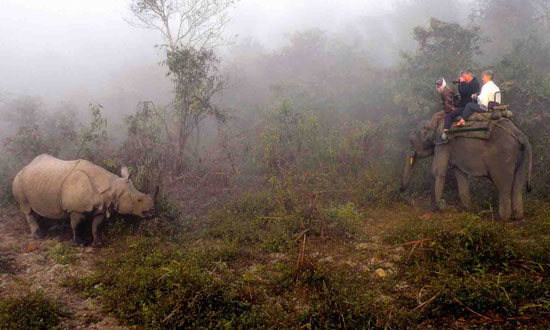 The huge, single-horned beast looks up and gazes at us in the early morning mist. Its thick, gray, leathery hide drapes down its flanks, like sections of armor plating. Two small birds perch on its rump, pecking away at insects. The rhinoceros is unperturbed by the birds or our close approach, allowing us to observe it at leisure from high above.
My wife Annie and I are riding atop an elephant through the grasslands of remote Kaziranga National Park in the northeastern state of Assam, India, where most of these Asian one-horned rhinos are concentrated. Several other elephants, each with a mahout (handler) and two or three visitors straddling a saddle, cluster nearby. Cameras click away. Soon, we encounter a small group of water buffalo. Grazing placidly, their broad, curving horns glisten with moisture. Later, we pass a herd of nimble, swamp deer, dozens of them, which race away through the tall grass.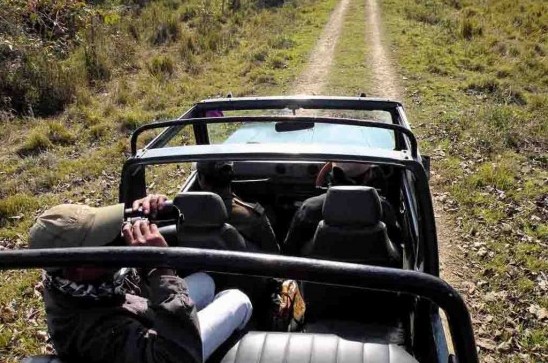 Safari in India
This safari, and others by jeep and on elephants, is the highlight of a visit to Assam, featuring an eight-day small-ship cruise along the broad Brahmaputra River, and includes two outings into the Kaziranga Park. We then spend four more activity-filled days at a lodge within the national park itself. The park offers some of the world's richest and most rewarding wildlife-viewing opportunities. Unfortunately, a dark and sobering reality intrudes. Our jeep safaris are accompanied by uniformed park rangers, carrying powerful rifles, and these are for the protection of the rhinos, not the foreign visitors.
For years, gangs of well-organized poachers with AK-47s have been shooting rhinos and cutting off their horns. These are smuggled out of India to be sold in Vietnam and China, where rhino horn is believed to have cancer-curing and other medicinal properties. It is literally worth more per gram than gold, and the assault on the rhinos has recently surged. In 2012, 21 of these noble beasts were shot in Assam, but by mid-April of this year 17 more had already been killed. The situation made heart-wrenching international headlines when a 15-day old baby rhino was left orphaned by the death of its mother, whose corpse was not found until days after its killing. The rhino calf, dehydrated and traumatized, needed special veterinary care.
In response, the government has beefed up its patrols of armed park rangers, supported by soldiers, and began training hundreds of additional rangers. It has even deployed sophisticated, hand-launched observation drones to add extra eyes in the sky, because Kaziranga's 185 square miles of rugged parkland is so difficult to patrol on a round-the-clock basis. When armed poachers are caught within the park, the patrols do not hesitate; they shoot to kill, because the poachers fight back. In May, two forest guards were critically injured in a shootout with poachers. Two poachers were shot and killed by rangers in March, and a handful of others arrested at their homes following investigations by India's equivalent of the FBI.
Continued on next page