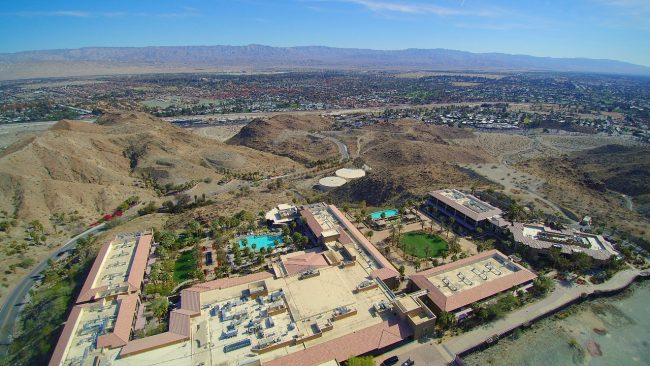 Vacation in Palm Springs
The desert oasis of Palm Springs makes the perfect luxury getaway destination any time of the year. Summers can be hot, with most days over 100 degrees, but the crowds are less and mainly only hardy locals stay in town between June and August. Winters are the resort city's high season, with most days full of sunshine and around 75 F. In addition to the nice weather, Palm Springs has a thriving restaurant scene, with something to satisfy every palate and every budget. There's a even a casino downtown with a range of ways to lose, I mean win money. Palm Springs is 100 miles east of Los Angeles. Without respect to traffic, the drive takes about two hours.
The city (and surrounding valley) is filled with a wide range of luxury hotels. You have intimate, Spanish-style courtyard boutique properties like the Colony Palms, as well as huge, sprawling resorts like the La Quinta Resort & Club, A Waldorf Astoria Resort. For the purposes of this hotel list, I am going to include resorts and hotels in what you might call the Greater Palm Springs area, which would include the surrounding cities of Rancho Mirage, Palm Desert and La Quinta.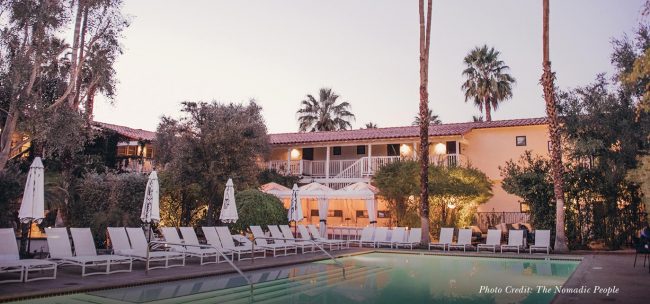 Colony Palms Hotel
This boutique luxury hotel is the best (and most expensive) place to stay in the downtown Palm Springs area. Its location means you can walk to the downtown shopping and dining areas along Palm and Indian Canyons and the Uptown Design District. The rooms and suites, each individually designed and decorated, surround a courtyard with a swimming pool. The hotel is home to one of the best (and most expensive) restaurants in Palm Springs, the Purple Palm which features organic, New American cuisine, served poolside and in the indoor dining area.
Colony Palms Hotel
572 North Indian Canyon Drive, Palm Springs
The Ritz-Carlton, Rancho Mirage
This luxe resort sits on a mountaintop in Rancho Mirage, about 15 minutes from downtown Palm Springs. Most rooms and suites have beautiful views, some face the inner pool and recreation area. Dining options include The Edge steakhouse, which literally sits on the edge of the cliff, offering valley-wide views. The other dining venue is State Fare Bar & Kitchen which is a more casual, comfort food option with a seasonal, locally-sourced menu.
The Ritz-Carlton, Rancho Mirage
68900 Frank Sinatra Drive, Rancho Mirage
Ingleside Inn in Palm Springs
One of my favorite hotel options is just at the southern edge of the downtown Palm Springs area. The Ingleside Inn is an old-school, resort (now an Avalon Hotels property) with Spanish-style rooms, suites and individual casita accommodations. Recently overhauled and transformed into a luxury boutique oasis, it's a great place to stay and you can walk to all the downtown shopping and dining. Guests also benefit from the fact that the boutique hotel is home to Melvyn's, one of the city's best restaurants (complete with a great Sinatra-esque piano bar).
Ingleside Inn
200 West Ramon Road, Palm Springs
La Quinta Resort & Club, A Waldorf Astoria Resort
This iconic resort was first opened in the Roaring 20's to draw Hollywood's biggest names to the new desert resort. Its luxurious suites, villas and casitas offer both privacy and luxury and the huge resort has endless things to do and eat, all on-property. There are seven restaurants, five championship golf courses and forty-one swimming pools! The resort's location in La Quinta, about 30 minutes from downtown Palm Springs means it's a bit of a drive.
La Quinta Resort & Club, A Waldorf Astoria Resort
49499 Eisenhower Drive, La Quinta
Parker Palm Springs
This funky, 22-acre resort is probably the city's hippest luxury hotel. The Parker Palm Springs is a former Howard Johnson's motel so the basic rooms can be a bit small. They're all very stylishly designed (by iconic designer Jonathan Adler) and appointed. The hotel also has suites and villas with much more space. Public areas have a very cool design and there are multiple pools and all kinds of activities from ping pong to a giant chess board. There's a fancy diner, a steakhouse and a cool bar there too.
The Parker, Palm Springs
4200 East Palm Canyon Drive, Palm Springs
Read more of Freddy Sherman's take on travel on his Go World Travel Blog. You can also follow more of his adventures at luxuryfred.com, on his luxuryfred Instagram feed and on his YouTube channel.