Imagine being the pebble snapped out of a slingshot. A human cannonball in a circus. Or riding in a two-seater at 200 miles per hour around the Indianapolis Speedway.
I imagine they're all pretty much alike – but I know what the latter feels like.
When I signed up for the ride, it sounded like fun. I love speed. I love tearing down a steep hill on a slick saucer over icy snow. (Remember the scene in 'Christmas Vacation' with flames shooting out of the back of the sled? Yeah, like that). I once rode a "thrill sled" down Big Mountain in Montana – on a dirt track, face down and just inches from the rocks whizzing by.
I could handle this.
I sat through three days of convention meetings to do this. It was the real lure for going to the Midwestern metropolis. I got to do it with a group of friends. Some were older, some younger, some taller, some shorter, some braver and some more scared.
I wasn't scared of the speed, but I am claustrophobic, and I do get carsick from time to time.
But I could handle this.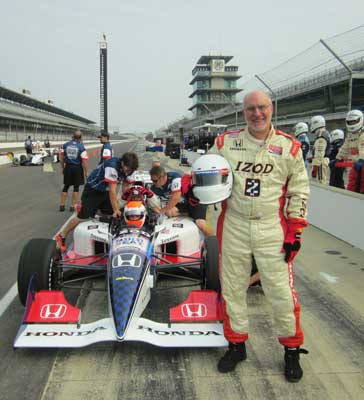 "It goes by like THAT," said Scott Jasek, the mastermind behind these two-seater rides that anyone can take if they have 499 dollars to spare. Jasek, who gave us our briefing before the ride, assured us (over lunch, maybe not a good idea) that every safety precaution was being used. We'd wear the same gear and safety equipment as the drivers. We'd do two laps each (the Indy 500 drivers do 100 times that). We signed waiver forms which seemed fairly straightforward – till they asked for our blood type.
So we all trundled onto the bus and made our way over to the track. Two sleek, snazzy two-seaters sat there, waiting silently for us.
"Come on, everybody, suit up," Jasek hollered over the nervous chatter. I made the mistake of being polite and ending up at the back of the line.
By the time I got to "suit up," the few remaining suits would have fit Magic Johnson. I'm 5-foot-almost-three and so the legs looked like two scrunchies and the waist hung down below my butt.
Now they call them fire suits, but by the time you stand out in the September sun for an hour in one, waiting for your turn, you might say it becomes a wet suit. Then they pull a sock over your head (with a face hole), and top it with a helmet. Gloves go on next.
OK, I could handle this.
My turn. Jasek walked me to the car, hand on elbow (in case I tried to escape), and helped me in. I sat on the wing and swung my feet over, like getting into a bathtub with a very tight fit. Each foot and leg went into a narrow tunnel on either side of the driver. The padding of the suit and car held me snug as a bug. Helmet faceguard came sliding down. A neck brace was locked into place, along with a five-point harness, pulled tight.
Add a tad of mounting claustrophobia and I'm set to go.
"I will not panic," I told myself. "I WILL NOT PA —."
And we're off!
The car shot from a standstill to 200 mph within seconds. Fence posts that were probably 30 feet apart whizzed by like the teeth of a zipper. Don't look, I told myself. Breathe. Close your eyes and feel the speed. I simply refused to let car sickness take over – how humiliating would it be to throw up in a priceless race car?
Before I could process all this, it was over. We wound to a stop more gently than I imagined and they were pulling me out.
"Wow!" I said eloquently, when I could speak. And then babbled: "But I didn't get car sick! Did I tell you I get car sick?"
Jasek rolled his eyes.
"You didn't …" he began.
"Nope, not enough time," I said, somewhat proud. And so, relieved to be out of gloves, helmet, head sock and all, I smiled when they took my picture (after hitching up the pants on the suit so I wouldn't look like a figure in a funhouse mirror).
I unzipped that suit so fast; it nearly fell off by itself. A cool breeze wafted through the shed where we hung out before and after rides. My stomach settled down, and I drank a bottle of water.
"I did it!" I thought.
Two laps were enough for me, but many of the others wanted more. Some watched and decided not to do it. I'm glad I did it, but I will never know how those drivers can do it for 3 ? hours.
No wonder some of them drive into the wall.
About the Indy Racing Experience:
The Indy Racing Experience, as it's officially dubbed, gets about 2,500 passengers a year at the Indianapolis site. So far, about 50,000 people have done it, says co-owner Scott Jasek.
The most common reaction?
"Disbelief," Jasek says. "They can't believe they take those corners at that speed without touching the brakes. There's nothing to compare it to, because there's nothing quite like it." It cracks him up "when some big guy gets out of the car jumping around and screaming like a little girl," he's so excited by what just happened.
Does anyone ever faint or get sick?
Jasek laughs.
"I get asked that a lot," he says. "As far as I know, only two people have gotten sick and nobody has fainted.
And although the rides cost $499 for two turns around the track, they sometimes offer "specials" during slow times of the year (keep an eye on their website). The rides are popular with celebrities, but Jasek says the ones he loves best are the ones given as gifts to people who are ill or dying. "Sometimes it's a last wish. Those just get to me."
If You Go:
To inquire about the Ultimate Indy Racing Experience, call 888-357-5002 or go online to www.indyracingexperience.com. The Indianapolis Motor Speedway is an enormous complex that offers a variety of diversions for racing fans. Besides experiencing a two-seater ride, here are some other things to do at the Indianapolis track.
* Visit the Hall of Fame and Museum. It has a fine museum where you can see famous cars, learn about famous drivers, and add to your knowledge of the Indy 500, which is run every Memorial Day weekend, as well as other races held at the track.
* Take a tour. There are two tours with varying stops – pick the one that suits you. Get to see the start/finish line and take a photo there (and kiss it, like the drivers do, when they finish).
* Visit the Dallara car factory, where many of the Indy cars are made by hand. They give public tours. Hint: Do this AFTER your two-seater ride; if you knew how little was separating your body from the track wall, you might think twice.
* Take in a car show or concert – both popular events at the Speedway.
* For more on how to experience the speedway and its sport, go online to indymotorspeedway.com/500do.html.
About the Author: Linda DuVal is a freelance writer in Colorado Springs, Colorado.