Most people have a negative reaction when it comes to timeshare ownership. Many equate timeshares to overpriced vacation properties that pushy salespeople scam you into buying through aggressive sales tactics and lengthy presentations.
However, timeshares themselves present wonderful opportunities for those that love to travel and vacation with flexibility.
And luckily, there is a way to purchase a timeshare at a better price without wasting your time at a timeshare sales pitch — the resale market.
We asked SellMyTimeshareNow.com, a site that offers an in-depth look at all things timeshare and features tons of timeshares for sale by owner, to provide us with information on how the resale process works.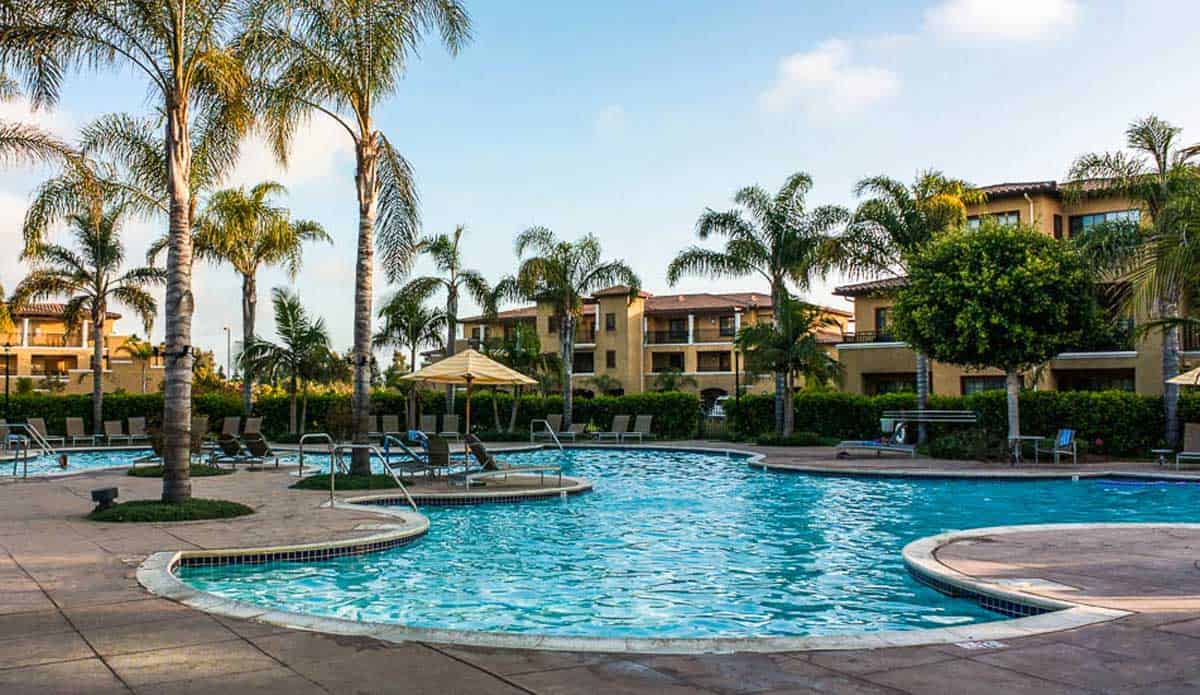 What is a Timeshare?
Simply put, a timeshare is a period of time (usually a week) that you own at a specific resort. Rather than owning the property, you own a window of time that you are able to visit your chosen villa or suite.
Timeshares are available in fixed weeks (the same week every year), floating weeks (choose a week within a specific season), or points-based ownerships (use allotted points to book your vacation when you want).
Timeshares can be visited annually, twice annually, or even every other year. There are so many timeshare variants, vacation clubs, and resort brands to ensure you can make your ownership work for you.
A big perk to timeshare ownership is the ability to exchange. You may own at one specific resort, but you are able to trade your timeshare for a vacation at another resort.
This can be done internally if you own in a specific vacation club like Disney, Marriott, or Wyndham, or externally if you are a member of an exchange club, like RCI or Interval International.
Another great thing about timeshares is that they offer the comforts of home paired with the fantastic amenities of a resort.
You can stay in a spacious multi-bedroom suite with a kitchen, full bathrooms, living room, private balcony, and laundry machines.
Leave your suite and you'll have access to swimming pools, hot tubs, restaurants, fitness centers, game rooms, and more for a full vacation experience without stepping foot off the property.
How to Buy a Timeshare from the Resort Developer
Traditionally, you would have to visit a resort to purchase a timeshare. You might find yourself staying at a resort for a regular vacation when you get enticed to sit through a "short" presentation through the promise of a gift card or other sort of reward.
You can be sure that this presentation won't be short as promised, and likely whatever reward you will receive won't be worth the time wasted and the stress of a high-pressure pitch.
You'll have to sit through the whole presentation, then you will have to sit down with a salesperson who will work very hard to pressure you into purchasing a timeshare property at the resort. They use tactics notorious for getting people to give in and purchase a timeshare they may not even be able to afford.
How to Buy a Timeshare on SellMyTimeshareNow.com
Now picture this, you're relaxing at home on the couch, surfing the web, researching ways to vacation more affordably. You stumble on an extensive inventory of timeshares available for sale by owner on SellMyTimeshareNow.com.
Rather than be forced to sit through that annoyingly long presentation with lots of added stress and pressure from the salespeople, you can peruse the selection of timeshare resales at your leisure.
You can read about each resort, the different types of timeshares available, and price out options that best work for you. SellMyTimeshareNow.com has numerous resources that will help you to educate yourself and learn what timeshare would best fit your lifestyle.
The SellMyTimeshareNow.com inventory offers a selection of filters that can be used to narrow down your search. You can search by destination, unit size, resort brand, desired on-site or unit amenities, and much more.
These are all the exact same units and ownerships that you would purchase directly from the resorts, they are just being advertised by owners rather than big developers. This also saves you thousands of dollars on ownership.
When you purchase from a developer, you pay for the price of the timeshare as well as a large sales commission, taxes, and dozens of other hidden fees. Whereas on the resale market, you are paying simply what the timeshare is worth — sometimes even less.
Another benefit to the resale market is the ability to rent a timeshare to "try before you buy."
If you are considering multiple properties, you can find low-cost timeshare rentals to visit these resorts and enjoy the timeshare lifestyle experience before making the purchase.
Once you find a timeshare that suits your needs and desires, you simply complete the form on the specific timeshare ad.
You can even make an offer below the advertised price. Owners are often motivated and willing to work with an interested buyer.
After you negotiate with the owner and agree on a price, SellMyTimeshareNow.com will refer you to a trusted closing company to aid in all the legal paperwork. The process is simple, stress-free, and has helped people feel a little less icky about the word "timeshare" over the years.
So, Are Timeshare Resales Right for You?
Buying a timeshare on the resale market will save you time and money and let you bypass the lengthy, high-pressure sales pitch altogether.
You also won't have to pay resort mark-up fees by purchasing from an owner, saving you hundreds to thousands on the purchase price.
It's a great solution for you if you've ever wanted to purchase a vacation property at an affordable price, all from the comfort of your own home.
Be sure to read more of our useful travel resources.
Latest posts by Go World Travel Magazine
(see all)