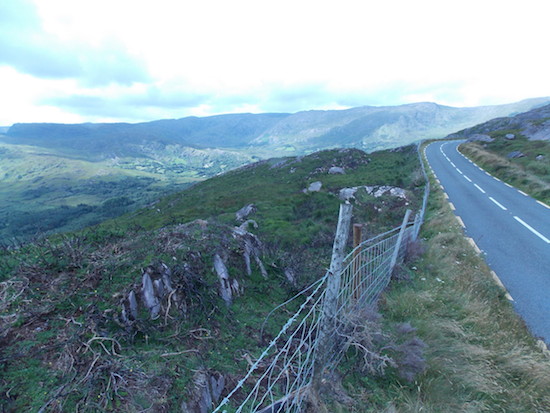 As if on cue, tiny raindrops begin to fall as I hopscotch the final weather-lashed rocks leading to Lady Bantry's Lookout. I deviate from a leafy stretch of the Beara Way in the Glengarriff Woods Nature Reserve, unable to resist scrambling up the half-mile detour to the lookout – my brief effort is exponentially rewarded.
Behind me, the Caha Mountains are illuminated by pinholes of sunlight piercing the water-bloated, gray clouds. Below, the still water of Bantry Bay spreads like a shimmering silver blanket, cradled by wind-whipped coastline. I pull my jacket out of my pack and the raindrops promptly dissipate. On Ireland's Beara Peninsula, a rugged, 48-mile finger of land straddling counties Cork and Kerry, erratic weather is a tired cliché.
Beara is often overlooked by visitors making a beeline for the Dingle Peninsula or the Ring of Kerry. On my first trip to Ireland nearly two decades ago, I also missed Beara, sticking instead to the well-trodden tourist track. In fact, the first time I had ever heard someone mention Beara was barely 48 hours earlier — at a pub called the Goal-Post Lounge in the village of Shanagarry, along Cork's southern coast. I was having a drink with some classmates after finishing a weeklong course at the Ballymaloe Cookery School. I had asked one on my classmates, Derval, if she was heading directly back to Dublin.
"Actually, I'm going to Beara, to a Buddhist Retreat Center," she said. "It's called Dzogchen Beara. If I can ever find the place."
I pictured a Tibetan Buddhist sanctuary nestled into the countryside in some far-flung corner of Ireland. Beara seemed almost mystical. With a rental car, creased paper map, and 72-hours until my flight left Cork, I was going to Beara.
Now, as I descend the overlook trail, I lament my all-too-brief time in Beara — the backpacker's paradise. The peninsula is bisected by mountains, laden with rolling hills, plunging valleys, highland lakes and forests — and entirely ringed by the 122-mile Beara Way, which forms part of Ireland's longest walking trail, the extended Beara-Breifne Way, connecting ten counties from Cork to Leitrim.
I follow the Beara Way along an ancient road toward the village of Glengarriff, peeling off to hike the 2.2-mile Big Meadow Loop. I meander through lichen-fringed forests of sessile oak, downy birch, yew, rowan and strawberry trees giving way to long fallow meadows tinged with pink-petalled ragged robin and the purple cotton-ball flowers of Devil's-Bit Scabious.
Despite the untouched feel, Beara has a long history of human habitation. Hundreds of relics of the peninsula's earliest residents remain — more than 500 Neolithic and Bronze Age sites — providing insights into daily life in early Ireland. Humans have also long left their mark on Beara's natural landscape, the peninsula is covered with copper mines. The mines were first used during the Bronze Age, and later, in the 19th century, became some of the most productive in Ireland.
The waters surrounding the peninsula also have a rich maritime history, particularly Bantry Bay. At the end of the 18th century, Bantry Bay almost became the staging point for a French supported invasion of Ireland led by Theobald Wolfe Tone. Part of an organization seeking to establish a republican-style government in Ireland, known as the 'United Irishmen', Wolfe Tone was deeply influenced by popular revolutions in France and the United States — and ultimately he was able to curry favor with France, which paid off militarily.
In the winter of 1786 a sizable French fleet — 46 ships and nearly 15,000 men — sailed for Bantry Bay. But, an easterly gale kept French armada stagnant, and ultimately winter weather prevailed, botching the invasion and forcing the flotilla back to France.
Steely clouds gather tightly overhead just as I reach clearing beside a small pond. A gust of wind ruffles low hanging leaves and raindrops begin to fall. Other than the rain, the forest is incredibly still. Peaceful.
But these woods were once witness to one of the peninsula's most tumultuous periods — and the Beara-Breifne way actually retraces the perilous flight of Beara's last chieftain. At the beginning of the 17th century, southern Ireland was in turmoil, and for Beara's chieftain, Donal Cam O'Sullivan Beare, things were going downhill quickly.
After losing his stronghold — Dunboy Castle — to Elizabethan troops in June of 1602, O'Sullivan Beare was forced to regroup in the woods outside Glengarriff, launching guerrilla attacks on enemies, and surviving off a livestock herd hidden in the Coomerkane Valley. But when the English army seized the herd in the Coomerkane, faced with the real threat of starvation, O'Sullivan Beare led his 1,000 remaining followers (just over half of them women and children) through hostile territory and arduous conditions to join rebel leader O'Rourke of Breifne at Leitrim Castle. The journey took two weeks, and O'Sullivan Beare arrived in Leitrim with only 35 followers remaining.
As I cross the footbridge back to the parking lot, the sun reappears. I drive toward the town of Kenmare, in Kerry, paralleling the course of the Beara Way, steering the corkscrew mountain roads of the Caha Pass white-knuckled. I park along Kenmare's fishing pier and walk away from the water, the towering steeple of Holy Cross church guiding me like a compass need toward the center of town.
I dip into the cozy Kenmare Bookshop, in a neat, gray stone building. The first book to catch my eye is a collection of ghost stories — surely Beara has century's worth of legends. Instead, I leave with a Henning Mankell novel. Back on the street, I pause and listen. In minutes, I am staring at a half-empty glass of dark stout as a furious fiddle riff begins in another corner of bar. I think I'll stay for another pint.
If You Go
Get there: Fly to Cork (www.corkairport.com) and drive 90 minutes to Glengarriff – an easy starting point for exploring Beara and/or accessing the Beara Way trail.
More info: www.bearatourism.com
Author Bio:  Malee Oot was infected with the travel bug early — as the child of parents working in international public health, while growing up Malee had the opportunity to spend time living in Thailand, Kenya, and Nepal.   She is currently co-authoring a regional cookbook with sustainable recipes and energy-saving tips for the Washington, D.C. area.  Her writing has previously appeared in GoNomad, the Not For Tourists Guide to Washington, D.C., the Washington Post, and Political Moll.  Malee also writes a blog about outdoor opportunities in Northern Virginia (https://novaoutdoor.blogspot.com/).  She currently lives in the Washington, D.C. suburbs with two very spoiled very rescue dogs.    
[mappress mapid="905″]