Before my first visit to Japan, I used to think of Japanese food in terms of ramen, sushi and seafood. A food-centric adventure throughout rural Japan showed me the island nation is known also for its meat, pork and produce as well. Most products are grown with a true love and respect for the product itself and the natural process through which it's produced. I visited farms, wineries, ice cream shops and dairies and learned how much care is taken and how much research is done into the whole food production process.
One of the destinations on my food tour of Japan was the city of Tsuruoka in Yamagata Prefecture. The city is such a haven for food it's certified as a UNESCO Cultural City of Gastronomy, the only city in Japan to achieve such an honor.
Tsuruoka – UNESCO Creative City of Gastronomy
Due to its promotion of historic, traditional cuisine along with the promotion and production of indigenous crops, Tsuruoka has the distinction as being the only city in Japan to be recognized as a UNESCO Culural CIty of Gastronomy. In fact, they classify and treat their indigenous crops as "living cultural assets". Producers and providers use and encourage the use of those crops in traditional gastronomy. Tsuruoka also brings together farmers, producers, cooks, chefs and researchers to enhance and promote the region's unique gastronomy.
Farm Lunch at Naa
This vlog shows a farm-to-table lunch at a working farm (and guesthouse) in the city of Tsuruoka. The resraturant is called Naa and the guesthouse is called Omoya. Aside from the farm restaurant, Omoya offers guests a Japanese farm-stay experience.
The meal featured locally grown produce and products, some grown in the fields right outside our table. The highlight for me was the local Shonei pork, sliced thin and served as shabu shabu (Japanese hotpot). I also really enjoyed the rice, grown right outside on the farm, which had a unique, fresh taste. My other favorite was the fresh raspberry dressing served on the salad made from greens grown a few hundred feet from where I sat to eat them.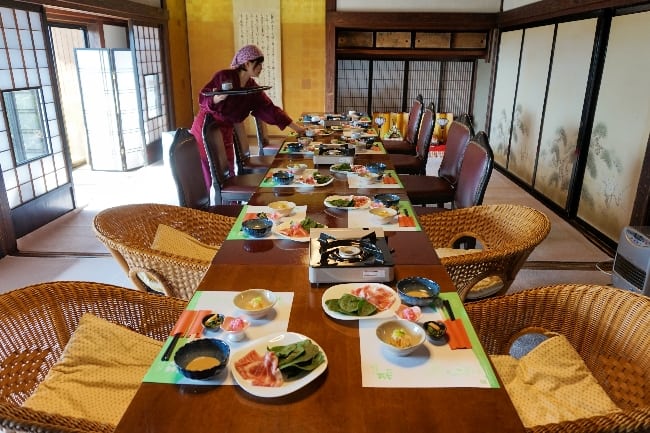 The Food
The menu was mainly vegetarian, featuring a lot of the fresh local produce grown on the farm and surrounding farms. The main dish was shabu shabu, Japanese hotpot with pork and spinach leaves. You cook the raw pork and spinach in the boiling broth and then use various dipping sauces before eating it, slice by slice. The main dipping sauce was a sesame ponzu.
How to Get to Tsuruoka
Tsuruoka is in the Yamagata Prefecture on Japan's east coast, about three hours north of Tokyo. You could take a two and a half hour Shinkansen bullet train from Tokyo to Yamagata Station. Alternatively, there are hour-long non-stop flights from Tokyo (Haneda) to Yamagata Airport (GAJ).
Read more of Freddy Sherman's take on travel on his Go World Travel Blog. You can also follow more of his adventures at luxuryfred.com, on his luxuryfred Instagram feed and on his YouTube channel.