Wallenda, due to his record-setting performances on network television, is known as the "King of the Wire."
A "bucket list" is supposed to contain places you'd like to visit before you "kick the bucket" …as opposed to those destinations on the list causing you to kick the bucket! But hire-wire walker Nik Wallenda has risked his life by traveling to bucket list locations like the Grand Canyon, Niagara Falls, Times Square, Chicago, and an active volcano. That's because Wallenda, 42, who calls circus-crazy Sarasota, Florida home, takes to the tightrope on "busman's holidays" to these otherwise desirable destinations.
FireKeepers Casino Hotel, in Battle Creek, Michigan
I met the world-famous (and remarkably calm) Wallenda at his arrival on the roof of FireKeepers Casino Hotel in Battle Creek, Michigan. No, he hadn't arrived by helicopter. He stepped onto the eight-story roof from off of a 400-foot cable he and his team had strung from the top of one hotel tower to the other. He'd just completed his afternoon stroll in the blazing summer sun on a tightrope high above a crowd FireKeepers invited to watch his latest death-defying performance.
The feat was accomplished to celebrate the opening of the resort's new, 203-room hotel tower. Wallenda symbolically walked, with no net or safety devices, from the roof of the original tower to the top of the matching new one.
"We can think of no better way to signify Firekeepers moving forward than with Nik Wallenda's aerial adventure across our towers," said FireKeepers CEO Kathy George.
Crowds seated in bleachers near the hotel entrance at the base of the towers and onlookers in the FireKeepers parking lot first observed the ribbon-cutting and heard official executive remarks punctuated by a traditional Tribal drum ceremony. The dignitaries and spectators then looked skyward to see Wallenda, wearing black pants and a black, short-sleeved shirt (he's bald, strong and fit), clutch a long pole to aid his balance and step onto a 150-foot-high wire.
How Did He Do It?
Wallenda told me the cable he crossed was about the size of a nickel – 5/8's of an inch in diameter. Due to the position of the FireKeepers Casino Hotel tower buildings the wire was not able to be steadied with 90-degree stabilizers, meaning the wire could wobble and shake.
"Whenever there is a big tower or structure in the middle of a field the wind is able to build up. There is nothing blocking the open wind so it can catch you off guard and be very dangerous especially at the center where the wind can get really whipping," said Wallenda, who, due to his record-setting previous performances on network television, is known as the "King of the Wire."
Wallenda's great-grandfather fell to his death while walking between two hotel towers in 1978, and he has lost other family members to the wire. His sister, also, suffered severe injuries before recovering to perform again. "This is what my family has done for over 200 years and seven generations: walked on wires," said Wallenda, who has been walking a wire since he was 18 months old…and while in his mother's womb.
As we spoke on the FireKeepers roof, Wallenda did profess to praying before he stepped off the building. Halfway across the span of string Wallenda knelt on the wire to clear his fogged sunglasses paused a couple of other times. "There were some gusts of wind so I had to stop for a minute, catch my balance a little and focus, and then I was able to proceed on. I am good at adjusting as needed. It went off without a hitch and I am safe."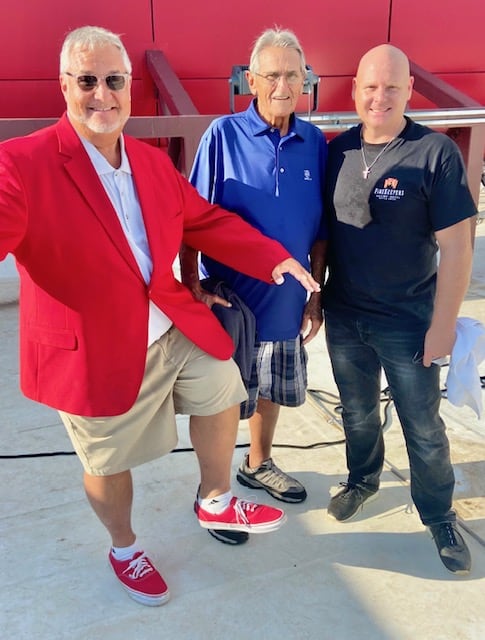 Surprise in the Sky
The biggest surprise for the thrill-seeking crowds was the way they, through speakers, could hear Wallenda, who was wearing a microphone, carrying on a conversation with FireKeepers executive Jim Wise emceeing from the podium below. "I'm taking in the beautiful view from up here," Wallenda said while carefully putting one foot in front of the other. He also talked about his newest book entitled "Facing Fear."
Wise was amazed.
"It was unbelievable to hear Nik Wallenda talk about the tragedies that his family had suffered – including how his great-grandfather died by falling between two hotel towers while Nik was doing the exact same thing," Wise remarked.
Wise was familiar with Wallenda having helped stage his complicated crossing of Niagara Falls feat on ABC TV in 2012. "Nik rehearsed hard for that one, too. He practiced on a low wire while people shot water cannons at him and used big fans to simulate wind," revealed Wise. "Nik phoned me a couple of hours before his wire-walk to assure me everything would be fine. He told me, 'I have a particular talent for this and I don't have a death wish.'"
In addition to a previous site visit to FireKeepers Casino Hotel, Wallenda spent four days on-property before the big day. He even met with casino patrons and signed copies of his book at a reception during which he'd set up a low wire 18 inches off the floor so guests could get a feel for what wire-walking is like.
But….Why?
Once Wallenda reached the roof of the new hotel tower and came off the wire, I asked him why, after all of his dramatic successes and nine Guinness Book records, he continues to perform risky stunts. (His net-worth is reportedly $4-million.)
"I don't need the money – I am blessed – but I enjoy it and am passionate about spreading a message of inspiration. With this pandemic we're all walking on a wire these days, but even when you're fearful you must continue to move forward and pursue your dreams."
Wallenda walked between large FireKeepers logos atop both towers in the sunshine on the west side of the red and gold structures. The new hotel tower, a long-dreamed about major expansion for FireKeepers Casino, includes a gleaming new location for the casino's gourmet, Four-Diamond, Wine Spectator award-winning Nibi restaurant with a private dining area; Gabi Coffee and Sweets location; a bustling lobby bar, and an expansive high-limit gaming space with the new Aurora VIP lounge. A large, artistic, metallic flame sculpture with fire and fountains fronts the new entrance and is visible to Nibi diners through floor-to-ceiling windows.
Get Your Vegas On
It was not surprising FireKeepers Casino Hotel chose to open their new hotel tower with a Las Vegas-style stunt. Afterall, who can forget Evel Knievel attempting to jump a motorcycle over the fountains at Caesars Palace?
Since its opening in 2009, the award-winning FireKeepers Casino has been encouraging its patrons to come "Get Their Vegas On" because the casino owners, the Nottawaseppi Huron Band of the Potawatomi designed a vibrant, showbiz-style casino which even has a stage right on the gaming floor. There is also exciting and thoughtful tribal artwork and symbols throughout the casino and hotel towers including a light show flashing over and around a soaring, dramatic obelisk which celebrates the "Grandfather Teachings' ' in the hotel lobby.
Guests who arrive at FireKeepers are greeted by fountains of flame and, once inside, 2,900 slot machines, 70 table games, a live poker room, and event center/entertainment that opened by hosting Aretha Franklin and has since offered big-name acts in an intimate setting.
As evidenced by Wallenda's appearance, the casino is very creative staging an elaborate Halloween costume party; Easter and Mother's Day brunches; and giveaway promotions which have included handing away the keys to five Mustangs in one day. FireKeepers sponsors a NASCAR Cup Series race at nearby Michigan International Speedway and an annual Symetra Tour LPGA golf championship.
Read more on Michael Patrick Shiels' travel blog, The Travel Tattler. Contact Travel Writer Michael Patrick Shiels at [email protected]