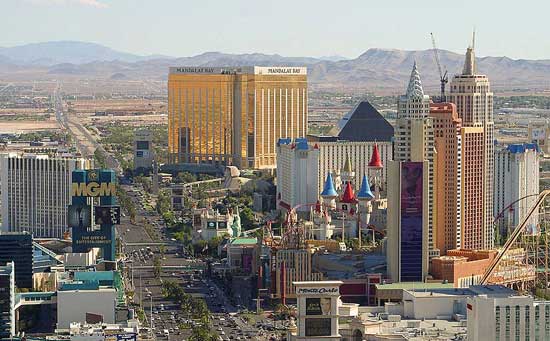 Las Vegas is famous for its casinos, hotels, shows, exhibitions and other adult orientated entertainments but it also much more than just that. It is also an excellent place to appreciate the natural beauty of its desert landscape and boasts many children-friendly attractions that are both entertaining and educational and will illuminate the barren desert with an entirely different light.
Just a brief walk from the Strip you will find Springs Preserve. This is one of the best family attractions in the city. It is a showcase of the history of Nevada with miles of trails, activities and exhibitions. Here you can learn all about the early settlers and what survival in the desert is all about. Las Vegas Zoo is only a short distance away and it has over 150 different animal and plant species including many endangered ones. Just a little out of town to the west you will find the Red Rock Canyon National Conservation Area with many trails to explore of various difficulties and challenges.
If you hire a car then you can explore some of the deeper depths of the Mojave Desert. For a day trip with a difference visit Death Valley; a life enhancing experience. You will soon discover why the early pioneers named this barren yet starkly beautiful place Death Valley. Other places to visit include the Grand Canyon, though to make the best of it you might need more than a day, but there is no difficulty finding a cheap motel. Lake Mead with its beaches, marinas and islands is another great place for kids to explore.
And when the kids are tired out, parents can use the hotel child minding services to look after them while they take time out in The Venetian and discover what it feels like to play casino games in a real rather than at an online casino such as Jackpot City.