I had been living in Los Angeles for just under a month before my eldest brother came to visit me from his home in Australia. I wanted to make his two weeks in the U.S. worthwhile so, in our classic family style, we hired a car and took to the road, attempting to visit a number of national parks along the way. Death Valley National Park was at the top of the list.
Death Valley National Park
We were staying in Las Vegas when we decided to spend a day exploring one of the largest and driest national parks in the United States, Death Valley National Park – approximately a 2.5-hour drive from Las Vegas (or a 4-hour drive from Los Angeles).
The night before we left to go on this spontaneous adventure, we had come up with a brief list of things to see and do, not really knowing what to expect. All we knew was that the original "Star Wars" films had been shot in a few of the park's locations. And as big fans, we had a feeling the day ahead was bound to be exciting.
What to See in Death Valley National Park
There is so much to see and do at Death Valley National Park. Incredible volcanic colors are pasted across the landscape. There are stunning views of snow-capped mountains and creepy ghost towns to explore, plus abundant adventures to undertake, from hiking to sand-boarding.
Best Times to Visit Death Valley
Although we only had one day it was still worth the trip as we got to see most of the touristy sites – the benefit of going in February. But I'd highly advise spending more than one day, as you would have time to relax and explore additional sections of the park to the north.
And always go during the winter months – temperatures for us reached about 25 Celsius (77 F), which then rose subtly when walking through the canyons.
Zabriskie Point
Zabriskie Point offers bright splashes of colors across a rabbit's warren of badlands. It's a great spot for taking photos. You may have seen Zabriskie Point featured on the cover of U2's album, "The Joshua Tree," or perhaps the 1970s cult film, "Zabriskie Point."
Watch the colors change over the course of the day as the sun moves across the desolate valley. You can also hike the Golden Canyon and Gower Gulch Loop that runs via Zabriskie Point if you are looking for a moderate walk. It's around 9.3km (5.8 miles). But always remember to bring water and only undertake the trail during the winter months.
Dante's View
Dante's View is a 25km drive (16 miles) from Furnace Creek. This view has got to be one of the best I've ever seen, so definitely bring your cameras or a pair of binoculars.
Once at the top you'll be able to look straight down onto the Badwater Basin salt flats (the lowest point in North America) and then look straight across at the stunning, snow-capped Telescope Peak (the highest peak in Death Valley).
You're also able to walk along the ridge of the mountain to witness spectacular 360 views of the valley. Dante's View is peaceful. You really see just how massive, barren and isolated the park is.
Bring lunch, and depending on the weather, you can eat it in the comfort of your car, or outside on a rock. Either way the surrounding scenery will make your food taste even better.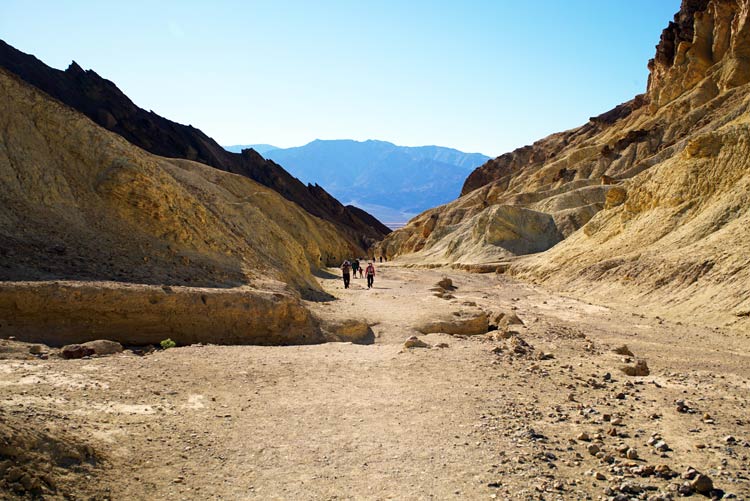 Golden Canyon
Golden Canyon is a "Star Wars" hotspot – see where R2D2 strolled before being snatched by the Sand People. We decided to undertake the Golden Canyon to Red Cathedral hike – a moderate 4.8km (3 miles) round trip, which took about 1.5 hours.
We were fine to start off with, but as we walked deeper into the canyon, the sun's heat began to take effect. What was initially 25 C (77 F) soon felt like 35 C (95 F).
The silence when walking in this canyon was haunting, yet at the same time refreshing. All I could hear were my own footsteps treading on coarse gravel and echoing off rocky walls. The slightest noise of a pebble being kicked sounded like a boulder falling from above.
Toward the end of the trail there are a few rocky sections you have to climb in and around before eventually reaching a striking crimson red rock formation known as Red Cathedral. Seeing this is well worth the hike.
Badwater Basin
Badwater Basin is a place you must visit when exploring Death Valley National Park.
You can finally check off your bucket list that you've been to the lowest point in North America – with a depth of 282 feet below sea level. Walk out onto the short boardwalks near the parking lot or a farther 400 meters (1/4 of a mile) onto the salt flats to gaze out at the polygon-shaped salt that's naturally been etched into the bone-dry ground.
Mesquite Flat Sand Dunes
The Mesquite Flat Sand Dunes – one of my favorite places to visit at Death Valley – were created from the wind picking up sand all over the park. The sand eventually became trapped between mountain ranges and thus stayed in place over time.
As the sun set, my brother and I climbed endlessly over these 100-foot dunes. We took off our shoes and felt the cool sand between our toes. It was so refreshing after a long day of walking and driving.
A great way to end the day is sitting atop a sand dune gazing out at the purple mountain scape around you, sun casting dark shadows over the ripple-like sand. All we need for next time are boogie boards to go sand-boarding.
Artists Palette
An easy stop along Artists Drive, located 14km (9 miles) south of Furnace Creek on Badwater Road, is Artists Palette, where you'll see rich, vibrant colors showered over layers of soil.
The unique colors are formed from the oxidation of the metals found in the ground. Artists Palette is another great photo opportunity, and best time to visit would be as the sun is setting for the pop of colors to really stand out.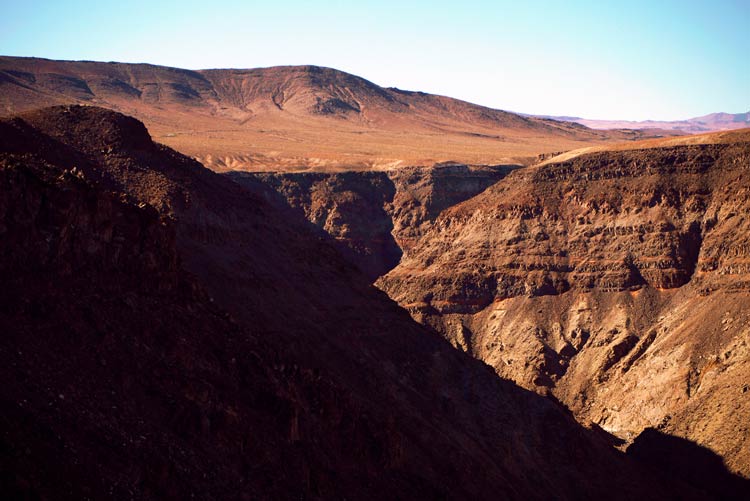 Rainbow Canyon
Head to Rainbow Canyon, also known as Star Wars Canyon, to witness more stunning red and orange hues come to life during sunset, or stay longer to catch a glimpse of a military fighter jet speeding through.
Unfortunately, there is no set schedule for when the jets pass, so you'd be lucky if you did so one. I was unlucky this time around but if I had more time I would have found a quiet spot, sat with my camera (set to slow mo), and waited patiently for Luke Skywalker to race past in his X-wing Starfighter.
The morning we were driving into Death Valley, we passed a lone cyclist peddling along a road that stretched beyond the horizon. Sweat and utter exhaustion were on display.
His willpower and determination were motivating. On our way back to Vegas around 7 p.m., a night sky above us, we saw a flashing bicycle light – the same solitary cyclist. Finally, he had made it into the park, his light signaling his arrival among millions of twinkling stars. What a ride! Hats off to you cyclist.
If you plan on going be sure to check out www.nps.gov/deva/index.htm.
Author Bio: Caitlin is a 24-year-old Aussie broad from Melbourne, Australia with a passion for filmmaking, writing and exploring the world. Her travel stories have been featured multiply times in Australia's Style Magazine.