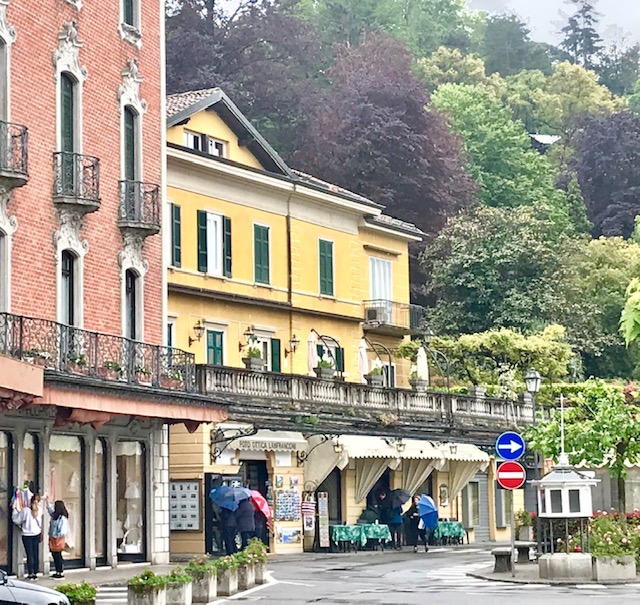 Lake Como, in Northern Italy, is a timelessly pristine, scenic destination. The classical palazzos, villas, hotels and homes on the 160 kilometers of glacial shoreline seem as if they are made of frosting. (Pastel frosting, that is, since the buildings must comply with an approved palette of eight light, bright colors.)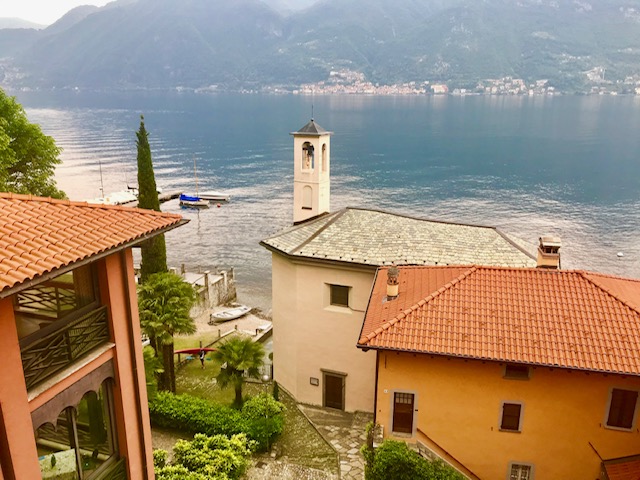 To help with the visual, if you can imagine the delicately-designed buildings of Venice lifted from along its shallow canals, taken to the foot of the Alps, and placed down like macaroons along the deep blue, crystal clear basin of water, then you can imagine Lake Como.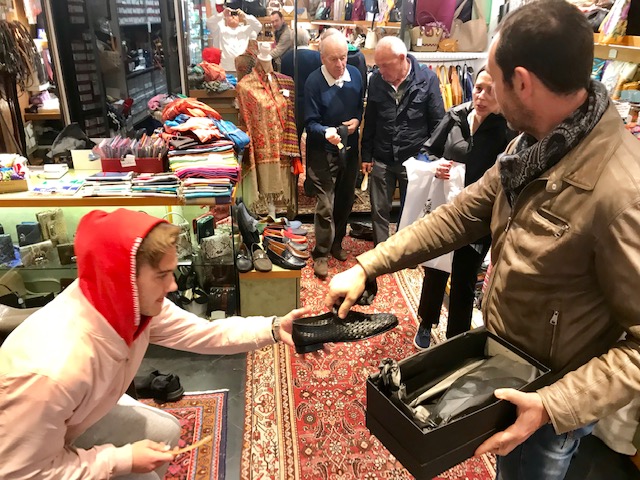 Virtuoso, the luxury travel network, examines data from billions of dollars in travel transactions and almost always finds Italy to be the most in-demand and also, through surveys, to be the most satisfying to the travelers who book through their expert travel advisors. IC Bellagio, Italy's most connected travel advisor, is a member of the Virtuoso network and headquartered in Bellagio on Lake Como.
Glitter Gulch Gathering of Gurus
Virtuoso, each year, holds its massive week-long conference at the Bellagio Hotel and Casino in Las Vegas. It is attended by thousands of worldwide travel partners, tour operators, cruise line representatives, hotel managers, and even safari guides.
Representatives from IC Bellagio, which has been awarded by Virtuoso on multiple occasions, are very active at the conference, which ironically is headquartered at the Bellagio – one of the Las Vegas strip's modern anchor properties.
It's a resort hotel so large that conference itineraries often advise guests to allow 30 minutes to walk from their guestrooms to their appointed meeting rooms.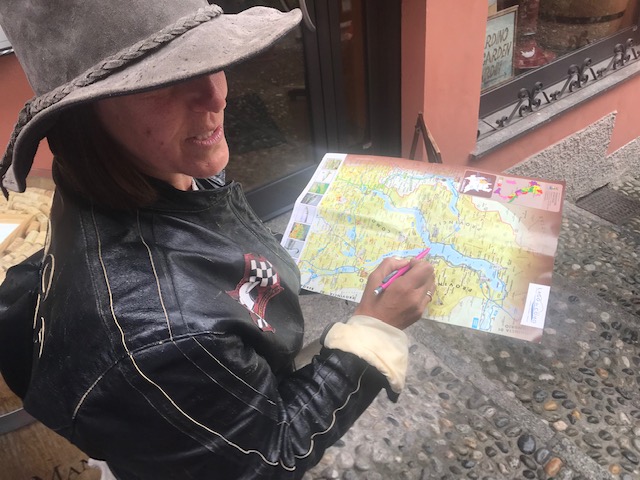 Rita Annunziata, one of IC Bellagio's popular tour guides, lives in Bellagio at Lake Como, and once made the trip to Nevada to see and experience the Bellagio Hotel.
So was the Bellagio Hotel in Las Vegas reminiscent of the village of Bellagio, Italy?
"Not really. No. Not really," Annunziata answered.
But she did have an appreciation for the property. At least Bellagio has a lake – albeit a man-made, eight-acre lake in front with a famed fountain show.
Bellagio – the "Pearl of Lake Como"
"The Bellagio Casino in Las Vegas helps to make us known all over the world…I have to say that. But the real Bellagio is on Lake Como. Bellagio is the 'Pearl of Lake Como,'" she insisted before, nevertheless, fondly recalling her visit to Vegas.
"I wanted to spend the night there. It was so funny because as soon as I got out of my Mustang rental car – I just had to drive an American car there – and walked into the Bellagio, I told the front desk attendant I was coming from the actual Bellagio. I even showed my passport to him to prove it."
Annunziata recalled the desk attendant exclaiming, "Oh you really are from Bellagio!"
"Yes I am,' I told him. Then I showed him my tattoo on my foot, which is a 'B' which stands for Bellagio and was applied in the font the Las Vegas 'Bellagio' uses for their logo."
Annunziata, while standing under the priceless "Fiori di Como," a 2,000 square-foot Dale Chihuly creation of 2,000 hand-blown glass flowers adorning the lobby ceiling,  then began to negotiate just as one of the shoppers in the many quaint, fashionable shoe stores and boutiques in her hometown of Bellagio might.
"While he was recoding my details, I asked him, 'Is breakfast included?' I knew it was not included, but I was looking to the best deal I could get for that room," she admitted. She learned quickly that breakfast at the Bellagio is not included.
"It took me 20 minutes to find my room but when I unlocked the door and got in there was a surprise message: 'You have $50 credit to spend for breakfast…because you're from Bellagio!'"
Annuziata's Bellagio espresso cafes and liquor shops with pistachio limoncello and bakeries and gourmet restaurants such as Bilacus Ristorante on the Serbita Serbelloni – Bellagio's best by far.
More Italian Icons in the Desert
No word on whether Annunziata visited The Venetian Hotel and Casino just down the street, which, in homage to Venice, has created replicas of Rialto Bridge, St. Mark's Campanile, Piazza and San Marco, and offers gondola rides with striped-shirted, singing gondoliers throughout the property.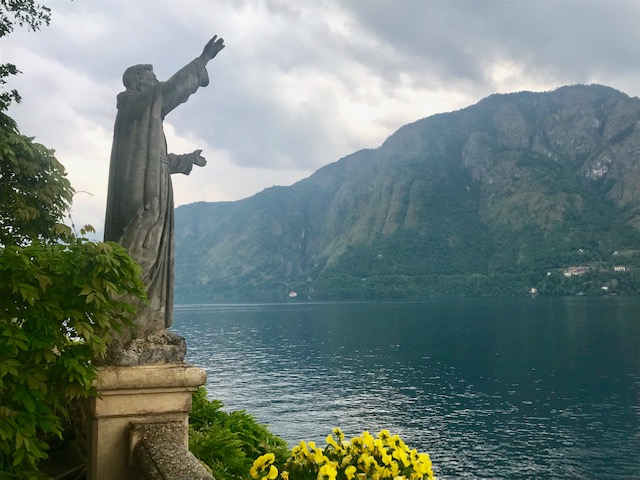 She did, however, having come from Lake Como, see one of America's Great Lakes to compare.
"My husband's choir sang for the 100th anniversary of the Italian Chamber of Commerce in Chicago. When I saw Lake Michigan, I could not call it a 'lake' because I could not see the other side of it! I missed my mountains of Lake Como so this is why I could not call it a lake!"
Lake Como is Y-shaped with 56 square-miles, is 29-miles long, and up to 2.5 miles across.
Lake Michigan, with more than 94,000 square miles, is 307 miles long and 118 miles across.
"Many of the clients I gave tours to in Bellagio told me if I go to Chicago I must taste Pizza Uno while I am there," Annunziata said. "So on the day we were headed to the airport we waited for the opening time and tried it."
Did she like Chicago-style, deep dish pizza?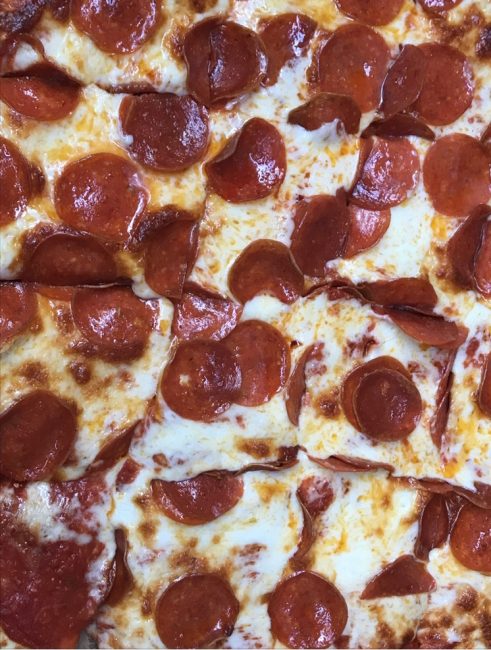 "It's different from Italian pizza, but I really loved it. Here in Italy we have thin and crispy pizza. We love that. And normally most of the time it is served on a big piece of wood. Sometimes people when they see this very long pizza they want to share it. No, don't share it. Even I can eat two of them because it's very thin."
Clooney and Celebrities Come to Como
Through IC Bellagio, Annunziata has given tours to some very famous people (in addition to George Clooney who owns a lakefront villa) who have come to tour Bellagio and Lake Como.
Very recently I was the guide to Mick Jagger of the Rolling Stones. He was amazing. We did a tour of the botanical gardens. He was keen on history," said Annunziata, who insisted she treats all her clients the same.
She also remembers giving a tour to the CEO of the Parker Pen company, though she didn't know who he was. "He pointed out a flowering plant and asked me what it was. I told him it was wisteria. I later learned who he was and found out he'd named a fountain pen 'wisteria!"
Michael Patrick Shiels is a radio host and travel blogger. Follow his adventures at GoWorldTravel.com/TravelTattler. ContactTravel Writer Michael Patrick Shiels at [email protected]