Putting my best fashion foot forward at famed golf resorts was a fun conversation starter.
Chaos is not a phrase typically associated with the calm, bucolic sport of golf. I was, therefore, slightly hesitant to lace up a pair of the new Adidas Golf CODECHAOS shoes for a trip to some of the game's most celebrated courses.
I wanted a pair of new, lightweight shoes with a reputation for comfort for the many holes I would be walking. Getting steps in by returning to the roots of the game by playing on foot has become fashionable again. People are getting their steps in while they're getting their strokes in.
CODECHAOS Golf Shoes
But Adidas had made a point, upon introduction of these, shall we say, colorful cloppers, of stating the company wanted to redefine the golf dress code, push the boundaries in golf footwear, and breakdown traditional stereotypes. The CODECHAOS shoes, according to Adidas, would tap into the mindset of those who prefer to set themselves apart.
But how would these jaw-dropping shoes travel? Would they kick down doors? Or would I be stepping on traditional toes if I showed up at a series of PGA Tour venues sporting these spikeless, slip-on, wearable waterproof wonders? I decided to find out.
The Queen's English
First I decided to check-in with one of golf's greatest living historians Ben Wright who won the Emmy Award as a CBS Sports television golf commentator by, in part, calling the action in his proper, Churchillian, English accent through the stiff upper-lip all Brits maintain.
The 88-year-old Wright examined the Adidas CODECHAOS shoes, which I wore into the kitchen of his museum-like North Carolina home, with a look on his face as if he were watching Her Majesty Queen Elizabeth standing in a buffet line holding a cafeteria tray.
"Hideous," he bellowed. "Those shoes are a mish-mash of red, blue and white mess. They look as if there's been a serious accident."
When I suggested the shoe style, he was looking at was reminiscent of tie-dye and that young people really like them, he countered, "Yes, I suppose they would…they don't know any better."
Wright, who covered golf on six continents in multiple eras, grinned though and admitted, "They do look incredibly comfortable. I remember seeing Ben Hogan's golf shoes and others of his time. They were heavy with metal studs in the bottoms which ripped up and mangled the greens. Golf has to be fun; not torture. And courses have to be walkable."
When Wright noticed the shoes were emblazoned with the phrase "Summer of Golf," he readily agreed and said 2020 had seen a huge uptick in play at the seven Cliffs Communities golf courses, one of which he designed in Traveler's Rest, South Carolina.
I mentioned to him my next stop was a few hours away in Pinehurst, NC. Upon hearing this, Wright looked down at my shoes for a moment…and then intoned, "Pinehurst is magnificent. The place is swamped with golf courses. You're spoiled for choice. I adore Pinehurst and its beautiful village, and it has the best golf memorabilia shop I've ever been in: Tom Stewart's Old Sport and Gallery. You must go and see Stewart."
New Shoes at the Old Sport
Old Sport and Gallery was easy to find in the middle of the picturesque Pinehurst, but Stewart himself was virtually embedded amongst the shelves of rare golf books, paintings, trophies, golf clubs and historical curiosities – such as Mikhail Gorbachev's golf bag – populating the place. Even amidst decades of delights, my CODECHAOS shoes stood out.
"I never wore a white shoe that didn't have a brown or black saddle," said Stewart, squinting at my tied tie-dye's. "But comfort is important. If you can get me a paid in 9D I guess I could wear them when I play alone. As Rodney Dangerfield said in Caddyshack, 'They look good…on you!'"
Stewart then admitted his 28-year-old son would like them. "Taste changes with age."
It was time to walk over from the village to Pinehurst Resort for a tee time, something I could do comfortably even on sidewalks due the shoe's boost and bounce cushioning technology.
The Pride of Pinehurst
The Pinehurst region of North Carolina is known as the "Home of American Golf." Pinehurst Resort, alone, offers nine numbered courses, but I treaded extra lightly when I sashed through the sand of the resort's sublime #2 course. #2, designed by Donald Ross, opened in 1907, and has hosted the Ryder Cup and multiple U.S. Opens, a championship which will return in 2022. The normally staid and very traditional, elite USGA is even moving part of its headquarters to Pinehurst.
It took my caddie, Aaron, himself a competitive golfer, about three holes to comment on the Adidas shoes.
"I like those shoes," he said standing in the summer sun wearing his simple, solid green Pinehurst caddie bib. "I am kind of an outside the box character as well. They are sharp. I dig it."
It was another young adult caddie, Evan, who was inspired to comment the next day when I walked Pinehurst Resort's #4 course – a super fun rolling track re-imagined in 2018 by Gil Hanse, himself a suddenly fashionable golf course designer who worked over a piece of property formerly shaped over the decades by old schoolers Ross, Robert Trent Jones, Peter Tufts and Tom Fazio.
"The tie-dye look is a little different, but it stands out. By no means in a bad way but in the sense that it adds character to the golfer wearing it. I feel like this shoe is the start of an upcoming trend that I'm glad to see," he said as we walked, after the round, across Pinehurst's massive putting green near the iconic "Putter Boy" status. "It certainly looks like a comfortable walk however it would require a lot of washing in the sandhills of North Carolina."
Locker Room Talk
Due to my erratic golf game Evan was correct – I spend more time in the sand than most. Therefore, I was a bit sheepish when I handed my previously white shoes to Vince, the Pinehurst Resort locker room attendant, for cleaning due to the sand and the style.
"Don't be embarrassed by your shoes. Have you seen what the pros are wearing these days?" he asked. In fact, I knew Spanish PGA Tour stars Sergio Garcia and Jon Rahm had been sporting Adidas CODECHAOS shoes.
It's fun to walk the halls of Pinehurst's massive clubhouse and see the major championship trophies and photos of professional stars who have won there including the likes of Michelle Wie, Michael Campbell, Martin Kaymer, the late Payne Stewart, and the 1951 United States Ryder Cup team.
Vince was busy working on another pair before he could clean mine – and egregiously garish orange pair, when he joked, "Now ask me about these shoes and I'll give you a different story! But hey, as long as they are comfortable, that's all I care about."
Splendor in the Grass
Speaking of comfort, When Vince was done spiffing up my shoes walked over to secure a Southern Comfort in The Deuce, the clubhouse gastropub and patio overlooking Pinehurst #2's final green and the Payne Stewart statue memorializing his U.S. Open win over Phil Mickelson in 1999.
Whiskey in hand, I wandered out to Pinehurst's latest creation called The Cradle, a crafty, cool, nine-hole short course played in a gentle, arena-like valley next to the 15,000 square-foot putting green behind the clubhouse.
Vince had talked about comfortable shoes…but how about no shoes at all!? In the twilight there were groups of young people shoeless or in flipflops playing putting games and hitting shots with a club in one hand and a cocktail in the other on Pinehurst's pure, green grass.
People of all ages mingled, took photos with the Putter Boy statue and played with all the casualness of a dart game. Pop music was playing, and the scene did my heart…and my feet…good.
Pine Needles Lodge and Golf Club
Just down the street from Pinehurst Resort, in neighboring Southern Pines, Pine Needles Lodge and Golf Club has its own place in history. It's the first golf resort to be awarded four U.S. Women's Open Championships and is home to the Carolinas Golf Association.
With one golf course, a small, balconied lodge and a series of hillside cottages, Pine Needles is very different than Pinehurst Resort, according to golfer Scott Smiddy, who joined me for the rounds at both places.
"Pinehurst Resort is special. It feels like you're at a big wedding compared to Pine Needles, which is more like an intimate rehearsal dinner. It's great to be at a destination offering both feels," he said. "It's like golf heaven."
As old-school as Pine Needles is, the newest wrinkle at the resort is very cool and in keeping with Adidas in their effort to remake golf traditions: golf scooters!
Golfers can climb aboard little electric, single-rider mopeds with their golf clubs and zoom all over hill and dale. The mini-motorcycle even has two cupholders!
"They're really fun," said Kelly Miller, CEO of Pine Needles Lodge and Golf Club, in his southern drawl. Pine Needles was founded in 1928. "A professor once told me you'd better be careful running an iconic resort because you may end up with one.
His point was you've got to look 20 years out. I was looking for what's coming out there and the scooters seemed like great fun. And they really help speed up the pace of play because you can take them very close to the green. They've created a great social media buzz and is very popular with some of the younger players and even our members."
Miller admitted young people now like playing music on the golf course, something that is anathema to traditional players of the past, but his son has even gotten him into.
"We want this place to feel like it's your home away from home," said Miller. "Put your feet up on the cocktail and talk about your round."
"Even in these shoes?"
"Yes, we have a tradition of Southern hospitality. It's a fun place."
Mid-Pines Inn and Golf Club
I quickly found fun directly across the street from Pine Needles where Miller also operates Mid-Pines Inn and Golf Club, an equally small but majestic, time-honored resort with scenic holes, especially in Spring.
"I am not comparing it to Augusta National but it's as pretty a golf course as you'll find anywhere with plenty of old dogwoods and azaleas. Even if you don't play golf it's a beautiful place to take a walk," Miller insisted.
I certainly had the shoes for a walk since each day at Pinehurst I put my comfy Adidas shoes on in the morning before leaving my comfy condo lodging at Pinehurst's Talamore Golf Resort – where they once used llamas for caddies – and left them on all day. No "trunk-slamming" for me! The shoes were a hit when I hit the Mid-Pines golf shop.
"Those shoes are 'clean,'" said Zach, the assistant golf professional standing between the shirts. "They're 'fresh.'"
"Is that the term the kids are using these days?" I asked. "Because up at Forest Dunes Golf Club, in Michigan, the young woman behind the counter in the golf shop told me, 'Those shoes are actually 'sick!'"
"'Sick' is still good," Zach explained. "Fresh. Comfortable."
I nodded, taking it all in as if I were learning from the Book of Kells.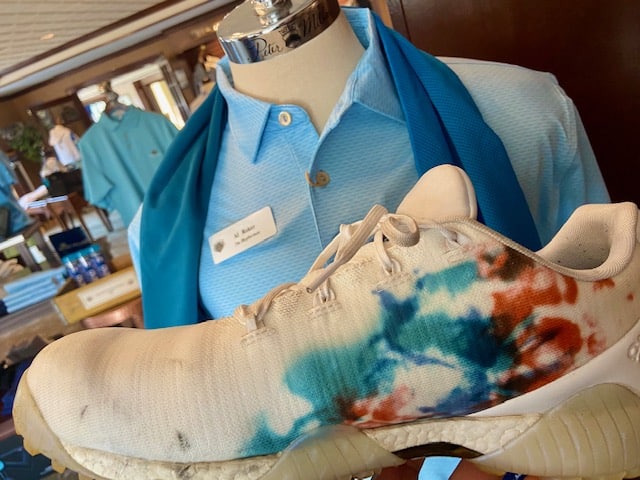 Footwear at Forest Dunes Golf Resort
Footwear was especially vital at Forest Dunes Golf Resort, in Roscommon, Michigan, because Tom Doak, one of the most innovative new age golf course architects had taken cues from the ancient courses he'd walked in Scotland to create The Loop – an 18-hole walking course that is played in reverse on opposite days.
Pot bunkers, hillocks, and big greens with adjacent tees are something you'd find at the Old Course at St. Andrews, which was originally played in the opposite direction of those who make the pilgrimage to play at the "Birthplace of Golf" play it today.
Forest Dunes, in homage to Pinehurst's Cradle course, created a little 10-hole short course which, like its forerunner, has cool, quick holes which can be played barefoot and is adjacent to Forest Dunes' massive putting and practice facility. Sound familiar?
The most withering shot I took in the Pinehurst area was not aimed my Adidas – but squarely at me. I sat in a rocker on the porch of the farmhouse-style clubhouse at Tobacco Road Golf Club, where the coolness factor is high because the course has visually embraced its industrial past, via tractors and farm implements as tee markers, as a sand quarry. Martha Hudson, Tobacco Road's director of golf, scoped out my shoes.
"The tie-dye is very modern. The shoe is a great combo of spikeless but with tour-style support," she observed…and then lowered the boom. "I mean…I might not have chosen black socks with them…."
Next Stop: Destination Kohler
Herb Kohler owns the Old Course Hotel in St. Andrews, Scotland, but I headed north next to the plumbing magnates' Destination Kohler – the awesome golf resort in Wisconsin on the shores of Lake Michigan that will welcome the European team from the other side of the bigger pond to compete against the USA in the Ryder Cup Matches in September of 2021. Like the Pinehurst area, Kohler has hosted PGA Championships and U.S. Women's Opens on its Whistling Straits and Blackwolf Run golf courses.
Part of my drive included a ride on the zippy Lake Express high-speed car ferry from Muskegon to Milwaukee.
Once aboard I put my feet up on the rail as we pulled out into waves and called Bob Moore, a television colleague who'd covered major golf championships for PGA Tour Productions, Golf Channel and ESPN.
"Did you get the photo I texted you?"
"Yeah, man," Moore answered. "You mean the one of your shoes?"
"Right. What do you think? I'm going to wear them on the Straits Course."
There was a bit of silence, which was unusual for Moore, so I looked at my phone screen to see if I'd lost signal in the lake. But then he spoke.
"Well, I guess you could wear them with any outfit. Every color in a rainbow. Comfort on the course is a big deal but you won't see that pattern on my foot. I'm more of an old-school guy," Moore insisted. But then he allowed, "This all coming from a guy that has played rounds barefoot and in top siders."
Old dogs…new tricks.
Read more of Michael Patrick's work at The Travel Tattler, or contact him at [email protected]