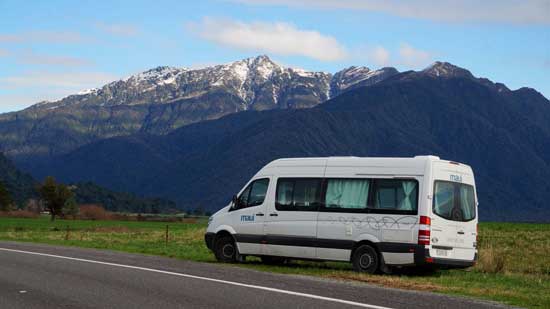 My wife and I recently returned from a two week, try-to-see-everything honeymoon to New Zealand. Of course, you can't see everything in New Zealand even if you had two years, but we made a good start, lapping scenery-filled circumferences around the middles of both North and South Islands. This never would have been possible without two campervans.
There's really no better way to tour "lots of cool stuff in lots of different places" countries like New Zealand, Australia or Ireland than via campervan, which is more flexible than plane and bus options, and cheaper than the double-cost of rental car plus hotel, even if Orbitz tries to sucker you into some kind of crazy package. But to vanning newbies like us, there were a FEW TRICKS AND TIPS we picked up along the way that made our road trip to glory all the more glorious.
Tip #1 – Get the Right Van
Tip #1 stems from Rule #1 of Vacationing: Know Thyself. What level of luxury traveler are you? Are you a 5-star-spare-no-expense glamper, or a see-five-days'-worth-of-stuff-in-two-days-on-one-day's-budget speed adventurer? Luckily, campervans come in both flavors. We drove a bigger, more "hotel on wheels" Maui Ultima van on South Island, and a sleeker, "racecar except you can sleep in it" Mighty Highball on North Island. Both vans served our needs perfectly.
The Maui allowed us to use the bathroom and shower on the road, while the Mighty let me deke in and out of Auckland traffic. Both curtained us off safely from the world when we wanted to camp on the road, and both had electrical hookups when we wanted to posh it up at some of New Zealand's top-class campgrounds. Whatever your level, there's a full range of spectacular vans out there, and many have great rates during low (April-November) season.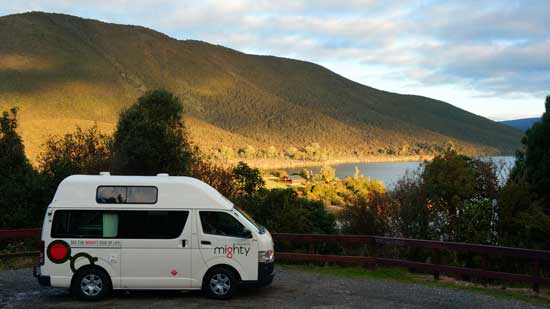 Tip #2 – Know When to Go
Speaking of seasons, remember that things are backwards in the land down under: summer is winter, winter is summer, cats marry dogs, and Fish and Chips are "Fosh and Chops!" So if you end up in South Island in late May, as we did, you may find yourself facing shorter days and some potentially closed roads if it snows. That being said, you'll also find cheaper rates and thinner crowds than during warm and sunny December.
When planning your destinations and route (see Tip #5), remember you might need to a lot more time for traversing high mountain roads, which are the first to close when weather runs sour, and you may need to consider which activities are open year-round. Thankfully, most are, for Kiwis are a hearty breed, and even water activities are usually open during winter. Just maybe for shorter hours.
Tip #3 – Know Where to Camp
Few countries have as consistently high-quality camping options as New Zealand does, including, among other options, its renowned Top Ten campground chain. These are not your sleeping-around-a-campfire-under-the-stars campsites, these are lux holiday parks with full electrical and shower facilities, pools and playgrounds, and sometimes even movie-lounge areas. They also tend to be very close to things: Queenstown has a one that's somehow walking distance from the center of downtown.
NZ campgrounds can be pricier than you might expect for camping, though: sometimes $40 or more per night to sleep in your own van. So the budget traveler may want to take advantage of New Zealand's reputation for offering widespread places to camp for free or cheap. While the rumors that you can camp literally anywhere in New Zealand aren't true (don't camp on somebody's private land!), there are still a lot of options, and this website is a good place to start. With a tiny bit of internet (see Tip #4) research, you can camp for nearly nothing next to some of the world's most stunning sights.
Tip #4 – Stay Connected
New Zealand can sometimes be tricky for internet. Not because it isn't available – New Zealand is just as plugged-in as any other first-world country – but because it might not be free, or as widespread in less populated areas, where some of the best sights lie. But if you're campervanning, there are a few easy solutions:
Campsites. Remember those campsites with hot tubs? They also usually have Wi-Fi, which is sometimes included, or at least purchasable so you can Netflix while you're holed up in your curtained comfort-mobile. If you want to know which campsites provide free internet, you can call ahead, and the friendly person at the front desk might even throw it in for you for free.
Cafes. Assuming you're not taking full advantage of your van's portable kitchen, you'll be stopping for Fosh and Chops from time to time, and can often get free Wi-Fi at your restaurant. As with campsites, you can pit the local restaurants of coffee chops against each other and only enjoy a spot of "malk" where you can also YouTube free of charge.
McDonalds. Failing Options #1 and #2, most towns have a set of Golden Arches where, for the price of a swirl cone, you can have sit and use the (admittedly sometimes slow) Wi-Fi until your ice cream melts.
Worst case scenario, even though Wi-Fi isn't ubiquitous in NZ, cell reception is, so if you have a New Zealand calling plan or can cough up a few bucks for international data plan, the basics can be covered with your Iphone.
Tip #5 – Plan Your Activities!
Finally, returning to the cardinal rule of traveling, know what kind of activities you're into. Are you a cliff-jumping adrenaline junkie, here because New Zealand is the adventure capital of the world? Try the Nevis Canyon Bungee and World's Biggest Swing near Queenstown. Are you claustrophobic? Avoid the Waitomo Glow Worms Caves.
There are dozens of web resources, like this one, to help you pick your destinations, but you should first think about HOW you'd like to do them. For example, Milford Sound and the Fox/Franz Glaciers are two of South Island's most renowned sites, but do you save money by driving to Milford or hiking up to the glaciers yourself, or do you helicopter between them to save a day, which you then use to hire a private guide to take you actually ON to the glaciers? It's all a question of time, budget, and you.
Once you know your destinations and style, it's time to plan your route. We like to think that ours (pictured above) combined the best of both worlds: we made sure to include a luxurious cruise out around pristine Milford, but also allotted a couple days for bungee, jet-boating and zorbing in Rotorua and Queenstown, because we're ridiculous people.
No matter what, good news: practically ALL of New Zealand is above-average beautiful, and it's small enough that you'd be surprised how much of it you can see in whatever time you have. Especially in a campervan.
If You Go
New Zealand
www.newzealand.com