You're in a colorfully seedy cafe on a little Caribbean island. Some homies are sitting around a big, rough-hewn table gulping down a kind of fish stew … at another table, divers are guzzling rum-and-cokes while swapping tales of the day's underwater adventures … at the bar, tourists are arguing (loudly) about the merits of a local beer called Costena vs. imported Red Dog from the States … and all in the din of booty-swinging cumbia tunes blasting out of the P.A.
Welcome to the improbably named Cafe Gourmet.
The island is San Andres, a dot on the map about 150 miles off the Venezuelan coast. (Oddly, this island and two other neighboring specks belong to Colombia, which is hundreds of miles further away than Venezuela.)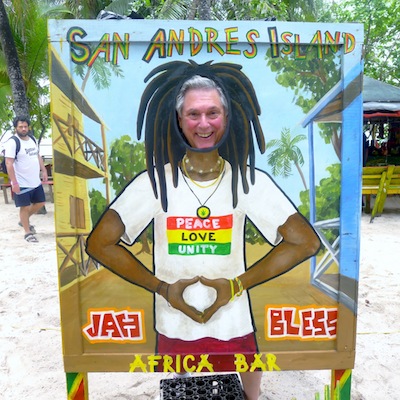 You came here to enjoy a Latin-flavored resort island perhaps best known for three dozen nearby dive sites running along the third largest reef in the world. Waiting for divers are the underwater delights of spectacular caves, cliffs – one drops down a straight 300 feet – and sunken ships. Adding even more color to the scene is a painters' palette of parrot fish, snappers, groupers, butterfly fish and smaller frogfishes, pipehorses, spotfin gobies and spotted shorttail snake eels, to name just a few of the reefies.
Apres-dive, chances are you'll find the chow at the Cafe Gourmet is pretty good, particularly its broiled snapper and other snacks you might have seen darting around the caves and cliffs earlier today. Among biggies on the menu is a Colombian favorite called rondon, a tasty stew of fish, snails, yam, yucca, pork bits, plantain and dumplings (and seemingly anything else handy in the kitchen), cooked in peppered coconut milk.
But what the crowds stand in line for to get into this restaurant-bar in beautiful downtown San Andres – one of many good eateries around the island – is the diversity of its peppy Caribbean music, often played by a local band called Creole Group.
Batting out tunes tonight are five band members – one strumming a guitar, another plucking away on a banjo, one thumping out the bass on a string poking up from a wash-bucket, one shaking maracas and the fifth scratching a donkey's jawbone with a stick. Together, these guys get the crowds up and swinging to classic Colombian salsa-ish cumbias, old-time calypsos, reggae from Jamaica, Trinidadian soca (a combination of soul and calypso), melodious merengue from the Dominican Republic, peppy brukdown from Belize, call-and-response funji from Tortola and sexy zouk from Martinique.
Even if you don't dance, it's a safe bet you'll find yourself bobbing your head or toe-tapping to the infectious tunes of the Caribbean.
If you liked what you heard, the band will be happy to sell you CDs of their songs. A disc will set you back around 20,000 Colombian pesos. But don't let that number turn you off – it's only 10 bucks or so in U.S. currency.
Staying there: The island of San Andres offers some 25 tourist-class hotels. Among top-rated properties is the Decameron Aquarium, which has a good number of its 232 rooms arranged in circular clusters above the ocean.
Getting there: San Andres has an international airport, but there are no scheduled nonstop flights from the U.S. at present. Instead, passengers flying from U.S. gateways like New York-JFK, Atlanta, Los Angeles and Miami have to connect to nonstops to San Andres at big airports in Latin America. Connections are typically made at Panama City, Panama, and at Colombian terminals such as Bogota, Barranquilla and Medellin.
If You Go:
Proexport (Colombia's tourism, foreign investment and export promotion agency)
www.proexport.com.co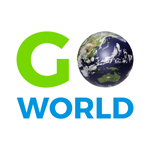 Latest posts by Go World Travel Magazine
(see all)