Do you love theater? The good news is that Broadway is blooming again. More Broadway shows have been added since the beginning of the year with 15 new ones taking the stage by the end of April to allow for Tony Award consideration.
Here's the latest roundup of ongoing and new shows. Some are still in previews with openings planned in the next several months. See as many as you can before the Tony Awards air on June 12. 
Take note which Broadway shows have limited runs. To keep updated, sites like www.broadway.org, The Broadway League's official online info site; www.telecharge.com, www.broadwaybox.com, and www.todaytix.com are great places to further your awareness of Broadway show openings and closings, ticket availability and deals, and other theater news.
Also download the TKTS app for real-time listings at the Theater Development Organization's discount, day-of ticket booth at Father Duffy Square just north of Times Square.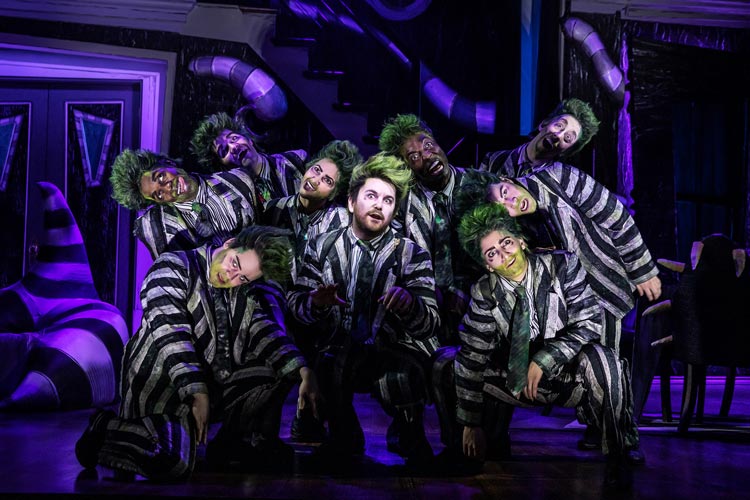 Just Opened: A Special Broadway Exhibit
For a larger-than-life Broadway show experience, The new Broadway Grand Gallery exhibition features 21 currently running shows on 11 large Playbill monoliths. The installation is located on the Broadway Plaza between 47th and 48th Streets and will be on display through June 15.
Newest Plays and Musicals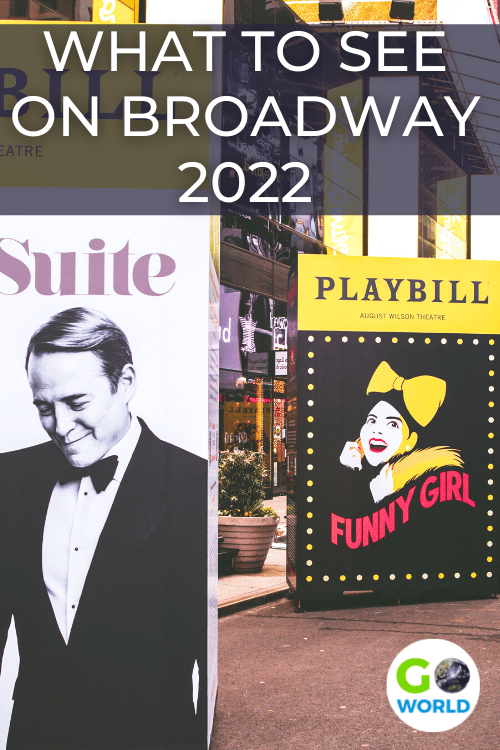 What are the three words you're never supposed to say? He's back. After a hiatus that began pre-pandemic, Beetlejuice has returned in all its ghoulish, madcap glory. Based on Tim Burton's endearing movie, Beetlejuice the musical features a conga line and the classic Day-O number. If you feel inspired, come in your best Beetlejuice attire.
Marquis Theatre, www.beetlejuicebroadway.com 
Debra Messing stars in this new production by the Roundabout Theatre Company. Messing and cast travel through 70+ years of birthdays and the philosophical questions that surround each. Closes May 29.
American Airlines Theatre, www.roundabouttheatre.org 
An even more important show now with the recent passing of its composer-lyricist Stephen Sondheim, Company remains one of the most brilliant examples of Sondheim's genius. The revival takes the story of a group of friends and switches up the genders. Don't miss your chance to see Patti Lupone singing "The Ladies Who Lunch" in the role created by the indomitable Elaine Stritch.
Bernard B. Jacobs Theatre, www.companymusical.com 
For Colored Girls Who Have Considered Suicide / When the Rainbow Is Enuf
A revival of the Ntozake Shange's groundbreaking "chorepoem" of the 70s, For Colored Girls tells the stories of seven Black women through a fusion of music, dance, poetry and song.
Booth Theatre, www.forcoloredgirlsbway.com 
No, it's not Barbra Streisand on stage in this beloved musical. Tony-nominated actress Beanie Feldman is the new Fanny Brice, marking a return of Funny Girl to Broadway after its debut 58 years ago. The story is an uplifting one: Fanny Brice, a girl from the Lower East Side, dreams of life on the stage and succeeds. Also starring Jane Lynch.
August Wilson Theatre, www.funnygirlonbroadway.com 
Reuniting the two original stars of the 1997 off-Broadway production, Mary-Louise Parker and David Morse, How I Learned to Drive is a memory play about a woman coming to terms with a charismatic uncle who impacts her past, present and future life.
Samuel J. Friedman Theatre, www.manhattantheatreclub.com 
A fanciful telling of Antoine de Saint-Exupery's captivating story about The Little Prince takes to the Broadway stage with aerial artistry, music, video and exciting choreography. It's a treat for all ages. Through August 14.
Broadway Theatre, www.thelittleprincebroadway.com 
Popular among Michael Jackson fans worldwide , MJ follows the career of the "King of Pop" while focusing on the making of Jackson's Dangerous World tour. The dancing is spectacular and the songs from the Jackson Five through Michael Jackson's solo days will have you rocking in your seat.
Neil Simon Theatre, www.MJTheMusical.com  
Billy Crystal's back with a musical comedy follow-up to 700 Sundays, the Tony-award winning story of life with his father. Mr. Saturday Night, originally a film directed by Crystal, is one man's tale of being both a comedian and a family man and getting a second chance at both.
Nederlander Theatre, www.mrsaturdaynightonbroadway.com 
You know the story made famous by Robin Williams in the title role of the movie. Divorced dad Daniel Hillard finds a way to spend time with his kids by reinventing himself as a Scottish nanny, Euphegenia Doubtfire. This musical interpretation invites all ages to experience family life in an entirely different way.
Stephen Sondheim Theatre, www.mrsdoubtfirebroadway.com 
The highly anticipated remake of The Music Man with Tony-, Grammy- and Emmy Award- award-winning star Hugh Jackman as Professor Harold Hill and Tony Award-winner Sutton Foster as Marion Paroo has wowed audiences with the beautiful sets, songs and stars. Originally premiered on Broadway in 1957, The Music Man earned its place in Broadway lore running 1375 performances and with a cast album that won the first-ever Grammy Award for Best Original Cast Album and stayed on the charts for nearly five years.
The Winter Garden Theatre, www.Musicmanonbroadway.com
Neil Simon's comedy triptych set in a suite in Manhattan's Plaza Hotel features Sarah Jessica Parker and Mathew Broderick as three relationship-questioning couples. SJP's comedic skills are on full display in this play firmly set in the 60s. The chemistry between the two leads is a given. Limited run through June.
Hudson Theatre, www.plazasuitebroadway.com 
Set to originally open on the exact night that Broadway went dark in March 2020, Six is a rocking musical-concert telling the tales of the six wives of Henry VIII. The transplant from the West End will have you repeating the show's "divorced, beheaded, died, divorced, beheaded, survived" chorus over and over again.
Brooks Atkinson Theatre, www.SIXonBroadway.com 
A revival of Richard Greenberg's Tony Award-winning hit, Take Me Out is the story of a gay baseball player of color contending with the reactions of his teammates and others. The show is not appropriate for younger audiences. Note: your phone will be placed in a locked case during the show and will be unlocked when you leave. Limited run through June 11.
Hayes Theater, www.2st.com/shows/take-me-out 
Lincoln Center's production of Thornton Wilder's play is a timely exploration of the end of the world over and over again through George and Maggie Antrobus's survival instincts.
Vivian Beaumont Theatre, www.lct.org/shows/skin-our-teeth 
Long Running Broadway Shows
One of two current Disney supershows on Broadway, Aladdin is now in its ninth year (ignoring the pandemic time off). A great introduction to live theater for viewers of all ages, the show is the consummate tour of adventure mixed with music. You'll recognize the songs like "You've Never Had a Friend Like Me."
New Amsterdam Theatre, www.aladdinthemusical.com  
Do you love South Park? Then this play-cum-musical is a must for you. A little offensive, a lot crazy, the show irreverently tells the tale of two Mormon boys who have been given their first "conversion" assignment far far away from their hometowns.
Eugene O'Neill Theatre, www.bookofmormonbroadway.com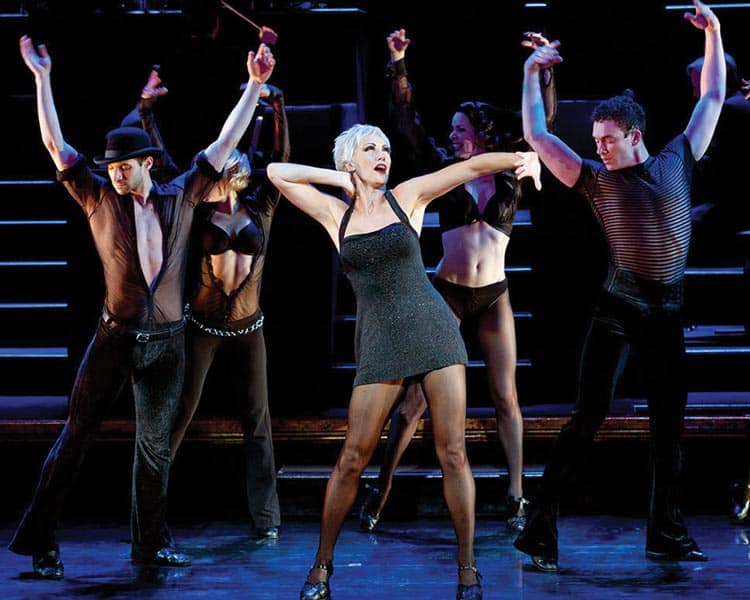 It's hard to believe that this fabulous, utterly contemporary musical has been running for 25 years. No matter how many times you see Roxie Hart, Velma Kelly and their murderous cohorts sing about what landed them in jail, the show is as fresh and sexy as ever. If you can, try to imagine Joel Grey, the original Mr. Cellophane, when you watch. The choreography by Bob Fosse is legendary.
Ambassador Theatre, www.chicagothemusical.com 
An emotion-evoking musical about the kind-hearted folks of Gander, Newfoundland who welcomed passengers stranded on incoming international US flights on 9/11, Come from Away tugs at the heartstrings with its passionate cast of characters. As tragic as the real-life story is, this is an event that remains an uplifting tale of resilience and cooperation. It's a must-see.
Schoenfeld Theatre, www.comefromaway.com 
What started as a concert performance led by David Byrne, filled with gloriously unusual barefoot dance against the songs of David Byrne and the Talking Heads, has become a Tony-winning Broadway sensation. Synchronicity in song and movement, expressiveness, costuming, lighting, instrumentation and a rocking rhythm create an evening of theatrical performance that will have you tapping your toes and rocking out.
St. James Theater, www.AmericanUtopiaBroadway.com 
For any teenager who's ever suffered from feeling like an outsider, Evan Hansen is immediately relatable. Evan Hansen, alone with his divorced mother, faces the challenges of moving beyond his own issues to integrate himself into his high school. A tragedy changes his life in ways he could never have imagined. The music is memorable and the digital effects are breathtaking. You may have seen the movie, but this is the real thing.
Music Box Theatre, www.dearevanhansen.com  
Bob Dylan's music becomes the foundation for this play about a guesthouse in the North Country. Innkeepers and guests share in each other's lives with Dylan's tunes delivered with surprising renditions. Originally off-Broadway at the Public Theatre. Closes June 11.
Belasco Theatre, www.NorthCountryonBroadway.com 
Greek mythology characters Orpheus and Eurydice and King Hades and Persephone are two couples trapped in differing worlds. Darkness and light, love and a trio of singing Fates add to the mystique of this breathtaking show. The on-stage musicians play an intoxicating mix of New Orleans-inspired Jazz and folk music.
Walter Kerr Theatre, www.Hadestown.com 
The show that shattered all records and changed theatrical history is back in all its glory. Rap, ballads, deceit and ambition all mix together in Lin-Manuel Miranda's groundbreaking musical about the life of Alexander Hamilton. If you didn't know much about Hamilton and his relationship with Aaron Burr before this play arrived on Broadway or the Disney Channel, you certainly will by the end of this show. Creative staging, stunning costumes and rapid-fire lyrics add to the show's brilliance.
Richard Rodgers Theatre, www.hamiltononbroadway.com 
Harry Potter and the Cursed Child
The wizardry is back! And now in one extended performance, rather than two back-to-back or separate parts, you can watch the special effects from the movies take place in real life. Hogwarts and all of your favorite characters have grown up with their own children to worry about. See it twice – once from an orchestra seat and once from the mezzanine where you'll be gifted with a different view of the spectacular set changes and magic.
Lyric Theatre, www.harrypotteronstage.com/us.com 
The second of Disney's gargantuan Broadway hits currently running, The Lion King is a visually striking depiction of the story of the animals living in Pride Land. The characters – Simba, Nala, Timon and Pumba — are familiar from the animated movie of the same name. The show's standout "Circle of Life" song and procession will stay with you long after you've left the theatre.
Minskoff Theatre, www.lionking.com 
An over-the-top, musical interpretation of Baz Luhrmann's film about decadent Parisian, literary life, Moulin Rouge is a wondrous romp through the Bohemian lifestyles of its characters, replete with more than 70 songs that will test your knowledge of pop music. There's a reason this show won the Tony Award for Best Musical. See it again and again.
Al Hirschfeld Theatre, www.moulinrougemusical.com 
No matter if you've seen this musical once or five times, the chandelier scene will still have you gasping out loud. A thriller about an opera singer and the masked phantom who yearns to be with her, Andrew Lloyd Webber's musically rich Phantom of the Opera has been playing to packed houses since 1988.
Majestic Theatre, www.thephantomoftheopera.com 
Fans of Tina Turner will love this musical story of the singer's rise from being part of the Ike and Tina Turner duo to stardom on her own merit. The songs, the shimmies and the hair will have you dancing all night to the music of the Queen of Rock 'n Roll.
Lunt-Fontanne Theatre, www.TinaOnBroadway.com 
Harper Lee's story of 1930s Alabama racism, prejudice and innocence centers on lawyer Atticus Finch's attempts to correct overt injustice. Greg Kinnear leads the cast.
Shubert Theatre, www.tokillamockingbirdbroadway.com 
Who doesn't love the Wizard of Oz? Wicked takes another look at the Man Behind the Curtain story with a story about two school chums who grow up to be Glinda the Good Witch and the Wicked Witch of the West, the gorgeously green Elphaba.
Gershwin Theatre, www.wickedthemusical.com 
Book This Trip to See These Broadway Shows
Ready to be dazzled by these spectacular Broadway shows in New York City? Start planning your trip with local guides to the best restaurants, hotel and VRBO options, tips on how to get around and more through TripAdvisor and Travelocity.
Make the most of your trip to see Broadway shows with unique New York City activities, skip-the-line tickets, expert-led tours for your stay through GetYourGuide. Find more information and book your dates in advance here.
Visit CheapOair for exclusive flight discount codes and any other transportation needs for your New York City vacation.