Belmond El Encanto is an idyllic luxury resort nestled in the hills above Santa Barbara, less than two hours north of Los Angeles. With sweeping coastline views, the historic hotel is only a short drive (or bike ride) from the excitement of downtown Santa Barbara. The resort is set within a seven-acre expanse of park-like grounds and gardens.
Aside from the perfect location, luxurious accommodations and warm personal service, El Encanto is unique in that most of its accommodations are either individual casitas or duplex-type units offering a lot of privacy. I visited the resort as part of an epic California roadtrip, from LA to San Francisco and back.
Belmond El Encanto
First opened in 1918, the resort offers a comfortable, luxurious, five-star resort experience. El Encanto also boasts world-class dining and a very popular, but compact boutique spa.
Free car service is offered into downtown Santa Barbara throughout the day and the resort's concierge team can arrange a wide variety of activities from hiking to horseback riding to private tours of the nearby Mission Santa Barbara.
The resort features a unique combination of Spanish Colonial and California Mission style and architecture. That style is showcased in their 92 rooms and suites, each one unique.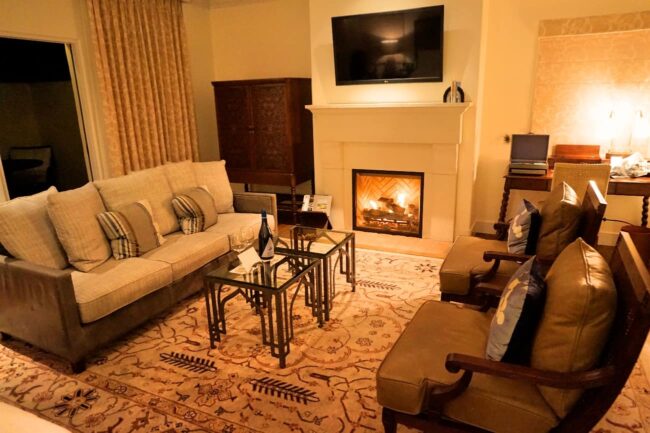 My Casita
I had an individual casita, called a Garden Bungalow, which was a tiny mansion. It was a free-standing little house, with total privacy and no shared walls. It had a lovely front porch and an enormous, party-sized rear patio with an outdoor fireplace. The casita had an open plan with a bedroom and living room area, along with an apartment-sized, spa-like bathroom.
Belmond
Formerly known as Orient Express, Belmond is a luxury travel provider with properties and experiences all over the world. Whether it's El Encanto in Santa Barbara, the Hotel Cipriani in Venice or a train like the Royal Scotsman, they're all iconic properties in iconic places. My favorite Belmond resort is the Belmond Sanctuary Lodge which sits right next to the entry gate for Machu Picchu. The company also offers river cruises and safaris.
Santa Barbara
The coastal city looks and feels like the South of France with lots of sunshine and warm weather. There's a vibrant downtown area and a wide range of things to see, do, eat, drink and buy. The Funk Zone is the city's former warehouse district, now populated by winery tasting rooms, restaurants and art galleries. There is some great deep sea fishing and sailing and the area is a popular place for whale watching.
Getting There
Santa Barbara is about 100 miles north of Los Angeles and it's an easy (and beautiful) drive up the Pacific Coast Highway and US 101. The city also has a small airport with easy connections to most major US cities. The resort and the city of Santa Barbara are great weekend getaway destinations from anywhere in Southern or Central California. To make the drive to El Encanto exciting, I drove the Jaguar F-Type R, with a supercharged V8 engine and almost 600 horsepower.
Read more of Freddy Sherman's take on travel on his Go World Travel Blog. You can also follow more of his adventures on his personal blog luxuryfred.com, on his luxuryfred Instagram feed and on his popular YouTube channel.