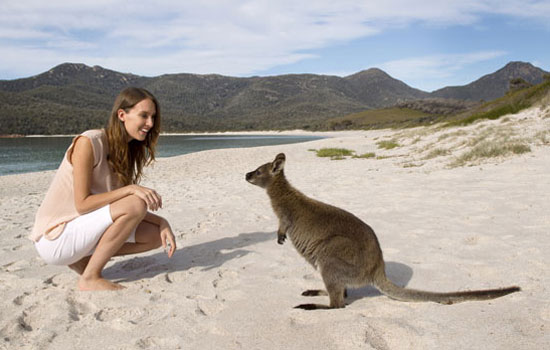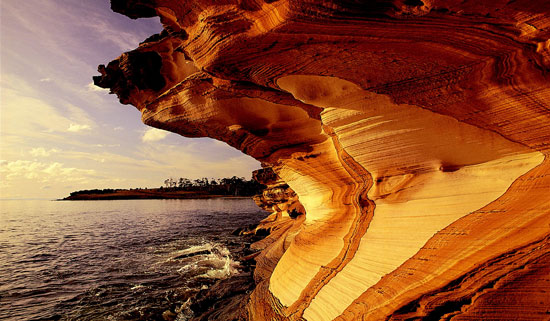 The "Great Southern Land" has a 'Great Southern Island.' Tasmania is Australia's island state, as geographically diverse and unspoiled as any settled land on earth. And with just 500,000 people sharing a space the size of Ireland, there's plenty of room to explore.
Join me as I hire a car and visit some favorite spots with my wife, Karen. Our two routes strike out from Hobart, the island's capital in the southeast.
First, we head northeast on a 300-mile (483 km) loop through cultural and gastronomic gluttony to the sapphire shores of the Tasman Sea and one of the world's finest beaches. On returning to Hobart, we then strike out northwest on a five-hour journey bisecting the World Heritage Wilderness of tall trees, fairytale rainforests and "hairy bikies," to a coastal interlude with natural and man-made history.
Accommodation options abound at all the destinations we visit, so there's plenty of reason to take our time. Above all, Tasmania is indeed a place to linger.
That's no ordinary market
Hobart is Tasmania's capital and a city that instantly appeals. Casually straddling the Derwent River and a stunning harbor, is rich Georgian architecture and colonial history, combined with Bohemian confidence to enchant visitors. Overseen by the 4,000-foot (1,200 m) dolerite monolith of Mount Wellington, its hypnotically beautiful waterfront is normally busy, but each Saturday it takes a breath while one of Australia's finest markets swings into gear among the art galleries and old merchant warehouses of Salamanca Place.
Outside the Retro Café, where we surrender to the breakfast special of spicy scrambled eggs and French toast, the cacophony of market day already dominates the street. There is little trash among 400 stalls of treasures, unusual for such a popular market, and Brian, who sells antique telephones, provides some perspective.
"Sure, there are plenty of tourists, but half the people here are locals," he says.
"You're lucky today, it's sunny, but it's a long winter — too cold for the tourists. We have to appeal to the locals first; they are our staple trade."
I'm captivated by an energetic bearded man trading from a large ice bucket nearby.
"Come on, son, get into this. Raspberry chilli beer! Turns you into a sexual tyrant! Brewed fresh here in the Huon Valley."
"I'm game, give me a try."
Fortunately, Tasmanian Fine Ice Cream operates the adjacent stall, and a macadamia and cointreau cone restores my delicate palate, quelling any misguided hope of sexual domination.
I love a ghost story
Less than 30 minutes northeast of Hobart, but 170 years away, lies the village of Richmond. Rooted in the convict era of the mid-1800s, more than 50 original buildings of the period are preserved in this Georgian shrine of 800 residents.
The Tourist Centre's free guide outlines the highlights, and a self-guided walking tour of discovery transports us back in time. Many of the structures were built by convict laborers under appalling conditions, and it's not until we leave the town that we uncover a lighter side to this harsh time in history.
Crossing Richmond Bridge, Australia's oldest road bridge, we meet a stonemason, Steve Kaye. He's repairing the bridge for the third time within many months. Casualty of another tourist misjudging the narrow carriageway, I assume. But I'm wrong.
"Locals cause the most accidents," says Steve. "It's John Glover's fault."
"John Glover? Who's he?" I ask.
"He's a ghost. Haunts the bridge after midnight. Most locals use the other route," says Steve, pointing to the north. "Those that cross here usually come off second best."
Apparently, in the 1820s, John ditched his mates for the high society types, so they murdered him, pushing him from the bridge at midnight. A rough arrow carved in one of the stones even marks the spot. To this day, locals say that John exacts his revenge on locals who cross after midnight.
"That's why I moved to the town side," says Steve with a wink.
Romance in the wild — after pancakes
North of Richmond, the "Heritage Highway" takes us to more fine historical towns, such as Ross and Campbell Town, before we detour east for the coast. A steep climb through the Mount Nicholas Range ends at the Mount Elephant Pancake Barn — an iconic pilgrimage site named after the pachyderm-shaped mountain shadowing it and serving pancakes as big as the name suggests.
Back by popular demand are the salmon, camembert and mushroom crepes. Big? you ask. "Drape off the plate," the menu declares, and there were no left overs — ample fuel for a hike through the Freycinet Peninsula, an hour to the south.
The granite peaks of The Hazards are backlit by a 22-degree autumn sky, reflecting the cobalt palette of the Tasman Sea. It's a perfect stage for the five-mile (8 km) circuit walk to the world famous Wineglass Bay and Hazards Beach.
The climb across The Hazards is steep, but justified by 360-degree views of the peninsula and the beckoning white arc of sand below. A contrasting landscape of red granite cliffs, flowering scrubland and aromatic towering eucalypts escorts us to the beach.
Wineglass Bay is consistently voted one of the world's 10 best beaches — Queen Elizabeth even insists on stopping here for a paddle and Aussie-style barbeque on the beach when she visits Down Under.
Today is extra special. We are alone with our impromptu picnic (crusty rolls and fruit from the local store) when a pod of dolphins arrive in the bay — the opportunity to swim with them is irresistible. My entire body tingles. I feel like I'm 5-years-old again on Christmas morning.
Romance in the wild, indeed.
The Wild West
Tasmania's wild and inhospitable west coast is a long way from anywhere. It's a five-hour drive northwest from Hobart: a wild ride through a region dominated by dramatic mountains, temperate rainforest and steep gorges.
There are many opportunities to stop and explore the pristine wilderness on marked walking trails, but the road eventually ends at Strahan: a pretty town of 700 that serves as a gateway to World Heritage areas, and claims to have the cleanest air in the world. The Roaring 40s lash the treacherous coastline, and the next stop west is South America, more than half a world away.
One of the best ways to explore the unique landscape is on the water with World Heritage Cruises, a family business that has been entertaining travellers since 1896. Environmentally sound catamarans take visitors on a 65-nautical-mile (around 120 km) journey through the present day world of high-tech fish farming to the convict past, and a primeval World Heritage Rainforest — all on a harbor so big it makes Sydney's look like a bathtub.
At Sarah Island we're led ashore by performers from the Round Earth Company, and we embark on a theatrical tour of this notoriously brutal convict settlement based on events gleaned from the surviving diaries of long dead colonists.
A change of landscape follows, and our catamaran slips up the Gordon River, stopping at a small landing where there's a boardwalk through the rainforest. It's a powerful environment — 2,500 year-old Huon Pines, some fallen, litter an impossibly beautiful myrtle forest that could host a fairy tale.
Gliding back through tannin-black water, surrounded by gorges and perfect reflections, it's clear the politicians of the 1980s didn't come here.
These rivers still flow free and the historic natural environment still breathes thanks to thousands of protestors who converged on Strahan in 1982 to fight the damming of the area. Some 1400 were arrested, but the people won as the politicians' greed was exposed.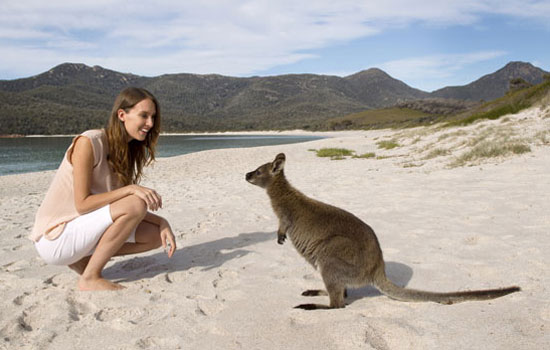 Land of the Giants
An hour from Hobart, Mount Field National Park provides a compelling and convenient reason to punctuate the long journey to or from the west coast. Tasmania's oldest park has something for everyone: from glacial lakes and alpine moor land, to temperate rainforests, magical waterfalls and the most amazing trees you'll ever see. It also offers cheap, traditional Aussie pub-style accommodations right next to the park entrance.
We arrive at the National Park Hotel at dusk as a heavy fog descends. Three pickups and a dozen Harleys share the car park.
"I hope they're friendly," Karen hesitates as we enter the bar.
Inside is another world. A gum tree stump crackles in the fireplace. The long L-shaped bar is lined with dedicated locals and some backpackers from the hostel down the road. Near the door is the group of bikies — a chaotic orchestra of leather, sunglasses, chains and more hair than a 1970s rock festival. Two older members with beards down to their waist shoot pool on a blue-topped table across the room.
Robin is the publican, and he asks his wife to relieve him while he gives us the tour of the original building. It's a 10-room, 19th century homestead that's been faithfully preserved and now crammed with an eclectic collection of antiques and mementos.
"The bar was added in 1925, but the original building is much older," says Robin. "It used to be a boarding house."
The next morning is cool and fine, and a hearty cooked breakfast fuels us for a four-mile (6 km) walk through the lower region of the park. A parade of waterfalls unfolds as we explore secret groves of sweet-smelling ferns; but nothing can prepare us for the Land of the Giants.
Interpretive signs lead us through the Tall Trees Walk, a grove of swamp gums reaching 300 feet (91 m) to the sky in a riot of vertical symmetry. They are the world's tallest flowering plant and the tallest hardwood species. I have to lie on the ground next to one to see its crown and Karen just wants to hug them.
The Hindus call the experience darshana — the ecstasy generated in the presence of a holy place — and Tasmania is full of them. Come and be prepared to experience your own.
If You Go
When: "Tassie" gets four distinct seasons. Rain is not excessive and falls mainly in winter (June to August). November to April is usually best, when the days are mild to warm and the nights cool. Spring wildflower and autumn foliage displays blanket the island at those times of year.
Out & About: 20 percent of the island is World Heritage Area and almost another 10 percent is covered by unique, diverse and spectacular national parks. This is nirvana for nature nuts. Unspoiled and deserted expanses of beach and rugged coastline, abundant convict heritage and pristine 19th century villages complete the picture. Tasmania is a place to explore. Grab a car and tour the island. Driving is inexpensive and easy (there's little traffic), but be sure to get out and explore on foot.
Find Out More:
www.australia.com/tasmania
www.parks.tas.gov.au (National Parks and Wildlife)
www.discovertasmania.com.au (Discover Tasmania)
Latest posts by Janna Graber
(see all)