For many of us, money is the barrier standing between us and our ability to travel the world. Or rather, is this our excuse? Christopher Schacht, a 25-year-old man from Germany, debunks the common belief that money controls our wanderlust with his new book, Around the World on 50 Bucks: How I Left with Nothing and Returned a Rich Man.
Christopher Schacht
When Schacht was a 19-year-old high school graduate, he decided to skip the mundane of everyday life and took off on an extensive journey of both travel and self-discovery. With a mere 50 euros in his pocket, Schacht began a four-year adventure that took him to 45 countries, covering a distance of 60,000 miles.
After reading Schacht's inspiring travel tale, we had a few questions to ask about his expedition. Here's what he had to say.
Have you always had a strong desire to travel?
My family certainly doesn't have a traveling gene. All my relatives live within a four-hour drive. Since I was a child we went on holiday to Denmark – just two hours by car. When I confronted my parents with the desire to travel the world, it was unheard of.
I was always seeing the same things and was never getting out of my gray, dull everyday life. When you add in the cold and rainy north German weather and the hard-working but stressful working culture, I knew I had to do something different. Friends of mine had told me stories of traveling to Thailand and Nepal and that was when my idea was born.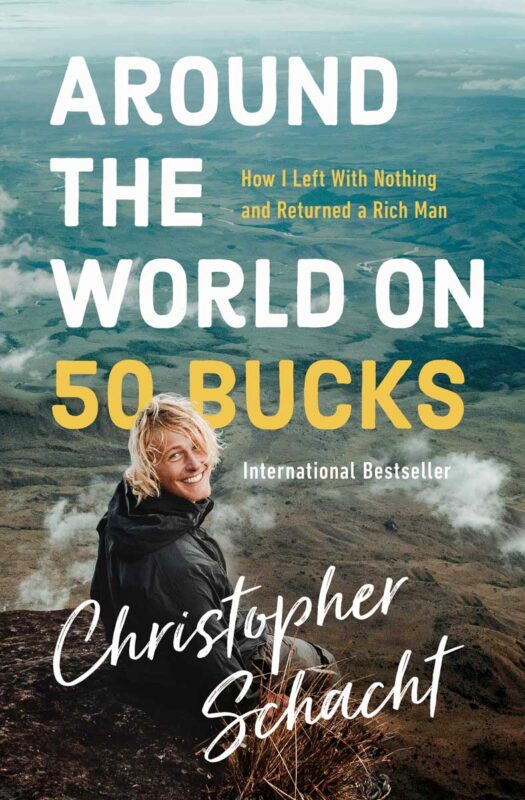 What was the catalyst for you to pick up your life and travel with only 50 euros in your pocket?
When I finished school, I had a scholarship of computer science. I figured this career would pin me down in an office for most parts of my life.
It was my strong desire to see the world instead. I dreamed of tasting and smelling exotic food, diving into foreign cultures and sipping pina coladas on a sunny, white beach with turquoise water.
Most people told me to first study, begin work and then fulfill this dream. But the reality is, once you have a job and a family you likely can't be away for long.
"The time is now," I thought. "If I want to see this become a reality I should act and not wait." I reckoned my chances with 19 years, bought a backpack and travel equipment, got my vaccines and left home with little money.
Can you give a quick recap of your adventure?
In July of 2013, I started hitchhiking north Germany with nothing but my backpack and 50 bucks. No credit card or backup and nothing was organized.
My first night in Amsterdam, I spent 35 euros for beer and partying, so the beginning was a disaster. I found a job the next day and was able to continue one month later. By November, I had reached the Strait of Gibraltar and found a sailing yacht to work on in order to cross the Atlantic Ocean.
We landed in the Caribbean and from there I made my way around South America before crossing the Pacific Ocean. I passed through remote islands and even hiked onto the rim of an active volcano while lava was flying over my head.
Continuing across Asia and war-regions of the Middle East, I made my way back to Europe. Four years in total without seeing my family and without using a plane at all.
What were two or three of your favorite experiences on your trip?
Almost every great travel experience is within these three categories and within that exact ranking. Read my book for the detailed stories, but among the most incredible experiences was meeting my future wife in India or finding a deep Christian faith in South America.
What was the most difficult part of the trip?
I had a lot of setbacks in these four years. Many times, I was hungry and without a place to stay, sleeping at dangerous places in the desert or sailing through a heavy storm in the East China Sea. I was taken advantage of by people who offered me help in return for work but afterward left me hanging. I also caught many energy-sapping diseases and infections.
The most difficult part was not outside of me but inside. I wrote in my book, "Setbacks rarely cause failure. It´s usually a lack of faith in yourself and what is possible." Keeping up faith in seemingly hopeless situations was the hardest thing to do.
Were there ever moments that you were scared? What were they?
There were moments when I was sitting on the co-driver's seat next to a lunatic Vietnamese driver who overtook other cars at blazing speed with traffic coming straight toward us. Then, in the very last second, pulling the car back in line to avoid a fatal crash. My heart skipped a few beats at those moments.
Other times I was traveling through a Pakistani war zone in the desert when suddenly our bus was stopped by armed mercenary soldiers. Just hours before, a person had been shot at that very route. Unable to flee and not capable of understanding their language, I found myself in a most uncomfortable situation – until the soldiers turned out to be among the "good guys" who were just checking up on me. That was a gigantic relief.
In your opinion, what is the biggest benefit of travel?
I have a hard time answering this because there are so many "big benefits."
One of them is stepping out of our comfort zones and learning to embrace the unexpected. Another is realizing that across all cultures or tongues, we have more in common than we are aware of. Traveling is the best antidote for prejudices.
At the same time, traveling brings us new inspiration, great stories and, most importantly, close new friendships. Yet another huge benefit is becoming more grateful for what we have and shifting your focus to the things that really matter in life. I would love to elaborate on this for hours but don't want to bore you with that. So, why don't you just go and find out for yourself? Godspeed!
How would you describe the process of re-entering "normal" life after your trip?
"Re-entering normal life" feels different for everyone. A friend of mine was going through a deep depression in the first weeks back home, always asking, "What is all this for?" He struggled with his life after realizing that his journey hadn't filled the longing for meaning inside of him.
With me, it was just the opposite. Getting to know Jesus through traveling put my life on a new foundation. Since then it doesn't really matter where I am, I always feel like I have life in abundance.
Two weeks after my return I picked up my theology studies. Half a year later I proposed to my girlfriend and published the German version of my book about my travel. I am now happily married, my book is available in seven languages and my wife and I have many more dreams we are currently bringing into reality. And so can you.
Christopher Schacht is the author of Around the World on 50 Bucks: How I Left with Nothing and Returned a Rich Man.
Photos courtesy Christopher Schacht