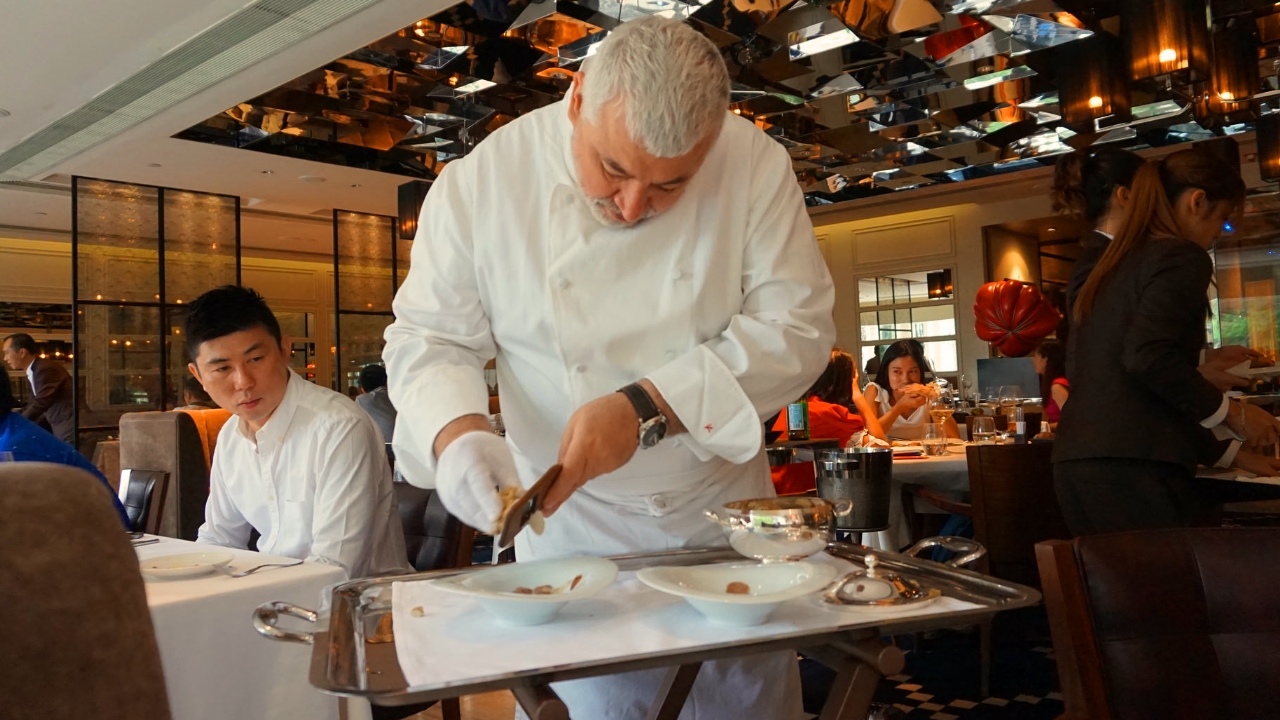 As of 2017, Hong Kong has only six restaurants that hold three coveted Michelin stars. It's no small feat in this food-crazy city. One of those six is 8 1/2 Otto e Mezzo Bombana and it might be more at home in Rome or Milan. This authentic Italian restaurant, run by Umberto Bombana, an authentic Italian chef, doesn't get fancy or fusion, they just serve amazing Italian food, day after day. It's that authenticity and Chef Bombana's laser focus on delivering a perfect meal to each guest, every time, that make Otto e Mezzo my favorite restaurant, anywhere. On my last visit, I experienced the full white truffle effect during a special lunch in October, the height of truffle season. Chef Bombana is a true truffle expert and is credited with popularizing the white Alba truffle in Hong Kong, which now goes crazy each year for the Italian Tubers.
The first course was a warm lobster salad, the lobster was complimented with roasted ovoli mushrooms and it was garnished with a citrus dressing. Light and delicious. This was paired with a sweet, white 2014 I Fiori Vermentino wine from Pala in Sardinia.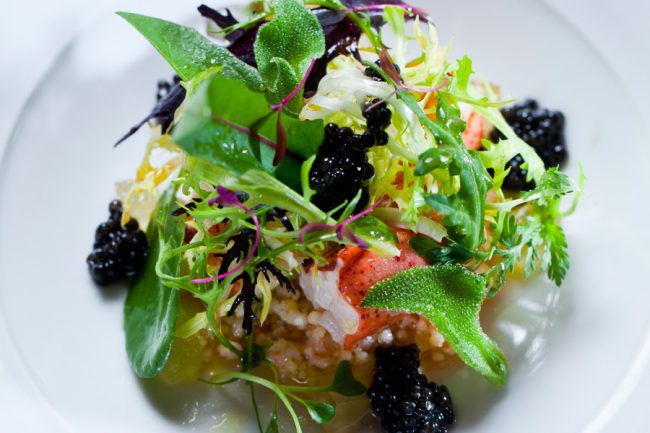 Next was roasted octopus and roasted artichoke, served with greens and a lemon oregano dressing. This was paired with another fabulous white wine, a 2012 Verdicchio de Matelica Reserva from La Monacesca.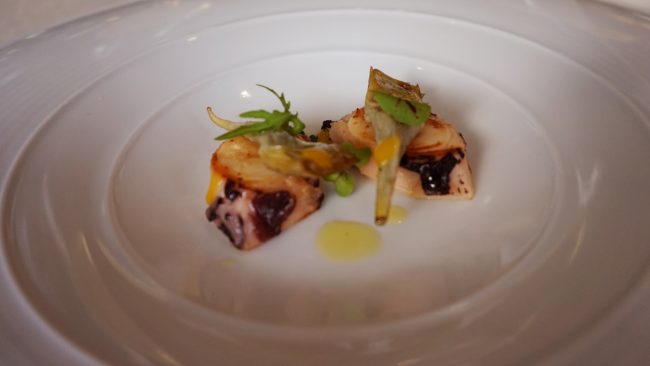 One of Chef Bombana's signature dishes was next, a scrambled egg, with porcini mushroom jus and of course, topped with shaved Alba white truffle. So delicate and just perfect. The egg was paired with a 2012 red wine from the Graci region of Sicily. This Arcuria Etna Rosso is grown in the rocky soil on the slopes of volcanic Mount Etna and has a unique, deep flavor that matches the truffle's intensity.
Next up was the winner for me, my favorite and probably the best thing I've ever eaten. It was a bowl of homemade tagliolini (thin ribbon pasta) served Piedmontese-style with butter, parmesan cheese and a whole heap of shaved white truffle. I was in heaven, the dish was truly spectacular and quite simple as well. This was matched with another glass of that volcanic Etna Rosso wine.
Just when I thought it was safe to climb under the table and take a nap, it was time for the next course, a beautiful serving of farm baby pork (provided by HK gourmet food provider Gourmet en Provence). This tender chop was served only with natural jus, mushrooms, chickpeas and an olive oil puree. The wine also got bolder with a 1998 Barolo Carobric from Paolo Scavino.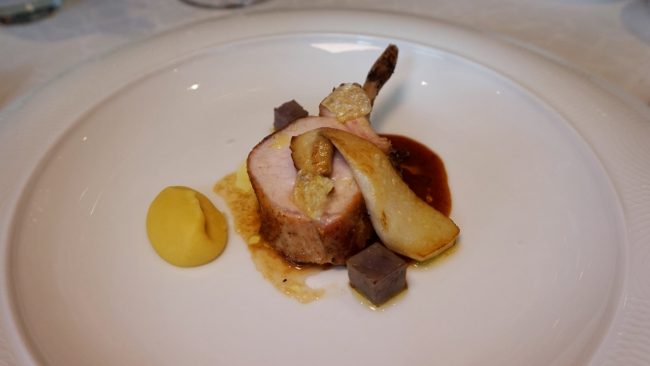 Although I was satisfied way back with the tagliolini, there was yet another course to savor. A Fassone veal tenderloin. This was encased in a light crust of crisp bread and served with pumpkin (a great choice) and an aromatic cheese fondue. This was joined with another strong red Italian wine, a 2008 Casanova di Neri from Brunello di Montalcino.
After all that food and all that wine, yes, it was time for dessert. In keeping with the truffle theme, it was a white truffle gelato with chantilly, nougat and crisp chesnuts, topped with (wait for it) shaved white truffle. Dessert that epic called for an epic dessert wine, a 2012 Maximo from Umani Ronchi. This unique dessert wine, a sauvignon blanc flavored by the "Noble Rot," stood out even after all those other glasses of reds.
After lunch, I had a chance to sit down with Chef Bombana and interview him. You can see my interview with the chef in my next blog post here on Go World Travel. 8 1/2 Otto e Mezzo Bombana (which named for Chef Bombana's favorite film, Fellini's 8 1/2) is open for lunch and dinner every day except Sunday. They're also open late for drinks. Otto e Mezzo is inside the Landmark Alexandria building in Central.
Read more of Freddy Sherman's take on travel on his Go World Travel Blog. You can also follow more of his adventures at luxuryfred.com blog and on his YouTube channel.