Did you know the smallest Four Seasons hotel in the world is in Tokyo? The Four Seasons Hotel Tokyo at Marunouchi is tiny, in terms of room inventory, with only 57 rooms and suites. Guests staying in those 57 rooms and suites get a truly personal, bespoke experience, with a guest-to-staff ratio that seems almost 1:1.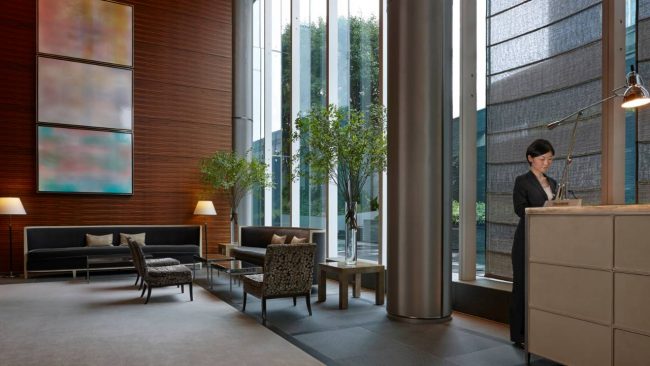 Located in the Marunouchi area, directly adjacent to Tokyo Station, the hotel is only steps away from the Ginza shopping area and the Imperial Palace and a short walk from most other areas of the city. Its location, next to the city's main train station, means it's hard to get lost, as the majority of Tokyo's train and subways lines pass through the station. The hotel has trackside greeting for guests arriving by train, where they take your luggage right in the station and escort you upstairs to the hotel check-in.
Those 57 rooms and suites are beautiful and modern with meticulously crafted furniture and accessories. Spa-like bathrooms add to the tranquility and the idea of the rooms as sanctuaries from Tokyo's hyper-energy happening right outside. Techies will love that suites come with a 52-inch 3D TV with a BluRay player and complete Bluetooth and home theater system. There's a small spa at the hotel with two treatment rooms. There are also steam saunas, jet showers and a traditional Japanese onsen hot spring bath.
Foodies won't be disappointed at MOTIF, the farm-to-table French restaurant at the hotel. The unique combination of a French menu with Japanese chefs and mainly Japanese products offers a uniquely delicious experience. The restaurant is also one of the most popular places to have Afternoon Tea (due to the views and the hotel's luxury brand name) and a formal one is served each afternoon.
For the ultimate luxury experience in Tokyo, the Four Seasons offers a truly amazing Sumo and Sightseeing package. The all-day tour starts at a sumo training center where you get to watch practice and then eat with the athletes. Next is a visit to a sento or traditional bath house. A Wagyu steak lunch at Asakusa Imahan, one of the city's best restaurants is followed by an afternoon of curated shopping. Dinner is aboard a traditional houseboat during a cruise on Tokyo Bay, and to end the night, a rickshaw ride back to the hotel. The $9,000. package includes two nights in one of the hotel's stylish one-bedroom suites and the all-day tour experience with meals, for two people.
Read more of Freddy Sherman's take on travel on his Go World Travel Blog. You can also follow more of his adventures at luxuryfred.com, on his luxuryfred Instagram feed and on his YouTube channel.