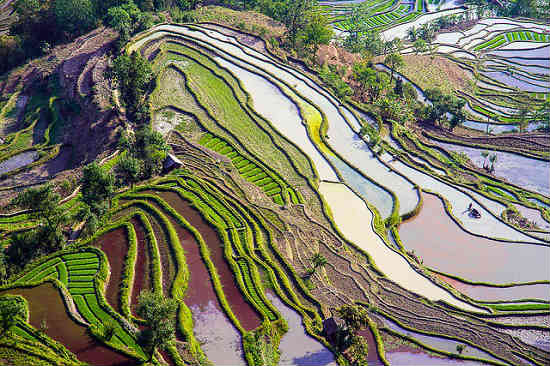 Nestled away in China's southwest corner is the province of Yunnan. It is often overlooked by travellers planning a whistle-stop tour of the country as it is thousands of miles away from popular destinations like Beijing and Shanghai.
However, visitors looking to get away from the established tourist trail will be rewarded with stunning scenery, remote villages and an entirely different experience to the hustle and bustle of China's megacities.
My girlfriend, Lucy and I had already been living in China for a year before visiting Yunnan. Though the province only covers four percent of China's area, it is home 72 percent of the country's endangered species and is a fantastic place to experience true biodiversity.
Our journey began in the province's capital city, Kunming known as 'the Spring City' for its year-round warm climate. Most transport links go through Kunming so it's easy to get here by train or plane. Youth hostels and hotels geared toward travellers are plentiful making it a great place to begin a trip.
Kunming has all the conveniences of a modern city with great opportunities for shopping and entertainment. We spent a couple of days happily wandering around in shorts and flip-flops before deciding to move on.
Our next destination was a bumpy seven-hour bus ride south to the Yuanyang County where a series of rice terraces lie. They are a true man-made wonder steeped in nature. Not only are they incredibly beautiful, but they feed the country's ever-increasing appetite for its traditional staple food.
"The rice terraces are the lifeblood of our China, as they have been for hundreds of years," our driver told us as we swerved round narrow mountain bends, too quickly to be entirely at ease. He laughed at our terrified faces as we swerved perilously close to the edge whilst overtaking a bus. "Don't worry, I've been driving around here for 20 years," he assured us. "I've never fallen in!"
We were dropped off in a remote village, where schoolchildren eyed us curiously and farm animals wandered through the streets. As we walked through the settlement toward the farmland, it became clear that here exists a different way of life to the high-street chains and designer brands that are increasingly part of urban China.
Above the terraces, a series of platforms have been set up that allow for spectacular views stretching on into the distance. In winter, the terraces are filled with water which the sun bounces off creating an incomparable display of light and colour. The surrounding mountains tower above the farmland and brilliant white clouds drift by.  We watched as far below a farmer ploughed the field with an overworked water buffalo. Though we strained to hear, his shouted commands echoed off into the distance and became lost over the horizon.
Of the 400,000 inhabitants of the county, 88 percent are part of ethnic minorities, mainly from the Hani and Yi races. Many of the people wear traditional dress in day-to-day life and do not speak any Mandarin. They are a testament to the diversity that exists within China's most remote regions.
After leaving the terraces we journeyed by train, again via Kunming, to the mountainous north of Yunnan. We began in Lijiang, an old town hugely popular with Chinese tourists. Though it is now swamped with souvenir stalls, it is still worth wandering through the ancient cobbled streets and getting an increasingly rare glimpse of China's past.
A short bus ride north of Lijiang is the truly breathtaking Tiger Leaping Gorge. It is located where the river passes between 5569m Jade Dragon Snow Mountain and 5396m Haba Snow Mountain. The legend goes that a tiger leapt across the gorge at its narrowest point to escape from a hunter.
Tiger Leaping Gorge is notorious for being an extremely dangerous and gruelling hike along one of China's most stunning natural sights. As we got off the bus, one of the guides nudged his friend and gestured toward one of the larger members of the group. "That one's never going to make it," he said laughing. It wasn't supposed to be understood by any of us — most Chinese people assume that foreigners don't speak a word of Mandarin — but the offhand comment still made me nervous for the long trek we were about to embark upon.
The path crumbled and cracked and we stayed away from the sharp drop toward the edge, moving out of the way to let groups of mountain goats wander past. Even though it was an overcast day, the views were beyond comparison. Clouds drifted by the snow-capped mountains while the mighty Yangtze River surged along thousands of feet below.
The final descent was to the river level. As we timidly made our way down, a laughing local woman with a basket of Coke and Snickers on her back overtook us. "Ladder" she said in English, indicating in one direction where a long rusty ladder descended ominously. As we looked on nervously she smiled again and said "Safe path," pointing in the opposite direction and showing us the way to get down if we didn't want to risk falling to our deaths.
After choosing the safe path, we were at the river's edge and we clambered over the rocks to get next to the surging river.
Yunnan truly is a fantastic destination to visit for those looking for an adventurous trip to a region of the world that is not regularly seen by tourists. China is often associated with polluted cities and huge factories, but this region is testament that it is also a country of great natural beauty. You just need to know where to look.
If You Go
Kunming Changshui International Airport is the main travel hub and the best starting point for exploring the surrounding region. Everything and everywhere is accessible by bus from Kunming's four major bus stations to the north, south, east and west. More information can be found here www.travelchinaguide.com/cityguides/yunnan/.
Author Bio
Chris spent 18 months in China, mainly based in Xi'an teaching English as a foreign language. He now lives back in his hometown of Nottingham, England and works as a copywriter, taking every opportunity to travel when possible.
[mappress mapid="879″]