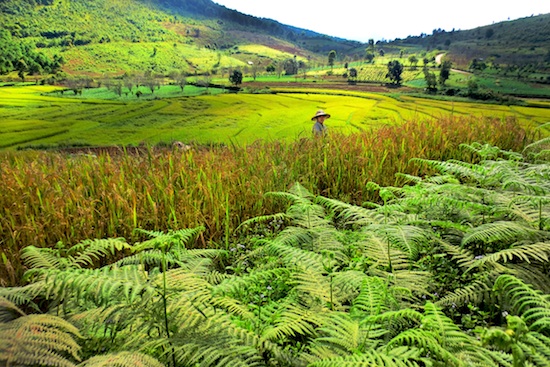 It's odd how a simple pair of worn out flip-flops, sitting on the rickety steps of a Burmese home, can suddenly look like a great photo op. Or maybe my brain is starting to melt from the blistering heat of the tropical sun. To me, the scruffy sandals are a snapshot of life in Southeast Asia, where shoes are removed nearly every place you go, leaving a constant film of dirt glued to your feet.
I crouch down on an angle in order to get a close up of the sandals with a silhouette of lanky palm trees and stilted homes in the background. Suddenly, the front door swings open. A man wearing a stained white tank-top and a traditional longhi peers down at me. He looks confused, obviously wondering why a tiny blonde girl is photographing his shoes. My face turns red. I can't help but feel embarrassed.
"Hello! Where are you from?" he says enthusiastically with a toothy smile, displaying a mouth drenched in red Betel nut juice — a popular mild stimulant that's been around for thousands of years in Southeast Asia. It looks like blood. I'm taken back.
"Canada," I reply nervously, feeling like a twit. He nods with approval, and then invites me inside his quaint home located in one of the villages built on stilts along Inle Lake. It doesn't take long before he reaches into a large plastic bag and pulls out a wooden tribal mask he claims to have made himself.
"No thanks," I say, as he tries to sell it to me. My eyes dart around the tiny, cluttered room, noting a photo of Aung San Suu Kyi (leader of the National League for Democracy and Nobel Peace Prize recipient) and an old television set covered in dust in the corner. The man is eager to strike a deal, but I'm in no mood to purchase any souvenirs.
My face still red, I flash a polite smile and head towards the door. I'm eager to see what I'll find around the next turn.
Located in the heart of the Shan Plateau in central Myanmar (formerly called Burma) is the lively and picturesque Inle Lake — a common destination for backpackers on a budget.
Dubbed the second largest lake in the country at 22 km and 11 km wide, some 70,000 Intha people live along its shores and on the lake itself. Most are devout Buddhists, who live in simple houses made of teak and bamboo that balance on stilts. It's a peaceful world that begs to be explored. The best way to do this is by boat, which is what I did on a calm morning in mid-November.
The sun wrestled with low-lying gloomy clouds as my boat sped across the water that looked like glass in the soft morning light. Fishermen stand at the end of their long, narrow wooden boats, carefully stringing their nets into the water. Their reflections shimmer in the lake like satin rippling in the wind.
The rumbling of diesel-fueled motors, effortlessly pushing the canoe-like boats across the water, pierces the peaceful morning air. Instead of roads, the villagers use canals to get around their community. They are self-sufficient, making their own cheroot cigars, tools, lacquer ware, jewelry and hand-woven silk fabrics from lotus plant fibers produced in the lake. I can't help but wonder what it's like to live here. This place is worlds away from anything I've ever known.
"Everything they need is here," said Sy, my guide for the morning. "For many of the people, this is all they know."
Since the country is still developing as a tourist destination and I'm traveling solo, I signed up for a two-week tour with G Adventures to experience a taste of what Myanmar has to offer.
I wanted to travel here after watching a documentary that described Myanmar as a place like no other, a place that was lost in time. I knew about its troubled past and wanted to see for myself if it really was on the road towards democracy.
For nearly half a century, Myanmar was under military rule, becoming one of the world's longest running military dictatorships. General Ne Win nationalized most of the industries and businesses, severely curtailing international tourism and trade. Visas were only granted for 24 hours, then eventually one week. Only certain books and magazines were allowed into the country, isolating Myanmar from the rest of the world and essentially crippling the economy.
It's only in the past couple years that things have started to change due to the president's plan for a "discipline flourishing democracy." Conflict, however, continues to brew in some parts of the country where foreigners aren't allowed to travel.
The number of tourists visiting Myanmar has now increased from about 200,000 a year to just under one million — still a far cry from neighboring Thailand's estimated 21 million in 2012.
Foreigners are curious to experience what the country has to offer, but aren't yet flocking here in mass crowds, which is refreshing for those looking to get off the beaten path. The locals are eager to interact with foreigners and see they haven't been forgotten. It's the people that truly make a trip here special.
"Are things good now, politic-wise?" I ask my young driver Chee. We're in a van driving from the airport to my hotel in the former capital of Yangon. It's the beginning of my trip. I am just as eager to interact with Chee as he is with me, but the language barrier proves to be a challenge.
"No. It's about the same," he shrugs, then tries his best to converse with me in the little English he knows. He tells me about sites the country has to offer with a smile glued across his face.
With approximately 500,000 monks living in Myanmar, it's easy to see why the bulk of attractions are Buddhist religious sites and monuments, such as the famed Golden Rock I visited three days into my trip.
A rickety truck with a box packed full of people climbing up a steep narrow winding road was not my idea of a safe time. But it was the only way to see Golden Rock, so I threw my "safety first" thoughts aside and jump on board.
The truck moans and groans as it snakes its way up the side of the so-called mountain draped with bamboo and palm trees. It looks like scene from a jungle. All that's missing are the monkeys swinging from the gangly trees. After a 45-minute ride along the bumpy road, we reach the "base camp" where we are given the option to hike the rest of the way.
"Okay, who wants to do the walk?" says our guide Shane. "All it takes is one person and I'll walk with you. Do I have one person?"
A middle-aged man puts up his hand with much hesitation. I shoot mine up enthusiastically, eager for a physical challenge in my jetlagged haze.
Beads of sweat soon drip down my forehead, soaking my bangs in the humid heat. After a sluggish three-hour bus ride from Yangon, I am suddenly pulsing with energy. I've never felt more alive.
Teetering on the ledge of another rock on top of Kyahikthiyo Hill in the eastern Yoma Mountains was Golden Rock — the third most important Buddhist pilgrimage site in Myanmar after the Shwedagon Pagoda in Yangon and the Mahamuni Pagoda in Mandalay.  According to legend, the boulder defies gravity by balancing on a hair of Buddha. The locals believe the rock was placed there 2,500 years ago with the help of nat spirits.
Covered in a thick layer of gold leaf, the mammoth gold nugget shimmers as the sun begins to set, bathing the surrounding hills in a pallet of soft pastels. The air is thick with incense. A low-pitched bell rumbles quietly in the distance. Locals sit on the ground and light candles to begin their prayers, their palms pressed together while bowing forward.
It's a calm, peaceful atmosphere despite the crowds that swelter as darkness falls over the golden land. It's a place where even I managed to find inner peace.
Author Bio: Pamela has been a journalist for 10 years, covering a variety of topics along the way for various newspapers and magazines. She currently works as a crime reporter, travel writer and editor for Sun Media, one of two major newspaper chains across Canada. Aside from being published daily in major Canadian newspapers, her work has also appeared in Outpost Magazine, Dreamscapes Magazine, More of Our Canada Magazine and a handful of online travel publications. More stories are available at www.pamelaroth.ca.