Safari Adventure in Kenya
Angama Mara is probably the most luxurious option when selecting a safari camp in Kenya. The luxury resort consists of 30 individual, villa-like tents, positioned on an escarpment 1,000 feet above the Masai Mara valley floor. Each tent has a large rear deck, offering sweeping views across the entire Mara Conservancy park. In fact, the camp promotes their armchair safaris, sitting on your deck drinking a gin and tonic, watching the animals below.
Of course the best way to see the animals is on a game drive in the park and we would spend each day doing just that. Each morning, Adlight, the lovely woman who handled all my food, would wake me up at 5:30 am by bringing a tray of hot chocolate and cookies into the foyer of my tent. At 6, Alice, my driver / guide / friend / naturalist would be outside in one of the camp's custom LandCruisers, ready to take me into the park.
We would spend a few hours exploring the 700 square-mile park, sometimes traveling all the way to the border between Kenya and Tanzania. By around 9 am, I would begin to get hungry and Alice would find an interesting spot to park the jeep. In this video, she parked right next to the Mara River, so we could watch the hippos as we had breakfast.
Angama has several private chefs and they would prepare a breakfast (to my request) of both hot and cold items. The breakfast is stored in the jeep along with an entire picnic set-up. Alice would then set up a beautiful meal for us. Breakfast was hot chocolate (I prefer it to coffee or tea) along with the camp's special passion fruit and ginger juice. There was some bacon, sausages, fresh fruit and yogurt with granola. There was a blueberry muffin and a breakfast sandwich with an omelette inside.
Rhinos in Mara Conservancy Park
After breakfast we would continue searching for animals. The goal for many Africa visitors is to see the big five: lion, leopard, rhino, elephant and buffalo, and I was successful! In the first part of this video, you see some of my search for a rhino, the most elusive and rarest of the big five. There are only 12 rhinos in the entire Mara Conservancy park. We searched for hours and finally saw some far away in the bush, then when driving to breakfast, we encountered one close-up, he was crossing the road right in front of us. You can read about another of my experiences in Kenya here, a group of Maasai women sang to me.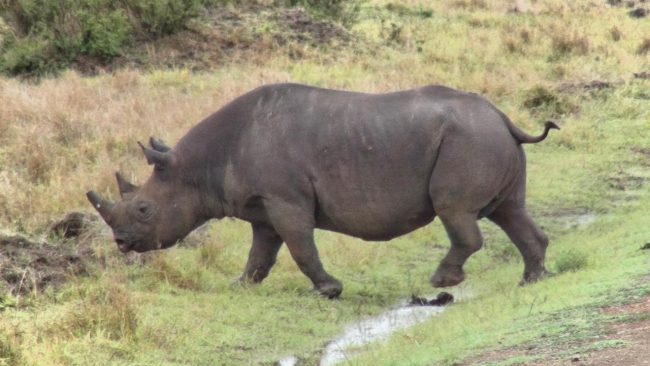 Getting to Kenya
I flew to Africa in the great Business Class cabin of Turkish Airlines. There are not many direct flights from the US to Kenya (only one from NYC as I write this) and Turkish Airlines has excellent service, prices and a few flights to Nairobi from their hub in Istanbul each day. They also have direct flights to Istanbul from LAX and a few other US gateway cities.
Read more of Freddy Sherman's take on travel on his Go World Travel Blog. You can also follow more of his adventures at luxuryfred.com, on his luxuryfred Instagram feed and on his YouTube channel.