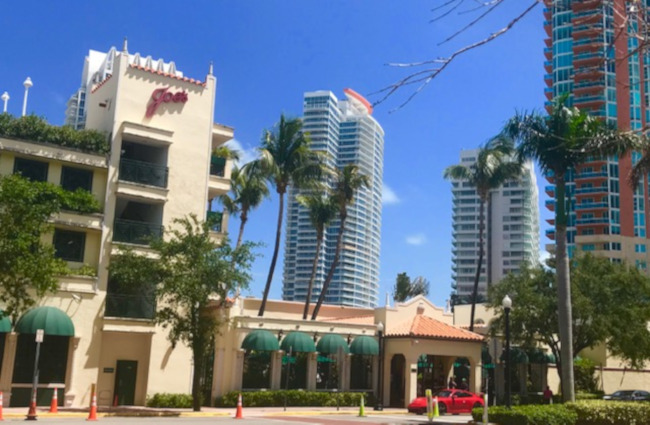 Joe's Stone Crab Restaurant
So you've waited two hours for a table to enjoy the meal of a lifetime. You're finally seated in the same busy restaurant where presidents, Hollywood actors, sports stars and international icons have dined for over 100 years. You're opening your menu at Joe's Stone Crab – Miami Beach's most famous white table-clothed, tuxedoed-waiter establishment, and the top seafood restaurant in America.
But what should you order for an authentic "Joe's Stone Crab experience?"
Despite not taking reservations, Joe's, a seasonal restaurant open from October through May, serves 2,000 people each night – 450 at a time. Longtime General Manager Brian Johnson speculates as to why there is such a demand for a table at Joe's by devoted local regulars, returning snow birds, and tourists making bucket list pilgrimages.
"It's a combination of the food and the level of service in the dining room by our staff there year after year," Johnson told me.
"We're busy, and we're big, but we're not super pretentious. Everybody's welcome at Joe's."
Old Florida Charm in Miami Beach
In addition to the Old Florida understated glam, multi-roomed dining areas, Joe's has a bustling bar; outdoor courtyard sitting areas; and a separate specialty shop with counter service for dine-in or takeaway menu favorites plus additional deli choices, pastries, breakfast items and souvenirs. Joe's also operates a busy, online mail-order business shipping crab claws on ice and other menu items for next-day delivery across America.
The sense of arrival at Joe's is a real palm frond, paparazzi-worthy scene as the curbside valet attendants welcome customers or whisk them away in vehicles ranging from Vipers to Volkswagens. (There is also free parking in the lot across the street.)
"It's a unique property, no doubt. Not many places do as many things as we do in one space," said Johnson, who manages staffer members who are as loyal as the customers. "I have to admit we are blessed because we employ over 400 people. I have generations of families that work here."
Deeny Kaplan Lorber, in her book "Waiting at Joe's," (which can be purchased in the take away shop) writes, "All seventy-six waiters, men and women, pass inspection each night in pressed black tuxedo; starched tuxedo shirt; shiny black shoes; all carrying their tip tray, bread crumber, wine opener, and a stack of menus…straight out of the pages of what waiters should be."
The diners wear bibs emblazoned with lobsters tied carefully over their Tommy Bahama shirts or Lily Pulitzer dresses by their attentive waiters.
One evening I watched a couple pay their check after dinner and depart a four-top table. The very second they were out of range and eyeshot of the table, four well-dressed attendants instantly appeared and quietly bussed the table with the efficiency and urgency of a Formula One race car pit crew and the precision of Swiss watchmakers. In less than 30 seconds the white linen tablecloth and used dishes, glasses and silverware were swept away and replaced with a sparkling arrangement on a newly reset table ready for the next diners, fresh from patiently waiting their turn, to be seated.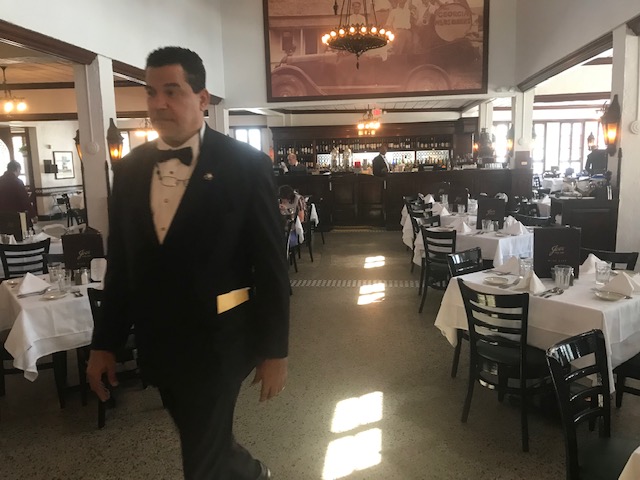 "People line up. We open the doors at Joe's Stone Crab and it's like coming home," said Johnson.
So what is about the infamous wait for a table, which some accept almost as a badge of honor? Johnson has advice. "It gets busy but try to have the mindset when you to go into Joe's that you're going to a party. Treat it like you've visiting someone's home," Johnson suggests. "Be prepared to enjoy conversation during a casual cocktail hour. Keep your eyes open for intriguing people."
The intriguing people he mentions might be "locals." Like a player from the NBA's Miami Heat or former Governor and Presidential candidate Jeb Bush. Back in the day it would have been mobster Al Capone, aerial adventurer Amelia Earhart, performer Jackie Gleason, radio host Larry King, or Dolphins football coach Don Shula.
"We are blessed with a huge local following. People who live down here have been coming here year after year," Johnson confirms "I've got one family I see in the restaurant who have been coming here through four generations. At least one member of their family comes every week. It's really special to see that."
Tradition…seasoned with vibe, buzz, excitement and elegance.
During the wait, if you get antsy, you can peek at the menu, but it will only increase the weight of anticipation on your taste buds. Instead take the advice of Johnson, who recommends the following courses as a time-honored, can't miss, representative "General Manager's Tasting Menu:"
What to order at Joe's Stone Crab
"For entrees I would recommend trying three things: the stone crabs; one of our dry-aged steaks; and I would also make sure you have the fried chicken. Those are the three entrees I would share amongst the table," Johnson advised. "For side dishes order grilled tomatoes – which is a half-tomato with a ground-spinach topping and melted cheese; hash browns; creamed spinach; and, of course, the most healthy unhealthy vegetable I have on my menu: fried asparagus."
No matter how much you eat, no one should leave without finishing off dinner with a slice of secret recipe Joe's Key Lime Pie – served very cold, which should be dubbed a national treasure.
Author: Michael Patrick Shiels  is an author, travel writer and radio host. Read him at GoWorldTravel.com/TravelTattler You can contact him at [email protected]