China is renowned for its production (and consumption) of high-quality green tea. My daughter, Nicole, and I were eager to learn about its production and sample some of the best this country known for tea had to offer.
We had spent an enjoyable visit touring Hangzhou, which is a little more than an hour southwest of Shanghai. Close as Shanghai and Hangzhou may be, they couldn't be more different in look and feel. Shanghai is a futuristic cityscape that conjures images from science fiction movies like Blade Runner and A.I., a city nearly sinking under the weight of its own rapid construction. Contrast that with the peaceful tranquility of Hangzhou's West Lake and the lush Huagang Garden, the place Marco Polo described in the 1400s as "the city of heaven" and "beyond dispute the finest and noblest in the world."
We had saved the best for last: as Nicole and I left Hangzhou's West Lake and drove about 20 minutes into the mountains, we were about to discover the best treat in the country: Longjing Tea, or "Dragon Well Tea."
Longjing Village
The hillsides of the Longjing region were covered in green tea bushes, and within the rows we could make out the pointed yellow hats first, then the people under them. We saw hundreds of men and women in traditional straw hats, wide brimmed and pointed at the top, in the fields with their bags, picking the tea leaves. Attired in what looked, from a distance, like formal kimonos, a small army picked tea in the fields.
We had entered China's "capital of tea." Then we got a closer look by entering the rows of tea bushes and picking some for ourselves.
Longjing or "dragon well" green tea is the most exclusive in China — and perhaps the most exclusive green tea in the world.  The workers on the tea plantation only pick the smallest, most tender top two leaves on each section.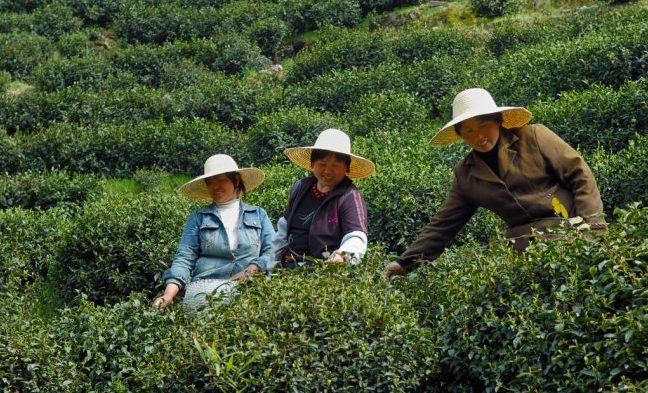 Longjing Tea
Longjing tea used to be harvested and produced solely for the Emperor himself. During Imperial China, nobody enjoyed the exclusive Longjing tea except the Emperor and his elite guests.
We just happened to be here in late March, during the annual tea harvest — one of the area's most anticipated events and a must-experience for tea drinkers. It was the perfect time to visit, the tea leaves were ripe for the picking — and at their freshest and tastiest. Right off the bush, the leaves tasted sweet and succulent.
Continued on next page