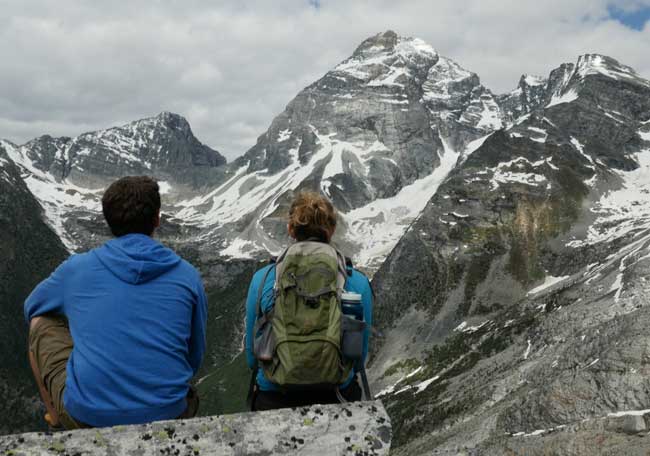 Standing on the platform of the Mount 7 hang gliding launch, I ponder the sanity of those who fling themselves off wooden planks flying on a wing and a prayer. The town of Golden, British Columbia, population 3,500, sits in the valley 4,000 feet below. I peer over the precipice to see if anything, a tree, a shrub, a rock, is below to catch a failed attempt to conquer gravity. Nope.
Golden, British Columbia, Canada
Mount 7 holds only a few of the many adventure activities awaiting thrill seekers in this small Canadian town. Along with hang gliding and paragliding, skydiving is a popular aerial activity.
For those like me who prefer to keep their feet touching Terra Firma, but still engage in something exiting, Golden offers skiing, rock climbing, mountain biking, and hiking. Adventurers can even get their feet wet fishing, kayaking, and rafting Golden's rivers. If it gets your heart racing, Golden has it.
Golden has always been a place for adventurers, beginning with the expeditions that camped here while surveying for the Canadian Pacific Railway in the mid-1800s. Those who stayed immediately recognized people would want to visit this part of Canada for its natural beauty and outdoor fun.
The CPR recognized that many travelers through Golden would want to stay, explore and discover the area for themselves. So they hired professional Swiss guides to assist in providing connections to this compelling, yet rugged landscape. People have been adventuring in Golden ever since.
Mount 7 overlooks the town from the southeast and is easy to spot in the summer because of its namesake marking, the snow formation of the number seven in old fashioned IBM-typewriter font after the spring melt. During summer, you can drive, hike or bike to the mountain's Lower Launch Pad, where several gliding world records have been set.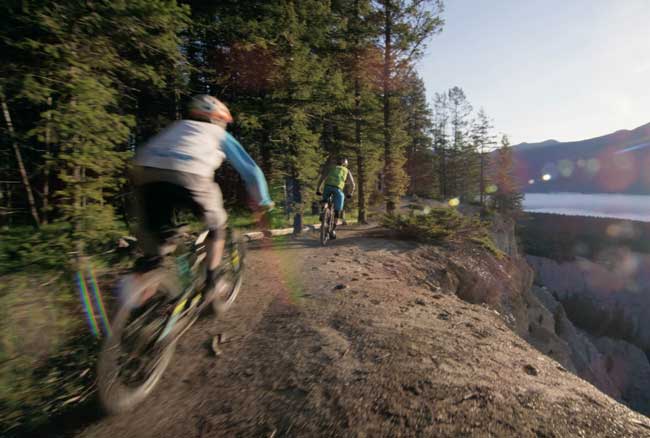 A sharp downhill mountain bike trail beckons those brave enough to make the descent on two wheels; however, a sign at the trailhead reminds bikers to respect the right-of-way for paragliders preparing to launch. Hikers and paragliders only can continue to summit at 7,577 feet.
From Mount 7's launch site, I see the confluence of the two rivers that frame the town. Kicking Horse runs from the east where it flows into the storied Columbia River. Off to my left, the meandering Columbia River Wetlands, North American's largest protected wetlands, host a wide variety of wildlife. During my trip, I spot deer and big horn sheep, and on the way up Mount 7 a momma bear and her three cubs cross the road disappearing in the trees above. Directly across the valley from the launch pad is the light green outline of ski runs on a forested mountainside.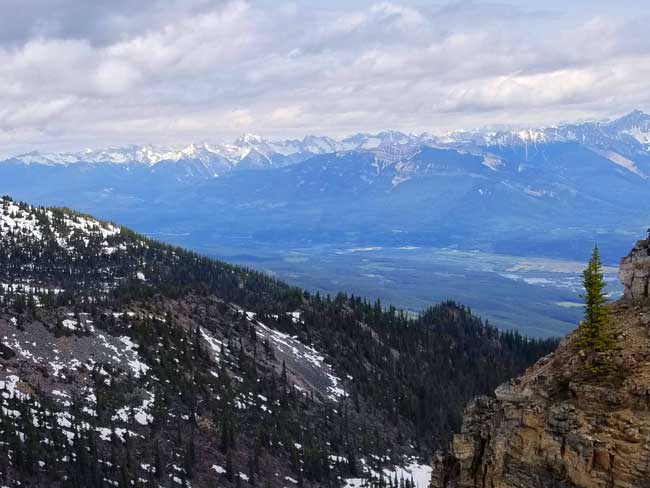 Kicking Horse Mountain Resort
Kicking Horse Mountain Resort just outside town has 120 runs on 2,800 skiable acres. With the fourth highest vertical drop in North American, skiers can explore the laws of gravity and enjoy cat- and heli-skiing opportunities.
Even more vertical activities abound in the summer months with more than 30 bike trails, hiking, and the newest trend in climbing, Via Ferrata. Meaning 'iron path' in Italian, Via Ferrata is a fixed climbing route with metal cables, ladders, and bridges located on Terminator Peak at the resort's summit. Clipped into cables for safety, even climbing newbies have a chance to experience exhilarating adventure without the danger of death.
Winter adventurers should be familiar with heli-skiing, where skiers are flown by helicopter to expert runs on inaccessible terrain. In Golden, you can heli-raft in the summer.
Continued on next page