At GoWorldTravel, we're always on the road. We need clothes that are durable, comfy and look good. That's not always easy to find.
Headquartered in Vancouver, Canada, DUER has captured global attention for its unusual approach to technical clothing. Where other brands rely on synthetic-rich fibers for anything performance-related, DUER started with jeanswear, transitioned the fabrics to natural and sustainable materials, and then addressed the performance aspect by integrating the best of athleisure. The outcome is comfortable clothes that perform well and look great.
DUER endorses sustainability. Their fabric relies on natural-based components (cotton and tencel). Tencel is plant-derived and developed through a closed loop production process that uses recycled water and fewer chemicals. They only use vegan leather (synthetic).
DUER's denim repair program allows customers to drop off pants at retail locations for repair up to one year after purchase.
Our Favorite Piece for Travel?
The Duer No Sweat Pants are the way to go. They are comfortable both for a travel day and for that active day you have while on the road. The TENCEL material they use allows the pants to breathe which makes them the perfect pants for travel. You only have to pack one pair and you're good to go.
Here's our list of the DUER pieces we tried and loved.
Comparison Table of The Best DUER Clothing Items
Below is a list of the best hard-sided and soft-sided luggage sets for international travel. Click on the name to read reviews and check prices.
Best DUER Clothing for Travel
Here are the best DUER clothing pieces for travel:
Waist Size: 28-40 inches
Length: 9.5 inches
DUER's NO Sweat Shorts are available in seven different colors and are perfect for males of all ages. They are mid-rise shorts with a slim fit till just above the knee. It contains 62% cotton, 34% TENCEL Lyocell, 1% LYCRA Spandex, and 3% LYCRA T400 Polyester.
The fabric makes the shorts extremely breathable and gives them a soft feel you will immediately recognize when you wear them. Overall, they are perfect for hotter weather.
Moreover, the No Sweat technology gives you the softness of cotton, the moisture-wicking and anti-bacterial abilities of TENCEL, and the flexibility of Spandex, all combined in one. So, if you are looking for shorts to wear throughout the summer appropriate for most occasions, this is the one you need to try.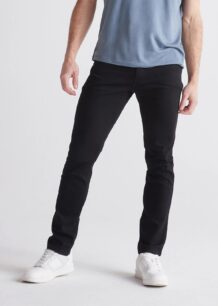 Waist Size: 28-40 inches
Inseam: 30-24 inches
Men's Performance Denim Slim comprises 70% cotton and 28% Coolmax Polyester. Apart from this, it also contains 2% LYCRA Spandex to give you flexibility. The jeans are mid-rise with a slim fit through the hips, then slightly tapers at the hem.
The jeans have a class 5-pocket design that gives you the ultimate classy look. Moreover, the jeans are incredibly comfortable and durable. They also are stretchable thanks to the spandex fabric, so you can wear these while hiking or camping out with friends.
Thanks to its COOLMAX technology, the jeans have ideal moisture control, and the triple stitching makes sure that the clothing lasts for years before they start to wear out. Lastly, the silver ion treatment ensures no odor, even if you have run a marathon.
Waist Size: 28-40 inches
Length: 30-34 inches
The Men's No Sweat Relaxed Pant is made from four different fabrics and is ideal if you value comfort and durability. Moreover, the item is avail in eight unique colors, so you need to hurry up and get your hands on it before they run out of choices!
The fabric contains 62% Cotton, 34 TENCEL Lyocell, % LYCRA T400 Polyester, and 1% LYCRA Spandex. The natural TENCEL fibers shine through; they offer breathability and incredible comfort.
The relaxed hit feels snug around your hip and thigh and slightly tampers at the leg opening. Besides, the No Sweat fabric ensures that you do not feel sweat draining the material even after miles of physical exertion. Furthermore, it contains moisture-wicking and anti-bacterial features, which makes the unit even more phenomenal.
Waist Size: 28-40 inches
Length: 30-32 inches
Men's Live Free Adventure Pants are just as comfortable as stretchable. In addition, the hybrid pant is built to provide you with numerous benefits. It contains 62% cotton, 30% TENCEL Lyocell, 6 LYCRA T400 Polyester, and 2 LYCRA Spandex.
It sports adjustable cuffs, a DWR application that gives you protection against rain, and zippered-cargo pockets to keep all of your accessories and gadgets safe and sound while you carry on your day.
These pants are ideal for athletes; they have a relaxed fit around the hips and thigh and have a jogger cuff at the ankles. The most impressive aspect of the unit is that it can stretch 10x times more than standard jeans, giving you exceptional mobility.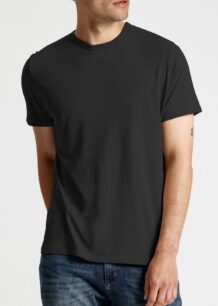 Size: XS, S, M, L, XL, XXL
Colors: Black, Navy, Charcoal Heather, Seal, Gull, Stone Blue, Taupe, Glacier, Light Civilian, White
Made from 50% Pima Cotton, 25% TENCEL Lyocell, and 25% Nylon, the Only Tee is a soft, lightweight shirt for everyday wear.
The slim modern fit of the shirt has a bound neckline, giving it the feel of a high-end exclusive tee. In addition, the Pima cotton provides the shirt with a luxurious and soft feel, which is ideal for summers.
Furthermore, the Lyocell in the fabric naturally inhibits bacteria from growing. It wicks away any sweat that comes to the surface. So, if you plan to go on a long trip, you need this. You will feel dry and fresh all day long.
Waist Size: XS, S, M, L, XL
Length: 4 inches
Women's Weightless Poplin AC Shorts are made from the lightest fabric to improve comfort and breathability. The material comprises 72% Cotton, 2% REPREVE Nylon, and % LYCRA Spandex. The shorts have a scooped side that will accentuate your legs and make them look lean.
The fabric itself is pretty luxurious and feels exceptionally soft against your skin. Furthermore, we love these shorts because you can use them for any purpose. You can dress it up or dress it down. It would look flawless both ways.
The shirts weigh barely three ounces, which makes them ideal for travel and hot weather. In addition, Nylon improves its strength and moisture-wicking properties, whereas Lycra makes it flexible.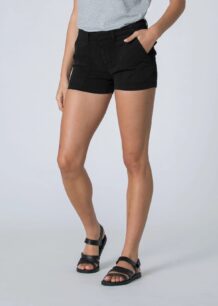 Waist Size: 24-34 inches
Length: 4
Are you an athlete or someone who needs frequent adventures in their lives? If yes, then you know how important it is to find the most comfortable yet durable clothing to take with you. If you are looking for shorts, then Women's Live Lite Adventure Shorts are ideal for you.
They are made from 62% cotton, 30% TENCEL Lyocell, 6% LYCRA T400 Polyester, and 2% LYCRA Spandex. All these materials together make the shorts lightweight, stretchable, breathable, and most of all comfortable.
The clothing features spacious pockets. Also, the shorts hug you around the waist, so you might not need to wear a belt (if you choose the correct size).
Waist Size: 24-34 inches
Length: 32 inches
Women's All-Weather Denim Slim Straight Heritage Rinse Pants are for women looking for waterproof jeans that they can wear while traveling. The material is made from 70% cotton, 28 Coolmax All-Season Polyester, 2% LYCRA Spandex, and the membrane is made up of 100% Polyester.
The mid-rise will sit approximately two inches below your belly button. Moreover, the jeans fit slim on the waist and thigh, running straight down to your ankles.
We love these jeans because of the temperature-controlling properties it offers. The Coolmax technology ensures that the jeans are breathable enough to be worn in hot weather. Furthermore, the cotton provides comfort, whereas the membrane is wind and waterproof making them ideal for camping or other similar activities.
Waist Size: XS, S, M, L, XL
Length: 28 inches
Searching for athletic joggers? Well, you should buy Women's Live Lite since they are the best ones in the market. Made from 62% cotton, 30% TENCEL Lyocell, 6% LYCRA T400 Polyester, and 2% LYCRA Spandex, the joggers are lightweight and have a relaxed and cozy fit.
The unit features secure pockets so you can keep your essentials safe with you all the time. Furthermore, the elastic waist does not pinch your skin and feels comfortable to wear. Moreover, the adjustable drawcord further secures the joggers around your hips.
These will be ideal for you if you are looking for a high-rise jogger that is slightly cropped. Its Innovative fabric gives you extreme flexibility, 10x more than traditional woven joggers.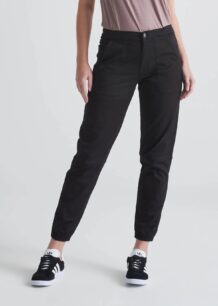 Waist Size: 24-34 inches
Length: 28
Women's Live Lite High-Rise Jogger comprises 62% cotton, 20% TENCEL Lyocell, 6 LYCRA T4400 Polyester, and 2% LYCRA Spandex. The high athletic joggers combine versatility and comfort perfectly.
The flattering and elegant high-rise joggers feature slim legs and a narrow cuff to wear anywhere you want; restaurant, university, or office.
Moreover, the material is designed to keep you cool and allow your legs to breathe and relax. Apart from this, they also offer outstanding flexibility and have odor neutralizing and moisture-wicking properties.
Waist Size: XS, S, M, L, XL
Women's Performance Denim Reversible Jacket features two colors; blue and white. Both sides feature large pockets and seams of the opposite color. Moreover, the jacket is ideal for winters due to its faux shearling style.
The Coolmax technology features optimal moisture resistance, so the jacket remains fresh and odorless. In addition, the triple stretching enhances durability and makes it ideal for wearing for physical exertion trips.
Lastly, the silver ion treatment enhances its odor resistance; it features odor neutralization properties.
And there you have it – the best DUER clothing pieces for men and women. No matter which one you choose from our list, you can rest easy knowing you have picked one of the best.
SHOP ONLINE: DUER SHOP