There are many mysteries in this world. And although we think that we know everything about the world, some discoveries made by top scientists are still some of the biggest unsolvable riddles of all time. In some cases, we blame nature, in others, disappeared civilizations, while conspiracy buffs explain the mysteries with higher life-force.
Travel Ticker today shares a list of five most mysterious places around the globe. Despite the fact that it's unlikely that anyone will be able to reveal the secrets of these places, all of these destinations are worth a visit.
An invitation for aliens on a desert
In Peru, you can find one of the most mysterious and yet beautiful places on Earth. Nazca desert has become famous for its huge drawings which long remained unnoticed. Why? Well, because the carvings all around this areas are full of geometrical shapes, various animals, birds, and reptiles, and can all be seen only by plane got off the ground.
Scientists say that the carvings were made about 200 years before our era, but their origin is not found yet. Some have speculated that this could be a tribute to the ancient civilization's sky gazing gods, others – astrological events marking. Well, and others firmly believe that such drawings were a call for aliens to visit Earth. What is the truth – nobody knows!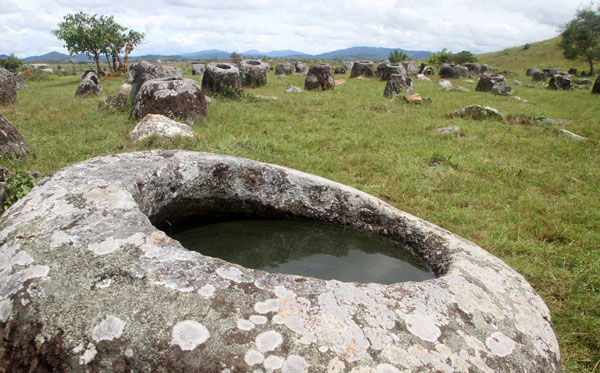 The plain scattered with giants dishes
In Laos, we can stop by in Xieng Khuang province. Here we will get a chance to see stones desert that is often called Asian Stonehenge. Here vast area of grassland is fully dotted with sandstone figures that look very familiar to… dishes.
The researchers say that ancient people might use these stones either to bury people in or to store their food supplies. However, the locals have another version, which is definitely more interesting. Laotian believe that in these three-meter height stone "vases" giants used to pour alcohol.
Stones moved by unknown forces
The Death Valley, which is located in California, is the lowest and the hottest place in the United States. But to be honest, it is not famous just for its steaming hot environment. The Death Valley is home to one of the weirdest phenomenon on Earth – the self-moving stones.
Stones, which each and everyone weighs about 300 kilograms or more somehow manage to leave a few hundreds of meters long traces. And it is not just straight marks – they are curvy and actually have very weird trajectories too. While scientists try to clarify this desert's mystery, some people love to speculate that the stones are moved by some kind of supernatural forces. But what actually makes those huge stones leave their places and look for a better life somewhere else is a huge mystery.
Overlooked construction of the massive monument
Another mystical place is located near the Japanese island of Yonaguni, and many divers annually visit it. They rush to enjoy not only clear water but also to gaze upon mysterious monument deep in the bottom of the sea.
This monument really amazes with its impressive size – 150 meters wide. While scientists say that this is the work made by human hands, nor the Ministry of Culture, nor prefectural officials could not recall when this strange construction started to begin and why!
Mysterious, but skillful civilization's ruins
The famous riddle, how without any modern machinery people used to move rocks weighing several tons is usually asked when we talk about Stonehenge or Pyramids of Giza, but also when we are talking about the Pumapunku ruins, discovered in Bolivians Andes.
Although archeologists have found that giant monolith blocks had to be drawn up at least for 10 kilometers, it is still unclear as to what forces were able to do it. In addition to this mystery, the remaining fragments of wall construction are clearly created in a very unusual way – stones perfectly stand next to one another without the need for compliance with the attachment materials like we use today.
It is believed that this city was founded here even before Inks lived in here. But the reason this skillful civilization vanished is still an unsolved mystery worth solving.
This article provided by Travel Ticker.