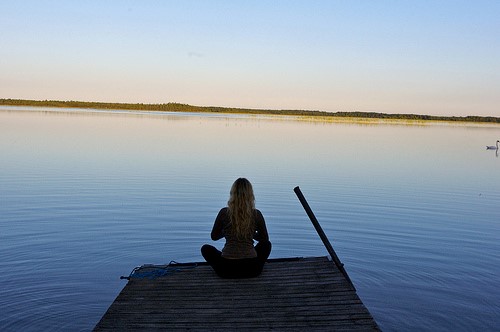 Today, many of us fall into the trap of living life at full speed, with worries about work, family life and finances often whipping us into a frenzy of trying to cram ever more activities into every hour of the day. There's a certain expectation on us to do this, simply because that's what many of our peers are doing.
Of course, there are steps we can take to unwind. We can attend yoga classes, or fit a time into our schedule to meditate at home. Other people might prefer to talk about what's causing them stress, either through counselling or chatting with friends. You might want to use psychic readings to evaluate the stresses in life. These are easy to arrange online at sites such as TheCircle and can be a great way to look at your life from an outside perspective. Psychic readings can guide your search to achieve a better work-life balance or focus in on a particular issue that is bothering you. Readers often provide insights on how you've already come to certain decisions in your life, and what the consequences of decisions you make now might have on your future.
Vacation time can also be put to good use if you're feeling really strained by your daily routine. Meditation retreats in particular provide the opportunity to get away from it all. Of course, there are many different kinds of retreats – some will allow you to wallow in luxurious surroundings, while others have more of a minimalist and puritan vibe to them.
Unlike the moments of downtime you can get while in the middle of your usual routine, meditation retreats offer full immersion in contemplation. They allow participants the space to find greater self-awareness and stillness of mind that isn't always easy to do in the midst of your normal busy week.
But all meditation retreats have a common goal: to send guests back home with a foundation of spiritual practice that they can carry with them as a basis for living a calmer and fulfilling life. The ultimate aim is that the surroundings of your meditation become secondary – the meditation itself should become the retreat.
Three Examples of Meditation Destinations
Ananda in Utteranchal, India, is a 100-acre estate with amazing facilities, including a huge spa and several meditation and yoga pavilions set in beautiful gardens with views of the River Ganges. Guests can enjoy one-to-one meditation classes, which can be adapted to include yogic breathing techniques or Buddhist teachings. While meditation is the main focus, be aware that some visitors will be there for the luxurious surroundings, rather than to find their inner peace.
Muktawan Meditation Retreat in Phuket, Thailand, offers guests seven days to practice Dhammakaya meditation. This form of meditation focuses on the core of the body as an energy center and gateway to your higher consciousness. Buddhist monks guide the participants through the sessions. Accommodation is basic – with wooden cottages that sleep one person and shared shower and toilet facilities. It's in a beautiful forest setting, so that you feel close to nature. Guests are encouraged to wear long-sleeved, loose-fitting clothes in white or pale colors for the duration of their stay.
At the Insight Meditation Society retreat in Barre, Massachusetts, guests stay either at the main 'campus' – a grand old mansion with 79 spartan single and small double bedrooms with shared bathrooms or, if they're on a long-term retreat, in the Forest Refuge which is set further in the countryside. On a stay there, participants learn to use the Indian Buddhist traditions of vipassana (insight) and metta (loving kindness). Meditation is either seated or while walking, but in total silence. As silent meditation encourages extra sensory awareness, the use of perfumed products and tobacco is discouraged.
Whichever kind of meditation retreat you decide to go on, you can be sure that this kind of vacation will give you some of that much-needed time to contemplate and dwell on the way you live your life. It may simply provide you with a refreshing break from the daily toil for a week or two. And if you're really lucky, it may equip you with the skills you need to live a calmer and more rounded lifestyle.
Author Bio: Hannah Bates has traveled all over the world documenting her journeys and experiences. She has written for many prestigious publications, and continues to pursue her love of writing while absorbing the sights and sounds of some of the most interesting destinations around the world.