Advertise with Go World Travel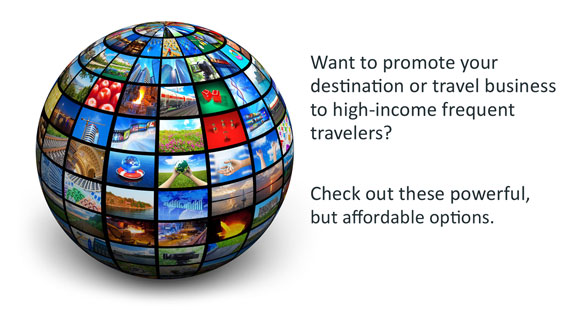 Why Advertise on Go World Travel?

Our readers are high-income frequent travelers who are actively planning their journeys to destinations around the globe. Filled with insightful articles and helpful information, GoWorldTravel.com has been a trusted go-to site for travel enthusiasts since 2003, and covers destinations in more than 90 countries. GoWorldTravel.com has a global Alexa ranking of 241,057 and US ranking of 66,500.
Here are three easy ways to promote your message to our travel lovers: 
1.   Your own full Partner Page on GoWorldTravel.com. Your page will be promoted on your choice of keyword-specific pages, as well as in the sidebar throughout the site, including rotation on the homepage.
2.   A 12-month Sponsored Post promoted on GoWorldTravel.com homepage.
3.   Month-to-month site wide Banner Advertising.
Option #1: Partner Pages

You can have your very own full page on GoWorldTravel.com for one full year. You control the text, photos, social media links and more. Best of all, your page will be promoted on two target pages you select (by geography and interest). For example, an adventure travel company in British Columbia might choose to be listed on our British Columbia and "Adventure Travel" pages. Your page will also be promoted in rotation in the sidebar throughout GoWorldTravel.com. It's quick and easy to set up your page. View a live Partner Page here.
Your own full page includes:
Promotion on keyword-specific pages and homepage
Up to 950 words of text
SEO-friendly URL
Your logo
A lead photo
Two inline photos
Link to your Facebook and Twitter accounts
Prominent contact information
Prominent link to your website
Google Map
Your Youtube video
12-month partner page: $295

Ready to get started on your partner page? Contact us and we'll have your page up in no time. 

Option #2: Sponsored Articles
Some messaging is best promoted in branded content. Sponsored articles are available.
Links to sponsored articles rotate in the sidebar on the Go World Travel homepage
Sponsored articles remain on Go World Travel for 12 months.
Sponsored articles include up to 950 words of text, two photos and two links.
Sponsored Article: $245
Contact us to get started.

Option #3: Banner Advertising
Banner advertising puts your message directly in front of our readers. Choose the ad size and placement option that works best for you. It takes just 10 minutes. Get started here: Advertise on Go World Travel.
Select the ad size and placement option you want
Submit payment through PayPal (pay as you go each month)
Upload your banner ad
Once your ad has been approved, it will appear immediately on the site
Go World Travel Demographics– GoWorldTravel.com has a global Alexa ranking of 241,057 and US ranking of 74,500. Visitors to it view an average of 7.9 unique pages per day. Visitors to this site spend about 49 seconds on each pageview and a total of eleven minutes on the site during each visit.
Age: 68% of visitors are between the ages of 25 and 64.
Income: 58% of visitors make more than US$ 60,000.
Education: 67% of visitors have college or post-graduate education
Geography: 72.3% of visitors are located in the USA, 12% in the UK, and the remainder spread across the world.
More than 70% travel more than once a year.
Questions?   Feel free to contact us.