Advertise with Go World Travel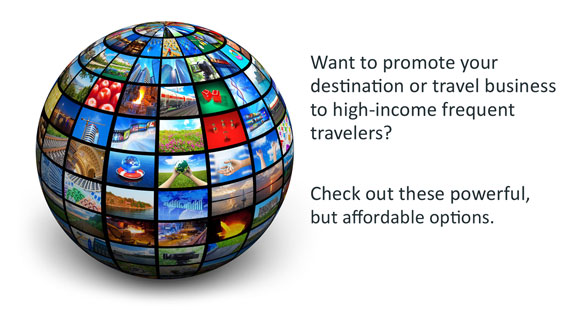 Why Advertise on Go World Travel?

Our readers are high-income frequent travelers who are actively planning their journeys to destinations around the globe. Filled with insightful articles and helpful information, GoWorldTravel.com has been a trusted go-to site for travel enthusiasts since 2003, and covers destinations in more than 90 countries. GoWorldTravel.com has a global Alexa ranking of 241,057 and US ranking of 66,500.
We offer a variety of multi-platform options for advertisers who want to reach our travel-savvy audience,including:
Native Advertising ("sponsored posts")
Partner Pages (your own page and content displayed alongside relevant travel content)
Banner Advertising
Social Media Mentions
Newsletter Coverage
Video Marketing
Go World Travel Demographics– Visitors to GoWorldTravel.com view an average of 7.9 unique pages per day. Visitors to this site spend about 49 seconds on each pageview and a total of eleven minutes on the site during each visit.
Age: 68% of visitors are between the ages of 25 and 64.
Income: 58% of visitors make more than US$ 60,000.
Education: 67% of visitors have college or post-graduate education
Geography: 72.3% of visitors are located in the USA, 12% in the UK, and the remainder spread across the world.
More than 70% travel more than once a year.
Questions?   Feel free to ask us.