Guests on the Angelique enjoy an island lobster bake. Photo courtesy Angelique

What is a typical day like on a windjammer cruise?
Early-risers can enjoy a quiet cup of coffee watching the sunrise, followed by a full breakfast at eight o'clock. There's time to go ashore and explore before getting underway midmorning when the wind comes up. Guests are invited to participate in sailing the vessel if they like, or to just sit back and enjoy the ever-changing scenery. Lunch is served underway so as not to miss the view.
Maine's coast features lighthouses, yachts, lobster boats, eagles, seals, porpoises, a rugged coastline topped with spruce. There are beautiful sandy "pocket" beaches, occasional puffin and whale sightings, berry-picking opportunities depending on the season, and even Northern Lights if one is very lucky.
At the end of the afternoon, the captain picks a new anchorage, sails are furled and guests can enjoy a shore trip that might involve hiking, swimming or visiting an art gallery or boutique. Dinner is served back on board family style, followed by a yummy dessert (blueberry pie with hand-cranked ice cream perhaps) and impromptu entertainment that might involve music, stories, games or just quietly enjoying the night.
What else is there to do on a windjammer cruise?
While most guests are content to unplug from their regular routine and enjoy the simple rhythm of life at sea for a few days, there are lots of cruises that combine windjamming with a special interest or event. These range from knitting and birding cruises to photography and wine-tasting. There are offshore whale-watching cruises to Stellwagen Bank, a kayaking tour through Stonington's island archipelago and even health and wellness cruises that include yoga.
Additionally, for guests who want to view the whole fleet under sail, there are annual races, parades and rendezvous that offer spectacular sailing and photography opportunities.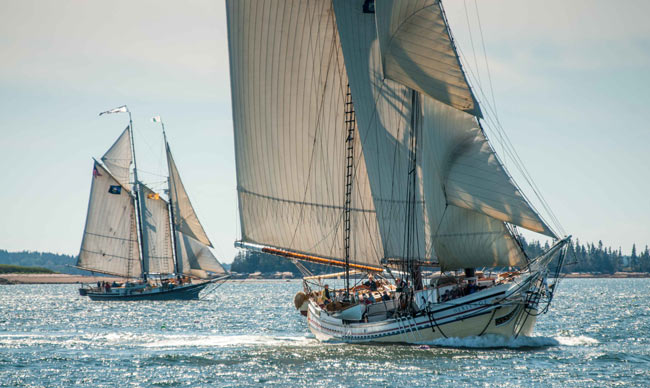 If You Go
Check out our video story: Sailing Adventure Sailing Adventure: Windjammer Cruise in Maine