With Europe now open to international visitors, many travelers are looking forward to taking their first trip in 2022. However, overseas travel is different since COVID-19, and there will be more changes to European entry requirements later this year. 
This brief guide explains what you need to travel to Europe in 2022, including visas and COVID-19 documents.
Remember that entry restrictions and requirements are being updated regularly. Make sure you have all the latest information before arranging travel to Europe.
Passports and Entry Permits to Travel to Europe
Pre-pandemic, there was one key document to travel to Europe—a valid passport.
If you're an American or Canadian citizen, you can enter the Schengen Area with just a passport and explore 26 countries for up to 90 days visa-free. This remains the same despite COVID-19. However, you'll also need the additional COVID-19 documentation explained below.
Europe's Entry Requirements for Americans, Canadians, and other visa-exempt countries will change
Europe's entry requirements for Americans, Canadians, and other visa-exempt countries will change at the end of this year. You'll soon need an electronic travel authorization called ETIAS to visit European destinations. 
The exact launch date has not yet been announced, but the system is expected to be up and running by late 2022. There'll be a short implementation period before the visa waiver becomes mandatory to travel to Europe visa-free on an American or Canadian passport.
It's important to point out that this is not a visa. The new permit is similar to the United States ESTA, you'll be able to register online in a few minutes. To find out if you're eligible, check here.
Passport holders from other countries still require a Schengen visa for their vacations in Europe. Visas are also required for stays of over 90 days.
Vaccine Certificates to Travel to Europe
The European Union recommends that Member States progressively reopen to international travel. According to EU guidelines, people fully vaccinated with vaccines authorized by the European Medicines Agency (EMA) should be able to visit Europe for any purpose, including on vacation.
Although each Member State is responsible for its borders and sets its own entry restrictions, many countries follow these rules. Favorite European tourist destinations such as Spain and Italy are now open to tourists from around the world.
Vaccines approved by the EMA are Comirnaty (BioNTech and Pfizer), Nuvaxovid (Novavax), Spikevax (Modern), Vaxzevria (AstraZeneca), and COVID-19 Vaccine Janssen.
Several EU Member States also accept vaccines approved for emergency use by the World Health Organization (WHO).
Your vaccination certificate must include the type of vaccine received and the dates of each dose. Other key information includes the country where the vaccines were administered and the certificate issuing authority.
It's important to check the specific vaccine certificate requirements for the country you want to visit. In particular, the accepted vaccines and how many days before travel you need to have received the last dose (usually 14).
Some countries accept a recovery certificate instead of proof of vaccination. A vaccine passport is required to enter some public spaces in Europe. In Spain, you'll need to show a valid document to enter restaurants.
Passenger Locator Forms
This document goes by several names: passenger locator form, travel health certificate, electronic health declaration, etc. Many European countries now require passengers to fill out an online form before departure. 
This form allows nations to screen visitors for health risks before they cross the border. It also facilitates contact tracing. You'll typically have to provide information about your recent travel history and where you will stay during your visit. Contact information is also requested.
Travel health forms must be submitted 48 to 72 hours before arrival. Where required, you'll need to present the QR code or pass before boarding a flight to your destination.
European countries with obligatory passenger locator forms in 2022 include Belgium, Croatia, France, Greece, Portugal, and Spain, amongst others. If you plan to visit more than one country on your trip to Europe, be aware that a different travel health certificate is required for each country.
COVID-19 Test Results to Travel to Europe
The document you may need to travel to Europe in 2022 is a COVID-19 test certificate showing a negative result.
Whether you need a COVID-19 test for Europe depends on your vaccination status and the country you are visiting. You don't need a pre-departure test to visit countries including Latvia and Spain if you're fully vaccinated.
If you need a test to travel you must check the type of test required (for example, PCR or antigen), and soon before departure you should take the test.
A test certificate showing the date and time of the test, the type of test carried out, and where the certificate was issued is essential.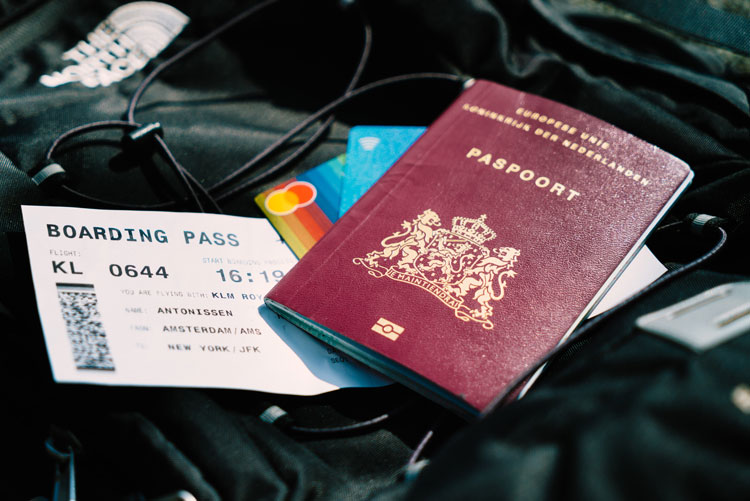 Europe 2022 Document Checklist
To summarize the requirements explained above, here is a checklist of what you may need to travel to Europe this year:
Valid passport
ETIAS visa waiver (from late 2022)
Schengen visa or another relevant visa (from non-exempt countries)
COVID-19 vaccination certificate (or recovery document)
Passenger locator form
Negative COVID-19 test result
Despite the additional requirements, Europe is accessible to tourists in 2022. Just allow extra time to arrange your documents, and always double-check the latest requirements.