Spring can be fickle in the northern part of the United States. It may tease you with warm sunshine and bright yellow tulips, then wallop you with snow the next day. When this happens, it makes me long for warm weather. That's why I love heading south in the springtime.
Scottsdale, Arizona is one of those top spring destinations. This desert city offers an excellent travel experience for visitors with scenic arid landscapes, a unique culture and a variety of outdoor adventures.
Spring Training in Scottsdale
If you love baseball, then you know Scottsdale as the hub for spring training – and if you're a golfer, chances are you've been here to play Scottsdale's many golf courses.
My sister, Debbie, and I went to Scottsdale recently for a girls' getaway weekend. We planned to hike and spend time outdoors. We also hoped to get in a little spa time and dine at some fantastic restaurants.
Scottsdale delivered all that and more.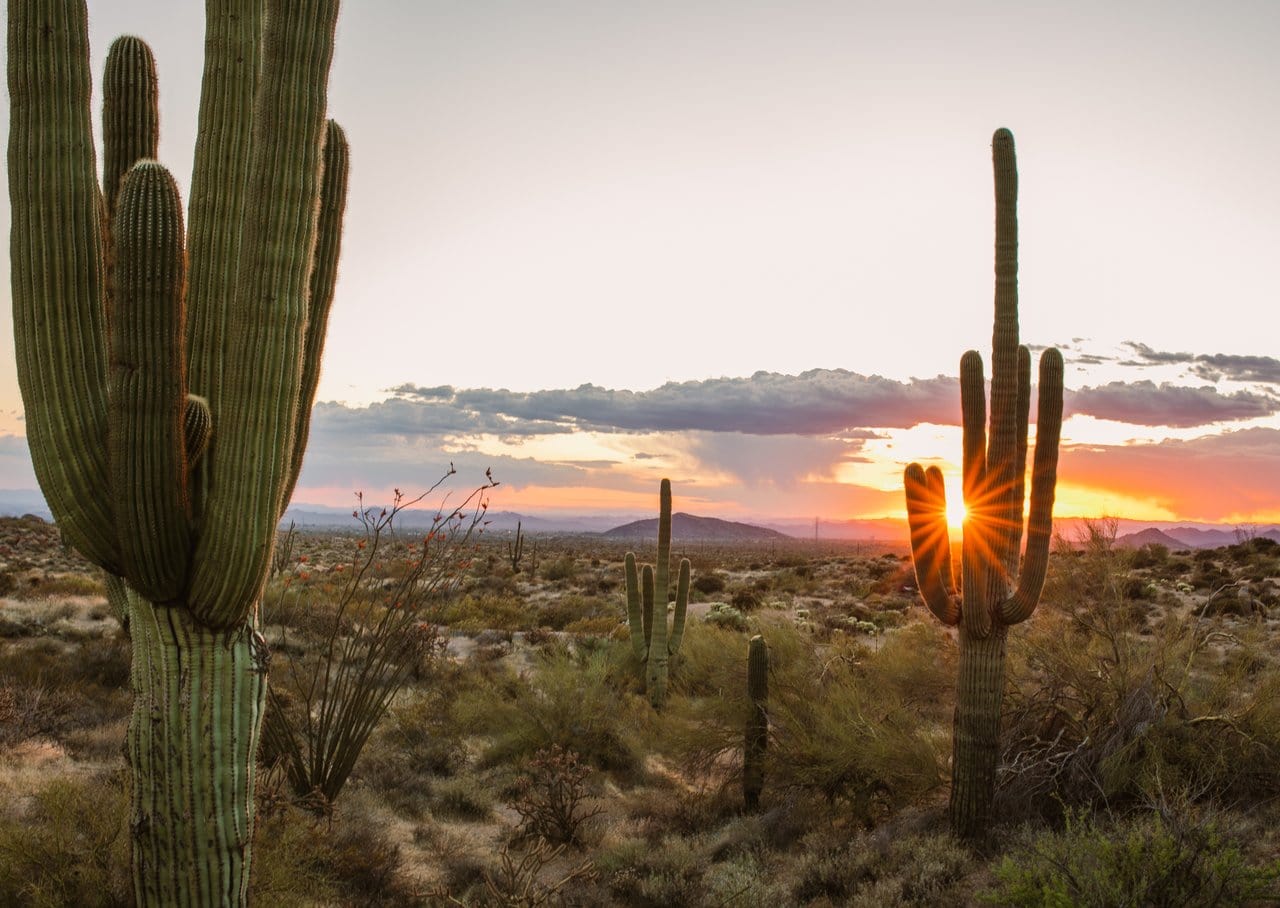 Rich History of Scottsdale
While Scottsdale is known for its modern art galleries, luxury hotels and outdoor adventures, it also has a rich history. The region was originally inhabited by the Hohokam people, who lived in the region from around 300 BC until the 1400s AD. The Hohokam developed an advanced civilization that included an extensive system of irrigation canals, which allowed them to cultivate crops in the arid desert environment.
In the late 1800s, a U.S. Army Chaplain named Winfield Scott became the first non-Native American settler in the area. He was drawn to the region by the fertile soil and the potential for farming, and he established a small community that he named "Orangedale" due to his extensive citrus groves.
In 1894, the settlement was renamed "Scottsdale" in honor of Winfield Scott. The town grew slowly over the next few decades, with farming and ranching serving as the primary industries. During World War II, Scottsdale became a center for aviation training, and the town's population boomed.
Luxury resorts and the warm weather were soon drawing Hollywood celebrities as well as travelers from all over the country. Though the summers in Scottsdale are hot (this is a desert, after all), the rest of the year offers many days of pleasant weather and warm sunshine.
And spring in Scottsdale? It's one of the times to visit. The Sonoran Desert is famous for its diverse flora and fauna. From towering saguaro cacti to colorful wildflowers, the desert comes alive in the spring, providing a stunning display of nature's beauty.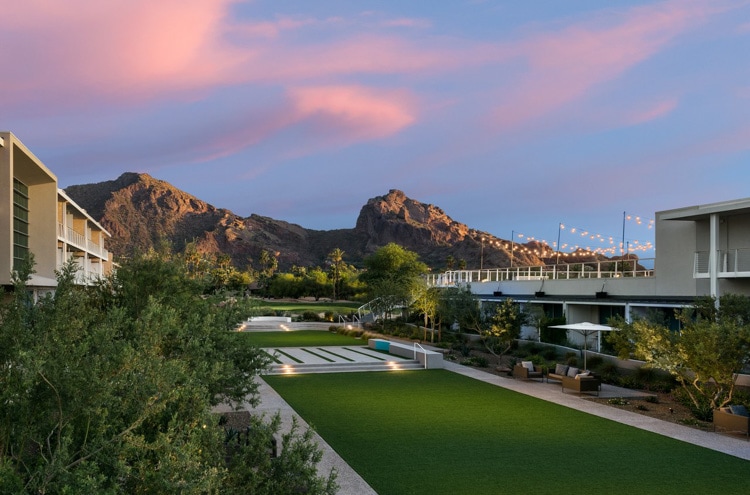 Where to Stay in Scottsdale
The first question, of course, is where to stay in Scottsdale. Happily, there's no shortage of nice places to stay in Scottsdale. This time, we made our base at the Mountain Shadows Resort, a boutique resort nestled against Camelback Mountain and Mummy Mountain in a quiet area about a 15-minute drive from Old Town Scottsdale.
This upscale resort traces its roots to 1959 when Hollywood stars like John Wayne and Elizabeth Taylor visited the iconic establishment. Today, it has 183 guest rooms that offer every comfort (I liked their bathrobes so much that I bought one to take home), along with an 18-hole short course, two pools and an excellent restaurant called Hearth '61.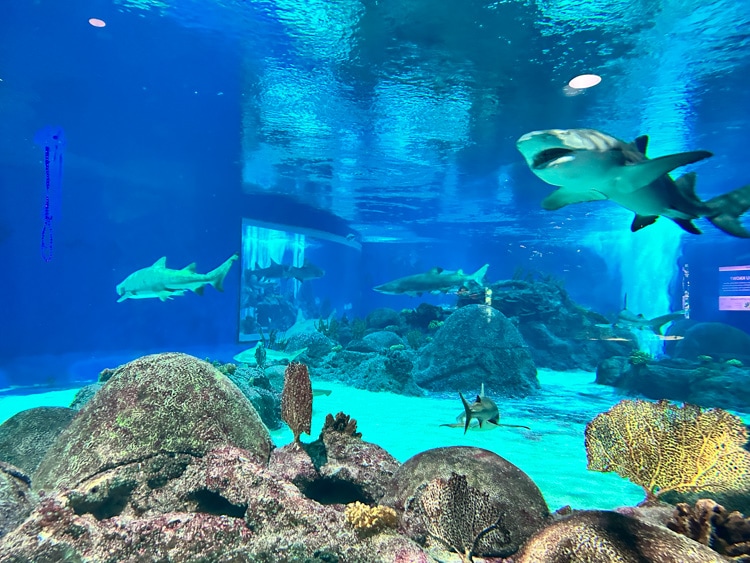 What to Do in Scottsdale
With time to do as we pleased, my sister and I made the most of our time in Scottsdale. We visited the Arizona Boardwalk, a one-of-a-kind entertainment destination with eight different attractions – OdySea Aquarium, Butterfly Wonderland, The Science of Ripley's Believe It or Not!, Laser + Mirror Maze, Pangaea Land of the Dinosaurs, Museum of Illusions, VR Xtreme, Johnny's Playground, and The UFO Experience: The Truth is Out There.
We spent about two hours browsing through the OdySea Aquarium, a small, but very well-done family-friendly aquarium. Our favorite experience was a virtual reality dive with whales. (Try it and you'll see what I mean.)
Old Town Scottsdale
One part of town that we went back to again and again was Old Town Scottsdale. The area is known for its Southwest-style architecture, art galleries, and boutique shops. It's the city's top destination. We visited several restaurants here (more on that below) and enjoyed browsing in the galleries.
Spa at Hotel Valley Ho
Scottsdale is known for its many luxury spas, so no trip to the city is complete without a visit to a spa. I visited the VH Spa at Hotel Valley Ho, which focuses on transformational treatments.
When you arrive at Hotel Valley Ho, it feels like you're stepping back in time – only into a very pristine version of the past where everything is in mint condition. This historic mid-century property is one-of-a-kind, and well worth a visit for dinner or a massage, even if you don't stay here.
The VH Spa at Hotel Valley Ho offers signature treatments like the Red Flower Hammam Experience and Hawaiian LomiLomi Massage, but I indulged in a Classic massage. Under the skilled hands of Deana, my massage therapist, I felt completely rejuvenated.
Hiking in the McDowell Sonoran Preserve
We were excited to go hiking in the McDowell Sonoran Preserve. The preserve covers over 30,000 acres of pristine desert terrain and offers numerous trails suitable for all skill levels.
We started off at the Tom's Thumb trailhead in the late afternoon hoping to catch a beautiful sunset. (Note: If you go in the summer months, it's important to go very early in the day as the sun becomes too hot for enjoyable hiking. Most of all – take lots of water and don't underestimate the sun.)
As we walked the trail, we were treated to panoramic vistas. The desert plant life we saw, including the Saguaro cacti, had a wild beauty all its own. Though we didn't see the area's javelina or roadrunners, we did see and hear many birds.
Just as we had hoped, we were treated to a gorgeous sunset with massive cacti standing tall against the setting orange rays of the sun.
Kayaking on the Lower Salt River with REI Co-op Experiences
The Salt River is well-loved by the Scottsdale community. Parts of it are popular with tubers who float down the gentle river to cool off on hotter days.
Debbie and I joined a kayaking tour led by REI Co-op Experiences, which offers guided day tours, adventure travel trips, hands-on classes and curated rental experiences. We were thrilled to find that the kayaking guides were all women on this tour, as were all the kayaking guests. That was an added fun bonus.
After we were outfitted with kayaks, paddles and life jackets, our group set off down the river. The Salt River runs through the rugged Sonoran Desert, offering beautiful views of the surrounding mountains and canyons.
Our kayaking guide was Missy, who came to the region from South Dakota and never left. She was a wealth of knowledge, pointing out wildlife as we passed, and telling us more about the flora and fauna of the region. We spotted eagles and Great Blue Herons. The highlight was seeing wild horses drinking along the river. They are descendants of horses that were left behind or freed by early settlers.
Where to Eat in Scottsdale
All this outdoor adventure gave us healthy appetites, which was good because dining quickly became another highlight of our trip.
Scottsdale has a wealth of excellent restaurants to choose from, no matter what kind of cuisine you like.
Here are the Scottsdale restaurants we tried and heartily recommend:
Daily Dose Bar & Grill
Step into the Daily Dose Bar & Grill and you'll quickly see this is a popular local establishment. The bustling restaurant in Old Town Scottsdale is locally owned by Matt and JenLyn Long. It's famous for made-from-scratch Cinnamon Roll Pancakes and Breakfast Nachos.
We stopped in for Brunch and ordered both, along with two of their specialty cocktails. (Be sure to try the Spicy Watermelon Margherita.) The food is delicious, and the atmosphere is fun. It's easy to see why this is a local favorite.
HULA's Modern Tiki
HULA's Modern Tiki is a laid-back casual restaurant that draws on the tiki restaurants and bars of the 50s and 60s. Dishes are a fun fusion of Polynesian and American flavors. We stopped here for lunch and were not disappointed.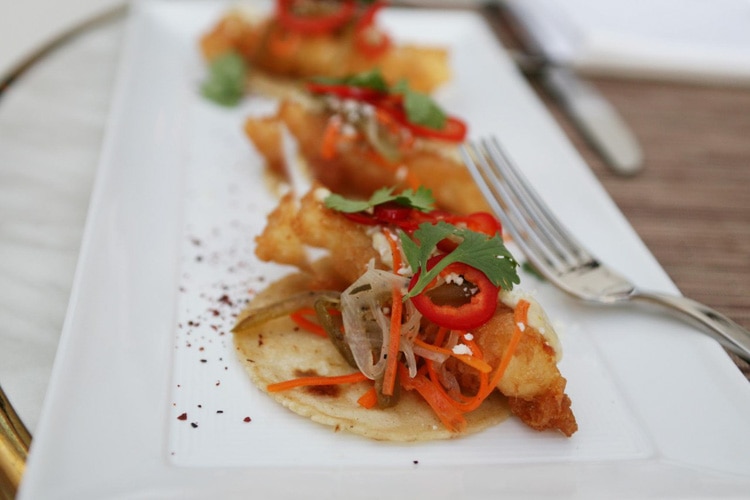 The Mission
The Mission is popular with locals and well-known by travelers. That's due to the skill of Chef Matt Carter, who has drawn on his French culinary training to create an exciting Latin cuisine menu.
We started with the delectable tableside guacamole and then tried the Malbec braised short rib, which was excellent. Partner Brian Raab has put together a fun lineup of signature cocktails, which of course we had to try. The Mission is a must-visit when you're in Scottsdale.
Belle's Nashville Kitchen
As you might guess, Belle's Nashville Kitchen serves southern cooking and a taste of Nashville. Offering classic comfort dishes and tasty dishes, this is an easy-going place to head for lunch, dinner or just a drink.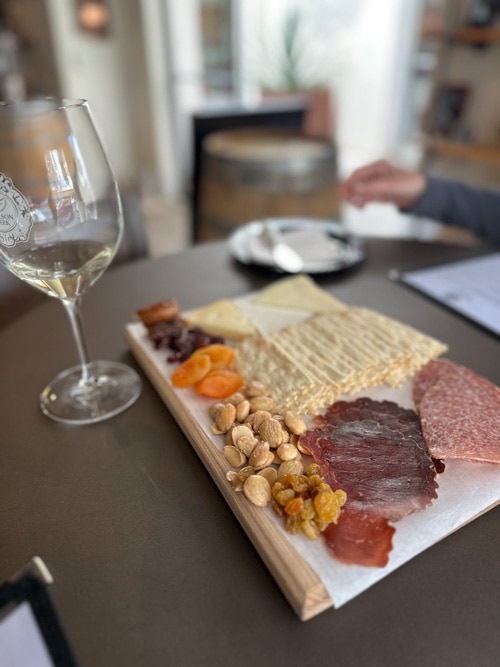 The Herb Box Shea Blvd
At the Herb Box Shea Blvd, you'll eat flavorful, healthy dishes that use fresh, seasonal ingredients. The restaurant has many excellent vegan dishes, as well as creative cuisine to please other palates. This no-fuss establishment delivers big on flavor.
Carlson Creek Vineyards
While wine-making might not be the first thing you think of when you think of Arizona, the region does indeed produce some lovely wines. Carlson Creek is an award-winning winery and vineyard located in Willcox Arizona which has been producing wine since 2008.
We stopped in for a wine tasting at Carlson Creek Vineyards in Old Town and sampled six different wines along with one of their hand-made charcuterie boards. The winery's Scottsdale tasting room is a destination along the growing Scottsdale Wine trail in the heart of Old Town Scottsdale.
Fat Ox
On our last night in Scottsdale, we dined at the Fat Ox, another must-visit in Scottsdale. This is the perfect place to celebrate a special occasion or relax with good friends over a leisurely dinner of good food and drinks.
Fat Ox is another restaurant led by the talented Chef Matt Carter, who also leads The Mission. He says that his passion for food and fine dining comes first, and that's obvious at this chef-driven restaurant.
Fat Ox specializes in authentic, hearty recipes of rural Italy. Pastas are handmade onsite, and every dish we tried was very good. We started off with hand-pulled cheese and a signature Caesar salad made-to-order tableside.
The Garganelli for our next course was perfect with black truffle butter, speck and parmesan. The Confit Berkshire Pork Short Ribs served next almost melted in your mouth. Don't rush as you dine at Fat Ox. This is the kind of restaurant where you want to savor every bit.
If you're looking for some time in the sun, Scottsdale is a good option to keep in mind. It's an excellent three or four-day getaway. The city is small enough that it's easy to get around, and big enough to have everything you need for a memorable visit.
If You Go
Sky Harbor Airport in Phoenix is the closet airport to Scottsdale
For more information on Scottsdale, see Experience Scottsdale.