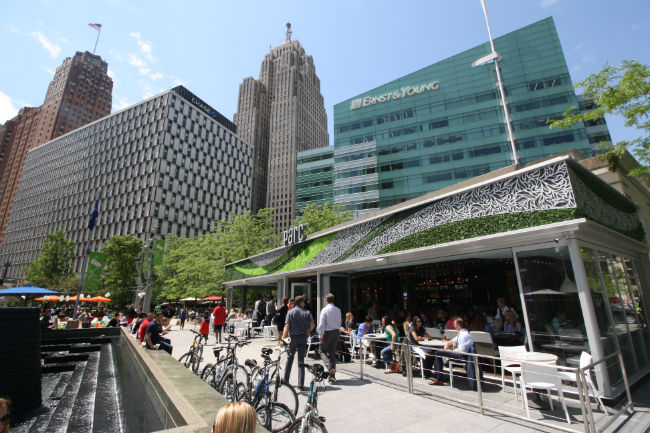 "Businesses pop up overnight; it's crazy," says tour guide Kim Rusinow with Destination Detroit Group Tours and Services who's leading us in and around the city center. "When people are trying to wrap their arms around and understand Detroit, I like to use an analogy. If you take a rubber ball and throw it really hard on the ground – what happens? It bounces back. What you're seeing right now is Detroit bouncing back."
"There's no denying we've been slammed pretty hard," she continues. "We have some challenges to overcome, but we are an amazing comeback city."
Detroit RiverWalk
Alongside the multi-towered General Motors Renaissance Center, our first stop is the Detroit RiverWalk, a 3.5 mile-long walkway with benches, public art, parks and a lighthouse. Shops, cafes and residential units now occupy what was once an industrial base with factories and warehouses. "We once had cement silos down here," Rusinow notes.
The Motor City is still that as much of the city remains rooted in the automotive industry. In downtown's 1929 art deco-style Guardian Building, for example, a shop within the Aztec-themed lobby displays purses made out of seatbelts.
"We're very proud of it – it sort of screams Detroit," says Rusinow. "Everyone is loyal to their car companies. It's frowned upon if you have a foreign car, but not as much now because many of those parts are now made in America."
"We believe in buying American here," she affirms. "That's how we supported our families. That's how I was raised, but it's something we always struggle with."
Skirting the edges of downtown's 19th and 20th century granite and limestone skyscrapers, and shining steel and glass towers, the Stadium District has marked downtown's resurgence with new 21st century sports stadiums. Statues of clawing tigers hover over the entrances to Comerica Park, home of the Detroit Tigers baseball team, just across the street from football's Detroit Lions' Ford Field.
The area's yet greatest expansion comes with the new Little Caesars Arena, part of the $1 billion-plus redevelopment project known as The District Detroit. The arena opened in September of 2017 and is home to the Detroit Red Wings hockey team and Pistons basketball. Restaurants, bars, parks, apartments and other businesses will span the District's 50 blocks, many opening in 2018.
Detroit Midtown District
Driving north on Woodward Avenue, we enter Detroit's Midtown District where the original buildings of a former jeep factory now house upscale condos in the $500,000 range – for just one bedroom, bath and one window only. A balcony is extra, chortles Rusinow.
"Every available building that can be rehabbed is being rehabbed into a residence, mostly apartments," she explains. "Our goal here in dealing with abandonment is deconstruction, a way of using the building materials for another purpose."
We stop at Detroit-based Shinola, the flagship store for the first watch company making watches out of Switzerland with guaranteed Swiss movement. Leather-strapped, green, white and brown-faced watches line cases alongside turntable displays and racks of mounted bicycles, the company's other main products.
Shinola decided to settle in Detroit and open a factory, starting with six workers and now employing about 500, according to Rusinow. "They could have gone anywhere," she says. "We're so excited that for their manufacturing they chose Detroit because we hadn't had any new manufacturing here in a very long time."
Continued on next page