Editor's Note: We're all dreaming of travel ahead. Here's some inspiration for future adventures. We share places, products and activities we recommend. If you make a purchase using a link on our site, we may earn a commission.
Holidays are supposed to alleviate stress. But booking a vacation in the current global climate? Stressful, to say the least.
Between the uncertainty of whether you'll even be able to take your vacation, flying in close quarters with other passengers, and traveling to a country with a sketchy healthcare system, there's plenty to feel tentative about.
But as summer fast approaches and the potential of overseas travel opens up, many of us have itchy feet and the yearning to wander abroad to far-flung locales–whether Covid-related complications persist or not.
So, how to navigate the anxiety and stress provoked by traveling in such times?
Well, for some, having cannabidiol (CBD) on hand may be the answer. According to Leafreport, CBD is a potent but non-intoxicating cannabinoid extracted from hemp plants–and there's a host of research that suggests it's an effective anxiolytic and sedative (read: it can help to alleviate anxiety, calm you down, and promote sleep).
If you're planning to jet off sometime soon and want to approach your vacation with a chilled outlook, no matter what Covid-related bumps arise in the road–travel with CBD could be just what the doctor ordered.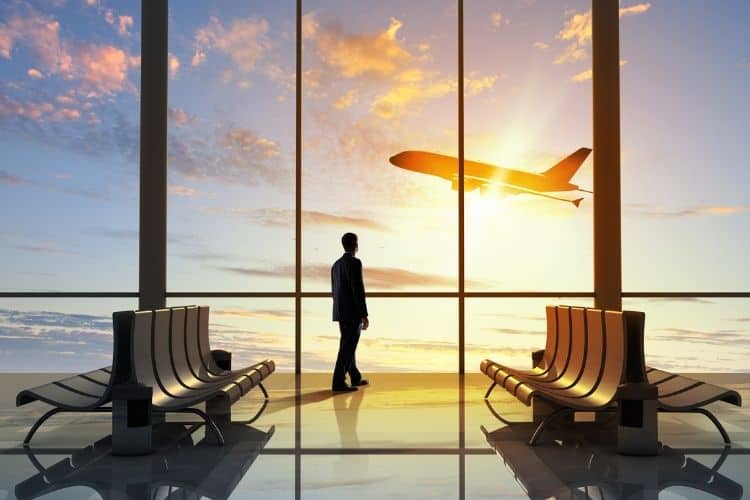 How Might Travel Look in Times of Covid?
After global travel came to a screeching halt in 2020, the gradual re-opening of borders in 2021 represents an exciting possibility for many. But by any indication, travel in 2021 looks to be very different.
While there's no clear consensus on what to expect, enforced isolation, quarantines, swab testing at the border, and flash lockdowns represent very real concerns for those venturing overseas.
One of the more stressful travel scenarios that is likely includes prolonged delays on arrival due to swab testing. If you thought arriving at LAX was painful before–be prepared for significantly longer waits in the future.
International travel experts have also cautioned that ongoing lockdowns could continue well into the future. An influential paper from Imperial College London hypothesizes that governments must be prepared to implement lockdown measures rapidly in response to spikes in Covid-19 cases to keep the demands on healthcare systems at a manageable level. This means that windows of opportunity to travel may arise that only last weeks–or even days.
For those who like to book their vacations and plan everything in advance, surges in Covid-19 may lay waste to even the most carefully planned trips. Problematically, many travel insurers do not cover cancelations caused by pandemics.
And finally–what happens if you actually fall sick while travelling? With countries across the globe responding in dramatically different ways to the virus, and hospitals in some countries still struggling under the Covid burden, the idea of falling ill while overseas represents a very real concern.
Is the infrastructure sufficient to care for foreign visitors? What would the quality of care received be like? How long would the wait be before being permitted to return home? Such questions may perturb even the most resilient traveler.
Collectively, however, these factors don't look set to deter people from leaving home, with one survey finding that 70% of Americans and Canadians plan to travel in 2021.
First Things First: Is It Legal to Travel With CBD?
Before you pack CBD into your hand luggage, it's vital to get clear about the legality of its use. Within the United States, hemp-derived CBD products containing 0.3% THC or less are legal throughout the U.S. at a federal level, thanks to the 2018 Farm Bill.
According to the United States Transportation Security Administration (TSA) guidelines, boarding a plane with CBD in tow is legal–so long as it contains no more than 0.3 percent THC on a dry weight basis or is a product that has been approved by the FDA.
However, laws can vary from one state to another–and that's why it's critical to get familiar with the rules and regulations of the state you're living in and those of your destination state. What's legal in California, for example, is not the same in Idaho–where CBD must contain 0% THC.
If you're aiming to travel a little further afield than Idaho during your vacation, it's just as essential to familiarize yourself with the laws of the country you're traveling to. In the case of EU legislation, CBD is legal in the European Union. Still, individual European nations can take a different stance in dealing with the cannabinoid.
While some nations such as Bosnia clearly classify CBD as illegal, other countries such as Belgium have what is known as a "legal grey area". Find out more about the legality of the use of CBD in the different European countries here.
The bottom line? Do your due diligence and check the rules of your destination before you travel with CBD.
Let's Get Specific: What makes CBD Ideal for Easing Travel Stress?
As a well-tolerated, non-intoxicating cannabinoid with anxiolytic, anti-nausea, anti-inflammatory and analgesic properties, CBD boasts a number of properties that suggest it could be the perfect travel aid–particularly in Covid-stricken times.
There's even a clinical trial underway in Brazil exploring whether daily doses of CBD can help in the treatment of mild and moderate forms of Covid-19 by decreasing inflammation in the body, improving sleep, and reducing the likelihood of hospitalization.
Here are some of the more specific ways CBD may support you on your travels:
CBD May Ease Travel Anxiety and Fear
For some of us, the mere notion of hopping aboard a flight can trigger waves of worry. Aerophobia or fear of flying is one of the most common fears people can experience. Now with the extra layers of hand sanitization, masking, and additional Covid-19 protocols that characterize overseas travel, the potential for added anxiety has only increased.
While fear and anxiety are essential adaptive responses that help with coping with threats to survival, excessive or persistent fear is maladaptive–particularly when you have twelve hours on an airplane ahead of you. CBD can ease flight anxiety–or anxiety that arises due to other reasons during your travels–because it can soften the body's stress response.
CBD works its magic via a wide range of actions that help to alleviate stress and anxiety in the body. For starters, it decreases arousal of the autonomic nervous system–that's the system of the body that's responsible for the flight or fight response.
This versatile cannabinoid has also been shown to decrease conditioned fear expression, to extinguish the expression of fear in general, to reduce panic, and to help prevent the long-term consequences of anxiety and stress on the brain (chronic stress and anxiety shrink the prefrontal cortex–the area of the brain responsible for memory and learning–and can increase the activity of the amygdala, which can make the brain more receptive to stress.)
And how about what users say? In one extensive survey exploring the effects of CBD that totaled 960 responses, the most prevalent effect observed by users was a prevailing sense of calm (21.3%).
CBD May Promote Sound Sleep
Any traveler can attest to the restorative and energizing power of a sound sleep before a long-haul flight–or after landing in an unfamiliar location. Sleeping in a new place can mean poorer sleep quality as the brain remains semi-alert. Traveling during a global pandemic–well, it's understandable that this could impact on sleep quality.
One of the properties of cannabidiol that has generated the most buzz is its ability to induce a restful night of slumber. While research clarifying the effects of CBD on sleep is currently undergoing a clinical trial, CBD users report that CBD is an effective sleep aid–a finding that has been echoed by diverse participants in other surveys.
There's also a large case study that found that cannabidiol improved sleep scores within one month in 66.7% of participants, although the ongoing consistency of the sleep quality of the participants fluctuated in the months that followed.
So how might CBD support sleep in travelers? While the answers are still unclear, it could be because it helps ease anxiety–a cause of sleeplessness. It could also be because it can help to soothe aches, pains and inflammation that also hinder sleep (if you've tried sleeping in cattle class, stiffness and aches come with the territory).
A note of caution, however–while higher doses of CBD have been associated with improved sleep quality, lower doses may actually induce the opposite effect–wakefulness. Ensuring you have the right dose may be essential to promoting sleep rather than inhibiting it.
CBD May Soothe Pain and Inflammation
Travel isn't always glamorous. Spending time sitting at airports before undergoing screening to ensure you're good to fly can take a toll on the body. The inactivity that comes with travel–particularly with the new Covid-19 protocol–means more waiting around for processing on departure and arrival.
Added to a long-haul plane ride where movement is limited, the potential for poor blood circulation that leads to swelling, aches, and joint pain rises.
Travel with CBD may provide relief from this discomfort on two fronts. The anti-inflammatory and analgesic effects of CBD can work in tandem to both decrease the likelihood of inflammation that leads to swelling and pain and reduce any pain that is apparent.
There's evidence to support the use of CBD as an analgesic to help with chronic muscle pain. In another study, oral CBD was found to have a beneficial effect on two symptoms of inflammation–swelling, and pain sensitivity.
In a study of 2409 CBD users, more than 700 people reported using CBD to help with chronic pain, and slightly less than 700 people indicated that they relied on the cannabinoid to manage joint pain.
Among the individuals who admitted to using CBD for medical purposes (a total of 1483 people), almost 36% of respondents reported that CBD treated their medical condition(s) "very well by itself."
So, if travel makes you stiff, cranky, and sore–a few drops of CBD tincture under the tongue, or some topical cream applied before flying could make a world of difference.
Conclusion
It's increasingly apparent that for the near future at least, the reality of travel is going to look very different.
Covid-19 has turned the world upside down and led to the introduction and implementation of new systems for travelers that may evoke hesitation even amongst the hardiest of us. For those of us aching to explore beyond the confines of home but are hesitant, travel with CBD may help promote the mental and physical resilience to face these new travel challenges.
If you're new to CBD but keen to take it as a travel aid, it's helpful to take the cannabinoid for a few weeks before you travel. Try out the recommended dose, see how you respond, and titrate as needed.
Do your research to determine the ideal administration method to meet your needs (Topical cream? Gummies? Tincture?), and last but not least, check out the legality of CBD in your destination.
Happy travels!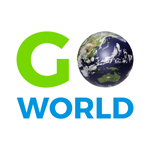 Latest posts by Go World Travel Magazine
(see all)