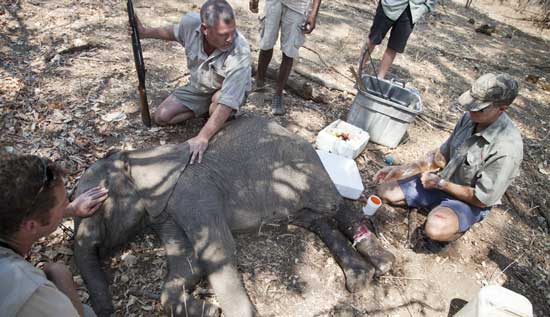 During our stay, I was fortunate enough to join Tim and CLZ to document the darting of a baby elephant, to remove a snare from its hind leg. Despite a few hairy situations (forget the good intentions, herds of elephants don't take kindly to being shot at with a tranquilizer dart), the operation was a great success. The calf is doing well and has no long lasting damage to its leg.
Since my visit, Tim and the guys at CLZ have repeated the operation on two more elephants and a lion.
The final string to Baine's bow is their elephant workshops, run by Johan Marais, wildlife veterinarian and author of Great Tuskers of Africa and In Search of Africa's Great Tuskers. The workshops offer fascinating insights into the giant pachyderms, including their complex social structures, behavioural patterns, genetics, means of communication and importance to wildlife areas. He also explores the long-term, devastating effects of the ivory trade on African heritage.
I may be cynical, but these days too many lodges position themselves as 'eco' or play up their work for conservation to put bums in beds. It's great to visit a lodge that actually practices what it preaches.
If You Go
Zambia Tourism
Lower Zambezi National Park
About the author:
Aaron Gekoski is a freelance photojournalist and filmmaker. His work primarily documents conflicts between man and wildlife. Recent jobs include shooting a documentary on shark finning in Mozambique; going on an undercover mission to report on Namibia's annual seal cull; chasing the 'tortoise mafia' through Madagascar's sacred forests; heading to Bangladesh's markets where up to 100,000 turtles are killed during religious celebrations; and, amongst others, reporting on a controversial lion breeding initiative in Zimbabwe. For more information, please visit http://www.aarongekoski.com.