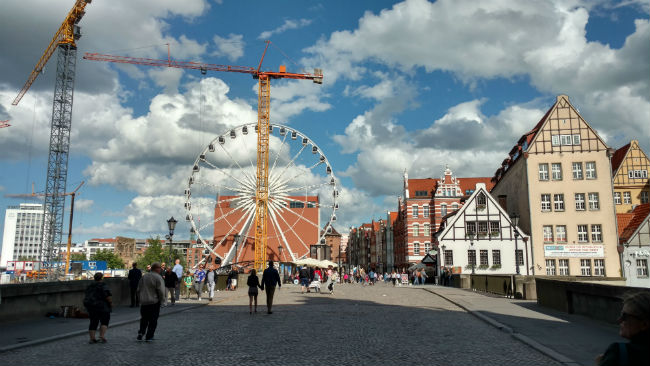 Along the water, more colorful house facades are interlaced with maritime museums, a medieval crane dating back to the 14th century, working ships contrasted with touristy pirate ships and amber vendors galore. We walked along the water on our way to Hotel Fahrenheit, where we slumbered during our stay in small but fashionable accommodations near the water and the sights.
Of the many sights in Gdansk, perhaps the most enjoyable was simply sitting in the outdoor dining area of the Neptune Milk Bar, just across from the statue of Neptune in the courtyard before Artus Court, and enjoying some Pierogi, boiled potatoes, and compote as musicians, marching bands and locals as colorful as the buildings surrounding us passed by. We loved the many sights and beautiful places we encountered in Gdansk, but simply basking in the atmosphere of the place was an ideal way to end our visit.
Getting to Gdansk
Gdansk does have its own international airport, but chances are that if you're visiting Gdansk, you're also visiting either Warsaw or Krakow or both — and rates into those airports (Warsaw being closer and more central) are often less expensive than a direct flight into Gdansk.
In Gdansk, we stayed at Hotel Fahrenheit, a nice, clean hotel just a short river-walk from the heart of the city's best sights. The rooms were small and the breakfast was on the skimpy side, but we were drawn by the stylish exterior and pleased with our stay. From Hotel Fahrenheit — or any of dozens of other hotels — you're a pleasant 10-minute river walk to all of the old town sights, and an exciting hike from the Solidarity and other sights.
Be sure to enjoy a milk bar, like Neptune Milk Bar, just across from the Neptune Statue. But don't expect service with a smile in this or any other milk bar. The food and service is good, but in true Soviet tradition, many of the older workers can't be bothered with niceties to strangers as they trade food for money. It's not rudeness — just part of the experience.
Author Bio: Eric D. Goodman enjoys travel as much as he does writing. He's author of Womb: a novel in utero (2017), Tracks: A Novel in Stories (2011) and Flightless Goose (2008). His travel stories and short fiction have been published far and wide. Eric lives with his wife, Nataliya, and children, Alex and Nicole, in Baltimore, where he curates the popular Lit & Art Reading Series. Learn more at www.EricDGoodman.com or connect at www.Facebook.com/EricDGoodman.
&nbsp