We passed numerous cement observation turrets raised on the canal banks, manned by Egyptian military, binoculars searching the horizon for an unlikely Israeli invasion. Abandoned pontoon bridge sections lined the sand, ready to form a bridge for military vehicles to cross over to the Sinai to protect against attack. With my binoculars, I locked on a young soldier's field glasses. Eyes to eyes, he waved a friendly hello in the visual exchange.
After the Six-Day War, the Egyptians blockaded the Suez, placing mines at both entrances. For the next eight years, fifteen cargo ships, known as the Yellow Fleet, remained trapped inside the channel, until the canal reopened to traffic on June 5, 1975, with a convoy led by Egyptian President, Anwar el-Sadat.
Current one-way tolls, determined by dead-weight tonnage, average $250,000, making Egypt's annual take 5.3 billion U.S. Our ship, one of only a few cruise lines to include the Suez Canal in its itinerary, paid $150,000 to pass.
In 2015, Egypt opened a 22-mile, two-lane section separated by mounds of, yes, sand. Egypt anticipates canal traffic to double; an unrealistic goal, since China is pursuing a shortcut to Europe over the polar icecap.
Nearing Port Said, the gateway to the Mediterranean, hallmarks of city life sprang up on the banks. As we exited this historic channel, our protected Egyptian caravan dispersed, as each ship streamed alone into the open sea. Here, an irony of world history unfolded.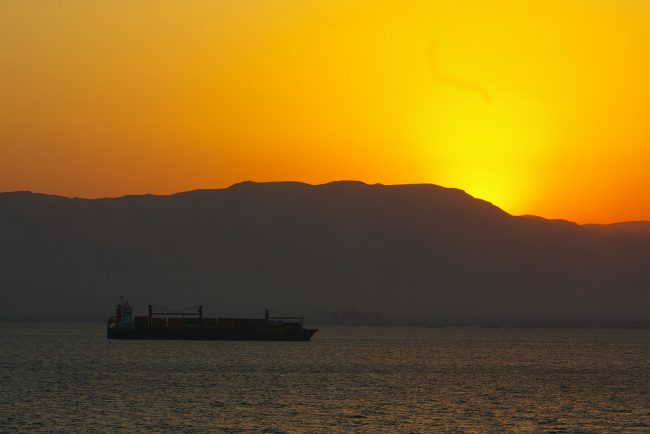 The French sculptor, Frederic Auguste Bartholdi, impressed by the colossal figures of ancient Egypt, designed a statue of gigantic proportions that would guide ships into the entrance of the Suez. He envisioned a huge Greek goddess, draped in a robe of folds, her hand held high with a torch reaching to the sky, and would call it "Egypt-Bringing Light to Asia." He tried to sell the idea to Suez officials, who financially strapped, declined his offer.
Bartholdi went searching for an alternate location and landed in New York City. He made a few changes to the facial features, added a crown representing liberty, but kept the outstretched torch and draped robe. I will never look at the Statue of Liberty the same again. The roots of the cherished American icon originated in the Egyptian Suez Canal.
Author's Bio: After a life-long profession of treating the mentally ill at a PA psychiatric hospital for 33 years and also serving as its Director of Admissions, Carol retired to Lake Chapala, Mexico in 2006 with her husband, to pursue more positive passions. Her family thought that she, too, had 'gone mad.' She's been teaching English to Mexican adults for ten years, in a program operated by volunteer expatriates and writing for local on-line and print publications. Using her adventures experienced during visits to over 80 countries to capture a niche in travel writing, Carol also dabbles in 'memoir.'  A frequent contributor to Lake Chapala English magazine, "El Ojo del Lago," she's won several literary awards from that publication, including Best Feature in 2010 and Best Fiction in 2014. She also netted a story regarding her psychiatric field work in the published anthology, "Tales from the Couch."